Growth Drive
DEVELOPMENT: Can the BID behind Third Street Promenade steer Lincoln Boulevard businesses to similar success?
Monday, April 6, 2015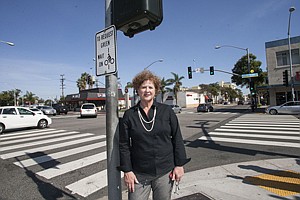 It's rare to spot a pedestrian without a shopping bag swinging from their hand at Santa Monica's Third Street Promenade – a pristine and wide walkway flanked by shops that are trendy and restaurants frequented by celebrities.
But just a few blocks east, shoppers are scarce along Lincoln Boulevard, a busy motorway that's home to a collision-repair shop, a massage parlor and a hardware and lumber store. And that presents a potential challenge for Promenade manager Downtown Santa Monica Inc., which could soon find itself responsible for adding Lincoln into its domain.
A group of property owners is pushing for Downtown Santa Monica, a business improvement district financed by property owners, to annex Lincoln. It's a move that would give boulevard properties extra services – and costs – while giving the BID a big new project, said Kathleen Rawson, chief executive of Downtown Santa Monica.
"Lincoln is a unique street," Rawson said. "The leasing is subpar and it doesn't have the infrastructure. It certainly doesn't have any defining characteristics."
Despite those challenges, Rawson said the BID is up to the task of improving the boulevard.
If Lincoln joins Downtown Santa Monica, the area would get extra security and cleaning services, and businesses would be included in the BID's marketing efforts. More importantly, Rawson said, property owners would get to market their properties as being in Downtown Santa Monica, not just adjacent to it, possibly allowing them to raise rents.
But while some property owners along the 30-block stretch of Lincoln between Olympic and Wilshire boulevards think joining the BID is a good move, others aren't convinced, saying the extra costs aren't worth it.
Amyn Jivani, owner of Lincoln Car Wash & Detailing, said trying to include Lincoln in the BID is a bad idea, especially now. He said his business and others have been hurt by nearby construction, including a light-rail project, and cannot afford the assessments they would have to pay each year to the BID.
"Bringing us downtown now – it doesn't make sense," Jivani said. "There's all this construction and Metro construction and the minimum-wage hike. It's going to be a hardship for us."
Jivani, just one of several property owners opposed to joining the BID, estimated the district's property assessment – officially not a tax but similar to one – would cost his business $10,000 a year. He's skeptical that some street-cleaning and marketing will turn Lincoln into anything close to Third Street.
Still, Donald Duckworth, executive director of Westchester Town Center Business Improvement District, said Santa Monica officials, who signed off on the annexation campaign, must have seen enough support from property owners to try and take on the arduous process of expanding the BID.
"It's a tough deal," Duckworth said. "It's a big area but everyone has seen what's happened on Third Street and how it benefited, so I guess they're willing to base it on that."
'It's hell'
Santa Monica City Council voted two months ago to allow for a petition-gathering drive for the proposed expansion, which would include portions of Lincoln and Colorado Avenue. Downtown Santa Monica is in the process of gathering signatures.
The BID needs support from a certain percentage of property owners, set by a complex formula that takes into account how much each property would pay to the district if the area is annexed. If that hurdle is cleared, property owners would vote on whether to join the BID, with the outcome decided by a simple majority.
Duckworth, who has helped form more than 10 BIDs throughout Los Angeles, including in Westchester, described the process as a painful one.
"It's hell," he said. "Typically, property owners aren't in business next door. They don't want people to know who they are and often, they're owned by an LLC, an anonymous entity or they have an accountant administering the trust so it's hard to find them. It's a big job to track them down."
Indeed, the Business Journal made several attempts to contact property owners but most did not respond to calls and emails for comment.
Rawson said the BID is making every attempt to reach owners by doing everything from sending out mailers to knocking on doors.
If Lincoln joins the BID, the area would get additional marketing programs and maintenance teams to sweep, spot clean sidewalks and remove graffiti. The area would also get BID "ambassadors" – a cross between tour guides and security guards – who provide an extra level of security and help direct visitors.
Rawson said businesses on Lincoln would also get to take advantage of the BID's lobbying clout at City Hall.
"The organization has been able to advocate on behalf of the business community in City Hall with a different and slightly more influential voice," she said.
Yet these services will come at a cost to property owners. Owners of commercial properties and lots would pay 36 cents a square foot, residential property owners would pay 31 cents, and government and nonprofit property owners would pay 16 cents.
Those assessment rates are much cheaper than what property owners in the heart of downtown Santa Monica pay. Along Third Street, commercial property owners pay 80 cents a square foot.
But just because it's cheaper doesn't make it cheap, said carwash owner Jivani. He said even the 36-cents-a-square-foot assessment his carwash would pay is a big deterrent to joining the BID. That's especially the case, he noted, because he doesn't believe the BID's proposed benefits are realistic for the businesses on Lincoln.
It's a car-heavy corridor where spendy tourists aren't likely to come, even if the sidewalks were cleaner, he said.
"The city should be providing the cleaning services," he said. "And Lincoln is your main freeway access. I don't see any benefits on Lincoln. Tourists are on Third Street. What are they going to do here?"
Sketchy foundation
Despite the skepticism, Rawson sees potential for Lincoln, just as she did for the rest of the downtown area, which was once a sketchy neighborhood with vacant shops and dirty streets. It's now home to some of L.A.'s priciest retail properties.
"The downtown area in 1986 was horrible," she said. "People always say Santa Monica is so successful and so great because look at where it's located. Well, we used to stink. It was very low-grade retail or vacant."
She said that she believes Lincoln can also change – maybe not as drastically, but enough for it to fit in with the rest of the BID's territory. If Lincoln joins, the district would like to install landscaping and benches to make the street more appealing to pedestrians and to possibly erect a welcome sign on Lincoln to indicate to visitors that the boulevard marks the entrance to downtown Santa Monica.
As for the shops, the BID can't dictate whom property owners can lease to, but it can suggest tenants that would be a good fit, Rawson said.
Duckworth of Westchester said Downtown Santa Monica is considered to be one of the most successful BIDs in the nation and that Rawson's group has made a big difference downtown.
"I remember the Promenade before it was anything like it is today," he said. "They have pulled themselves up by the bootstraps and it's the rage now. Everyone wants to be there."
That's why some Lincoln property owners are pushing to have their area annexed into the BID's territory.
Linwood Ventures, a Santa Monica landlord that owns mixed-use properties along Lincoln, supports expanding the BID, said Principal Scott Schonfeld.
He said Rawson's group would ensure cleaner sidewalks around Linwood's properties, and make residents and visitors feel safer. New developments are already changing Lincoln for the better, but he believes the area doesn't feel as clean and safe as the rest of the downtown.
Schonfeld said Linwood also has properties in Downtown Santa Monica proper and sees the BID assessment as money well spent.
"No one wants their tax bill to go up," he said. "But I believe the cost is minimal relative to the rents and property values on the street today."
For reprint and licensing requests for this article, CLICK HERE.