Northrop Takes One Giant Leap
Saturday, September 23, 2017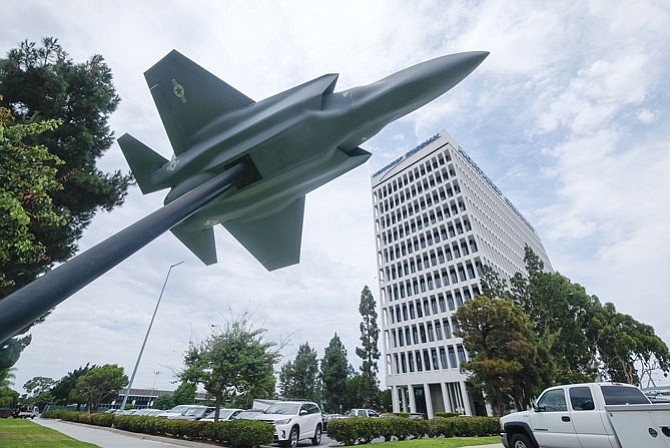 Northrop Grumman Corp.'s proposed $9.2 billion deal for a fellow defense contractor with an expertise in smaller satellites could be a boon to its operations in Redondo Beach amid a push by the U.S. Air Force toward a buildup in space.
Falls Church, Va.-based Northrop said last week that it is acquiring Orbital ATK Inc. of Dulles, Va., for cash and assumed debt. The deal would diversify Northrop's space launch and satellite manufacturing capabilities as well as its ballistic missile expertise.
The acquisition could particularly benefit Northrop's Space Park facility in Redondo Beach, which serves as the company's head office for aerospace operations, and manufactures the Eagle Spacecraft satellite line and the James Webb telescope – a scientific spacecraft commissioned by NASA at an estimated cost of $10 billion.
"Space is constantly being discussed by the U.S. Air Force," said Bob Wood, a defense consultant in Washington, D.C., with London-based PA Consulting Group. "I think there's an incredible opportunity from a business perspective for Northrop to increase its presence in space and space operations."
The Redondo Beach facility accounts for several thousands of Northrop's 16,600 workers in Los Angeles County, a total that makes it the largest manufacturer here in terms of employment.
An addition of Orbital ATK's rocket engine manufacturing capabilities could also help a bid by Northtrop to build the United States' next land-based nuclear ballistic missile system. The company recently was awarded a $328 million contract to conduct research and development on the project, which has an estimated cost of $62 billion.
Northrop didn't respond to requests for comment last week.
Defense industry analysts generally agree that the Orbital ATK deal would bolster Northrop's ability to win a range of space-related businesses, including ballistic missiles, launch services and satellites.
"The companies that dominate (space) are Boeing and Lockheed Martin," said Phil Smith, senior space analyst with Bryce Tech in Alexandria, Va. "Now with Northrop Grumman and Orbital ATK we have a third company that can do the full suite."
Star Wars II
Top U.S. Air Force commanders have said publicly that ground-based anti-satellite missiles as well as roving attack and spy satellites launched by China and Russia are causing them to rethink their dependence on large satellites for Earth imaging and telecommunications. Many military officials believe there is safety in numbers and are considering launching constellations of dozens of small communication satellites.
The acquisition of Orbital ATK would enhance Northrop's ability to offer a range of satellite and rocket launch options to meet the interest of the Air Force in expanding its space fleet, said Bill Ostrove, an aerospace and defense analyst with Forecast International Inc. of Newtown, Conn.
"Northrop Grumman focuses on very large, very expensive satellites like the James Webb telescope, whereas Orbital ATK focuses on the smaller end of the spectrum," he said. "We are seeing a lot of commercial companies focus on smaller satellites and we are seeing the military focus on that as well. If you are looking for new business and markets, that's a market right now that has a lot of potential."
Orbital ATK has a ready line of space rockets – Pegasus, Minotaur and Antares – that are used to launch lighter satellite and space cargo payloads for defense and commercial customers. The smaller rockets could also benefit from the increased emphasis on smaller satellites by the military, Ostrove said.
Orbital ATK also is developing a heavier lift rocket, dubbed Next Generation Launch System, that aims to compete with the Falcon 9 rocket by Hawthorne-based Space Exploration Technologies Corp., or SpaceX, and Centennial, Colo.-based United Launch Alliance's Atlas V. It is not yet known if Northrop will pump additional money into the project, as such space launch services are a highly competitive and low-margin business, Ostrove said.
Northrop might also be in a better position to win the lucrative land-based nuclear ballistic missile system contract if it is able to vertically integrate Orbital ATK's rocket engine technology and manufacturing operations into a less expensive or more sophisticated ballistic missile system, said PA consultant Wood.
"Orbital was a potential supplier to Northrop on the rocket launch side," he said. "Now that Northrop has acquired them I think they could be in a much better place to accelerate innovation and enhance their ability to strategically capture the (ballistic missile project)."
Both the Obama and Trump administrations have said the need for the United States to rebuild its nuclear-armed ballistic missile cache has increased in recent years as the U.S. ballistic missile system has aged and as potential adversaries such as Russia, China and North Korea have increased the size and sophistication of their arsenals.
Consolidation
Northrop said in a press release that it estimates the inclusion of Orbital ATK will save it $150 million annually by 2020, though Northrop hasn't announced consolidation plans. For now, Orbital ATK will operate as a separate business unit, according to its new parent.
Publicly held Northrop said it expects to have sales in the range of $29.5 billion to $30 billion this year.
The bulk of Orbital ATK's workforce is on the East Coast. Its Los Angeles County operations are relatively small, with a little more than 400 employees. Those operations include an air-launched missile manufacturing facility in Northridge, a space solar panel manufacturing facility in Commerce, a satellite development facility in El Segundo and an engineering support center at NASA's Jet Propulsion Laboratory in Pasadena.
Southern California offers the company a good place to consolidate should Northrop decide to rearrange its operations, especially as its aerospace operations are headquartered in Redondo Beach, said Judy Kruger, director of the Los Angeles Economic Development Corp.'s aerospace industry cluster.
"If they were to consolidate, I want them to think California," she said. "There is such a space (and) missile powerhouse in the (L.A.) region; it's the right location for any expanding footprint."
The acquisition of Orbital ATK is expected to close in the first half of next year and is subject to customary closing conditions, including regulatory and Orbital ATK shareholder approval.
Northrop's stock has risen steeply over the past five years. It closed Sept. 20 at $280.04 a share, up 5 percent from a week earlier and 32 percent from a year ago.
For reprint and licensing requests for this article, CLICK HERE.