Long Beach Container Terminal Sold for $1.8 Billion
Monday, April 29, 2019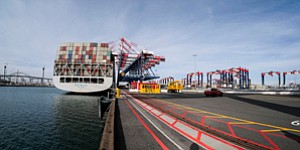 Hong Kong-based Orient Overseas International Ltd. said Tuesday that it will sell Long Beach Container Terminal to a consortium led by Australia's Macquarie Group for $1.78 billion.
OOIL was the terminal operator under a lease agreement with the port, but the company was purchased last year by China's Cosco Shipping Holdings Co. Ltd. and U.S. regulators demanded Cosco divest the terminal as part of the deal approval process.
The terminal is part of the port's $1.4 billion Middle Harbor project that, when complete, will be largest automated terminal on the West Coast. The Long Beach port is the nation's second busiest and along with Los Angeles port, the nation's main gateway for trade with Asia.
The terminal sale is subject to approval by the U.S. Department of Homeland Security and the Department of Justice.
As part of the deal OOIL also signed a 20-year stevedoring and terminal services agreement with Long Beach Container Terminal.
Port officials must also sign off on the final lease agreement.
Manufacturing, retail and trade reporter Rachel Uranga can be reached at ruranga@labusinessjournal.com or (323) 549-5225 ext. 251. Follow her on Twitter @racheluranga
For reprint and licensing requests for this article, CLICK HERE.