Nonprofit Plans Solar Push
MANUFACTURING: New tech powers low-cost panels
Friday, August 2, 2019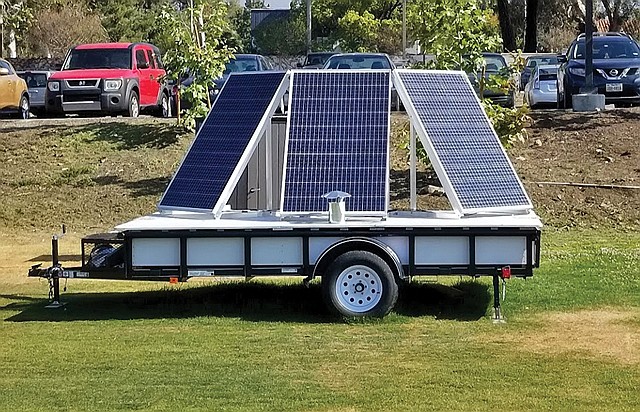 A Claremont nonprofit is getting into the solar energy business.
Claremont-Pomona Locally Grown Power plans to open a factory in Pomona to produce tens of thousands of solar panels using a new proprietary technology, then install the panels on rooftops of up to 6,000 local low-income households — all without making money.
How Claremont-Pomona LGP will build a better — and cheaper — solar panel.
This is one of the first attempts in the nation to combine solar panel production with not-for-profit installations targeting disadvantaged communities. Typically, nonprofit solar panel installers buy panels from for-profit manufacturers, often at steep discounts.
Claremont-Pomona LGP faces significant hurdles as it attempts to implement its ambitious goals. While its new solar technology has been extensively tested in the lab at neighboring Harvey Mudd College in Claremont, it has yet to be subjected to real-world manufacturing conditions.
Claremont-Pomona LGP is a unit of Cherp Inc. — an acronym for Community Home Energy Retrofit Project — that launched as a 501(c)(3) nonprofit in March 2015.
Executive Director Devon Hartman said it will cost roughly $25 million to churn out the tens of thousands of panels to cover its initial target of 6,000 rooftops. So far, Claremont-Pomona LGP has only raised about 10% of that.
The project was included in the state budget signed earlier this month — a one-time $2.1 million allocation slated to help LGP launch a production facility by the middle of next year. LGP is negotiating to lease part of a building owned by the Pomona Unified School District that once housed a welding training facility. LGP plans to convert it into a solar panel production factory employing roughly 200 people.
As LGP pushes to open its factory, Hartman faces another major challenge: raising $20 million plus in funding needed to keep the factory going. He said the $2.1 million in state funding will only cover startup costs, including construction, machinery purchases, initial lease payments and a fraction of production and new hires.
Will nonprofit work?
Claremont-Pomona LGP will need to go after an array of grants and individual donations and tap into programs run by local and state agencies that target renewable energy for low-income households. And LGP will be competing against other nonprofit solar installers for those funds.
The largest local nonprofit solar panel installer is the Los Angeles chapter of Oakland-based Grid Alternatives, which has offices throughout California, Colorado and the Mid-Atlantic region. Downtown-based Homeboy Industries also has a nonprofit solar installation program, with the main focus on workforce training.
Danny Hom, spokesman for Grid Alternatives' L.A. chapter, said the organization gets its panels mostly from overseas manufacturers; some of the panels are obtained at cost, some below cost, and some are donated. Hom said to his knowledge, no other nonprofit solar panel installer in the nation has its own factory.
Facility eyed
Hartman's immediate focus is on securing a lease for the planned factory. The negotiations are expected to wrap up in early fall, according to Hartman and Enrique Medina, director of career readiness at the Pomona school district and the point person on the factory project.
Medina indicated that the lease would likely be below market rate. He added that the district is eagerly awaiting the factory and has been participating in meetings on the project for nearly two years along with city and state officials and community leaders.
"This is a major effort with many partners that came around the table, all with the same vision to bring this plant to reality," Medina said. "When this plant opens, our students – along with local residents – will be able to get trained to manufacture and install solar panels."
That's one reason state Assemblyman Chris Holden, D-Pasadena, agreed to carry the funding legislation. "The Locally Grown Power nonprofit model gives the opportunity for more Californians to have a seat at the table" to address greener energy solutions, Holden said in a statement announcing the funding.
Hartman said he plans to have the panel factory completed and running within 10 months. He has been working for nearly two years already with Kash Gokli, another Harvey Mudd professor, on factory design. Gokli said LGP has selected the equipment it's going to purchase for the operation, "so a lot of the difficult decisions are behind us."
Once it's up and running, the factory could give Claremont-Pomona LGP another advantage. Hartman said the nonprofit plans to eventually set up a for-profit entity to charge market rates for solar panel installations in more affluent neighborhoods or sell panels to other installers with profits to go toward the nonprofit operation.
Hartman hopes to replicate the effort with LGP chapters across California and elsewhere.
For reprint and licensing requests for this article, CLICK HERE.