US Bank Tower for Sale, Could Fetch $700M
Monday, January 14, 2019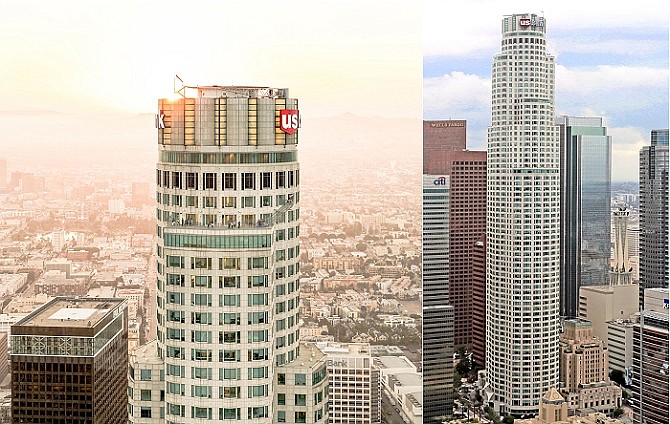 Downtown's iconic U.S. Bank Tower is for sale, industry sources confirmed. Singapore-based OUE Limited, which owns the building, could not be reached for comment.
The building could fetch roughly $500 a square foot, or $700 million, according to Nick Griffin, the executive director for the Downtown Center Business Improvement District.
"This is an iconic property at a prime location," Griffin said. "This kind of property doesn't come along every day. There are always folks interested in a prime, iconic property like this. It's a once in a lifetime opportunity."
Griffin said its per-square-foot price should be similar to the $459 million sale of the nearby One California Plaza in 2017 and the $54.1 million sale of Chase Plaza in 2016.
The U.S. Bank Tower, at 633 W. 5th St., was built in 1989 and has more than 70 stories. The property was formerly called the Library Tower and was initially developed by Maguire Partners.
The building has an observation deck on the 70th story and a glass slide with views of downtown.
Griffin said a lot of investors are interested in downtown now.
"The downtown market just gets more and more desirable," he said. "It's at a tipping point right now. When you have the explosion of the residential population you have had in the last five or 10 years, the office market becomes poised to take a big leap forward."
Downtown has also expanded its tenant base. It used to be real estate, law firm and finance companies, Griffin said. Now technology, creative, media and information companies are interested as well
OUE purchased the building in 2013 as part of a two-property portfolio for $367.5 million. The sale included the U.S. Bank Tower and a parking facility. OUE then spent $100 million on renovations.
The new owners will be "the beneficiary of that work. OUE did a great job of upgrading that property," Griffin said.
Commercial real estate reporter Hannah Madans can be reached at hmadans@labusinessjournal.com. Follow her on Twitter @HannahMadans
For reprint and licensing requests for this article, CLICK HERE.