KBS Starts $20 Million Union Bank Plaza Renovation
Tuesday, July 9, 2019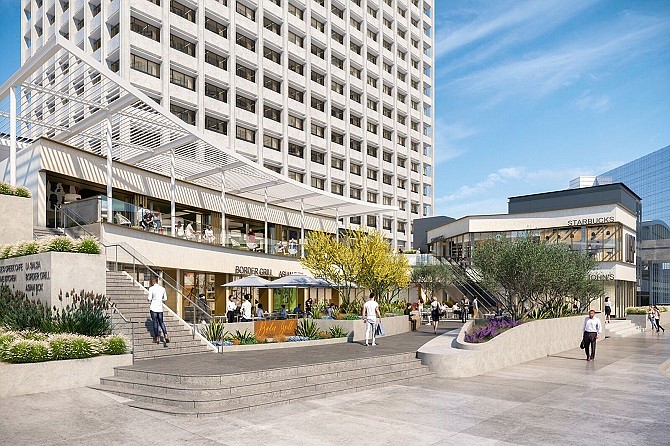 KBS has started a $20 million renovation on downtown's Union Bank Plaza, the group announced July 9.
The remodel will include an updated two-story retail level, an updated conference center, outdoor seating with fire pits and a new lobby.
KBS is also creating speculative tenant suites. Two of the eight under construction have been preleased.
Tim Helgeson, senior vice president for KBS and asset manager of the property, said the property, which covers a full block, could not be built today.
"UBP has the location and the energy that so many commercial tenants are looking for," he said in a statement.
Union Bank Plaza, at 445 S. Figueroa St., consists of a nearly 702,000-square-foot office tower, two levels of retail, parking and a plaza.
"There aren't a lot of iconic buildings in Los Angeles with the amount of outdoor space and freeway accessibility that have the potential for this type of repositioning," Rod Richerson, Western regional president for KBS, said in a statement.
HLW International is the architect for the project. Swinerton Builders Inc. is the contractor for the project. Cushman & Wakefield Inc.'s Justin Collins, Pete Collins and Kelli Snyder are the leasing agents for the building.
The changes are scheduled to be completed in early 2020.
Commercial real estate reporter Hannah Madans can be reached at hmadans@labusinessjournal.com. Follow her on Twitter @HannahMadans
For reprint and licensing requests for this article, CLICK HERE.