Fisker Previews First Electric Vehicle
Friday, November 1, 2019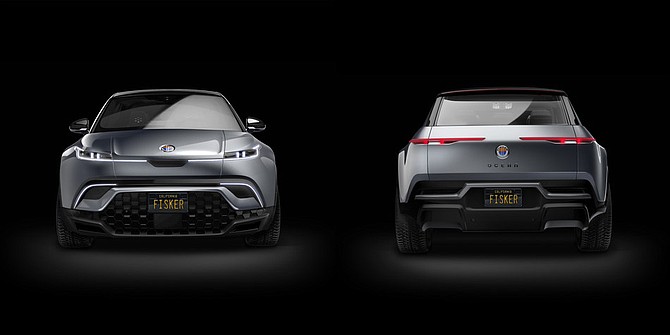 Electric vehicle developer Fisker Inc. will unveil its first electric vehicle, the Fisker Ocean, in January 2020.
The Torrance-based automaker announced Oct. 31 that it will reveal pricing and begin accepting reservations to purchase or lease the Ocean through its mobile application on Nov. 27 .
"For the past two years, we have been working quietly on an emotionally appealing and affordable luxury electric vehicle that will serve as a flagship for driving positive global change – from the most sustainable materials possible across the supply chain to practicality that will change the perception of what an EV can be," Fisker Inc. founder and Chief Executive Henrik Fisker said in a statement.
Production on the Fisker Ocean is expected to begin at the end of 2021, the company said, while deliveries are projected to start in 2022.
The fully electric "luxury SUV" will have a range of 250 to 300 miles per charge, thanks to an 80 kilowatt-per-hour battery pack.
"The Fisker Ocean features dramatic sculpture with a wide stance and a luxurious SUV silhouette. I wanted to combine maximum usability with an unprecedented driving experience," Fisker said.
Pricing has not yet been finalized but Fisker said the car's base price will start at or under $40,000.
Fisker targets ambitious sustainability goals, and says it is striving to make the most eco-friendly electric vehicle on the market.
The Ocean will be designed with a solar paneled roof, recycled interior carpeting and a vegan leather interior. It will also utilize recycled polyester and rubber waste.
In September Henrik Fisker announced that he had added Nikolaj Coster-Waldau, the "Game of Thrones" actor and Goodwill Ambassador for the United Nations Development Programme for Climate Change, as a sustainability adviser "to establish how Fisker Inc. can fulfill as many of the United Nations' sustainability goals as possible."
According to industry tracker PitchBook Data Inc., Fisker raised $10 million from three investors in its most recent funding round, in October 2018. The company is backed by San Francisco-based Caterpillar Ventures, the venture investing arm of construction magnate Caterpillar Inc., and Beijing-based clean energy investors GSR Capital.

Fisker Inc. is not Danish-American automotive designer Henrik Fisker's first electric vehicle venture. He made a name for himself designing vehicles for BMW and Aston Martin before co-founding Fisker Automotive Inc. in 2007. Fisker resigned from his post as chairman at Fisker Automotive in 2013 citing management disputes. The company went bankrupt in 2014.
Fisker Automotive produced the Fisker Karma electric vehicle, which was purchased along with the company's assets for roughly $149 million by Chinese auto company Wanxiang.
Fisker Inc. was founded in 2016 and is no longer affiliated with Fisker Automotive. Its ownership model will be similar to that of rival Torrance-based electric vehicle producers Canoo; with the option to eliminate ownership in favor of app-based flexible leasing options.
Tech reporter Samson Amore can be reached at samore@labusinessjournal.com or (323) 556-8335. Follow him on Twitter @Samsonamore.
For reprint and licensing requests for this article, CLICK HERE.