Grind Minds the Gap for Underbanked
BANKING: Startup courts inner-city communities
Friday, November 1, 2019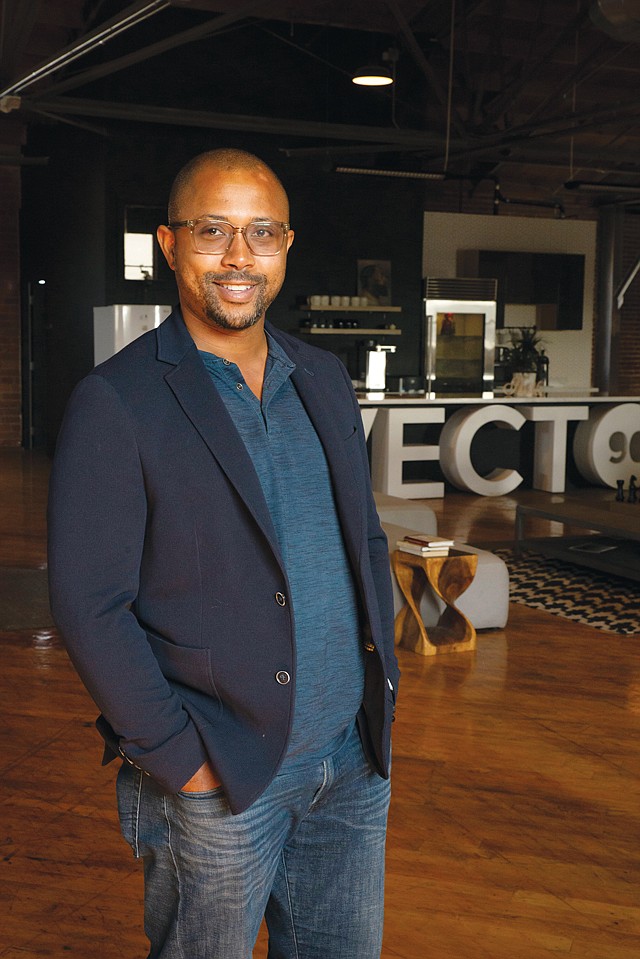 Brinson "B.C." Silver is not a typical banker.
The 39-year-old financial tech executive turned startup entrepreneur grew up as a ward of the state in Atlanta. Orphaned at 10 years old, Silver spent most of his childhood as a self-described "at-risk youth."
His bank is also not typical. Crenshaw-headquartered Grind Banking is a mobile platform catering to the needs of the African American community and other underserved groups. Despite launching less than six months ago, Silver says the bank has already opened more than 40,000 FDIC-insured debit accounts.
Silver's Grind story dovetails with that of another Crenshaw institution — the late rapper and entrepreneur Nipsey Hussle.
With Grind based in Vector90, the coworking space established by Hussle, Silver found that he and Hussle shared a vision for how local jobs and a burgeoning startup scene could bring opportunities to inner-city communities in Los Angeles and beyond.
The Federal Deposit Insurance Corp. reported in 2017 that more than 30% of African-American households are underbanked. By designing banking features — such as all-hours customer service, mobile-first bill pay and check cashing, and the option to receive a direct-deposit paycheck up to two days early — with this community in mind, Silver hopes to help fill a persistent gap.
The model has potential, according to Wilton Risenhoover, founder of small cap-focused hedge fund QuantSoft Capital Partners and a former member of the UCLA Venture Capital Fund's investment committee.
"It's a well-tested, tried-and-true approach to delivering services," Risenhoover said. "Identify a market that is not being addressed well enough by existing incumbents and provide a service targeted at them."
After breaking out of poverty in Atlanta, Silver got his MBA in marketing from the University of Tennessee. He worked as an executive for consumer brands including Clorox Co. and Mars Inc. until 2017, when he was approached by a headhunter.
In what would be his first foray into financial technology, Silver accepted an offer as a general manager for Pasadena-based Green Dot Corp., one of the world's largest prepaid debit card companies.
The former consumer brands executive immediately took to the financial services industry. "I loved the space because it was a way to interact and get connected to people in a much more involved and emotional way," Silver said.
"It's one thing to help a person do their laundry," he added, referring to his former role as a brand strategy director at Clorox. "It's another thing to manage their money. That's way more personal."
Silver says his childhood experiences in a predominantly African American community made him realize there was a disconnect between his new field and minority communities across the country.
"It felt like there was a void there — at least for me when I was growing up," he said.
After two years at Green Dot, Silver decided to build his own banking company — one focused on the needs of inner city African Americans.
The newly minted startup entrepreneur began consulting with banking industry veterans he had met during his time with Green Dot, and by early 2019 was gearing up to launch Grind Banking.
Silver self-funded the company to ensure it could stay true to his vision.
"Sometimes if you take money from many sources, or nonstrategic sources, they may have a different vision of what they want to accomplish," Silver said. "They want more (return on investment). The whole point of launching this was to be able to help the community first and foremost."
Despite Silver's strong personal network and knowledge pool, passing regulatory hurdles and building the right banking infrastructure proved to be challenging.
"The process of launching a banking solution — or anything financially related — is very difficult," he said. In addition to working through licensing approvals and federal banking regulations, the founder and his team spent long hours stress-testing their platform to avoid any unpleasant surprises after its launch.
"We beta tested a lot," he said. "Double-checked and triple-checked that everything worked really, really well."
During this period, Silver became interested in another local voice championing greater black involvement in California's booming startup ecosystem.
"I heard about a guy in the community that was going down the same path, which was talking about ownership, financial responsibility, investing back in the community," said Silver. "And his name was Nipsey Hussle."
Hussle, who was born Ermias Asghedom in Crenshaw, used his fame to promote STEM education in his local community, where he co-founded Vector90 in 2018.
"We were going down this dual path and so it made sense to join forces," said Silver.
While Silver didn't know Hussle on a personal level, the Grind founder says he and the rapper became business acquaintances with plans to grow their new companies side by side. "They had the physical facility," Silver said. "We had the vision and the dream of putting the bodies in the building."
In March, Hussle was fatally shot in front of his Hyde Park apparel store, Marathon Clothing. "That was one of the toughest things," Silver said. "We had hoped that he would be a voice in championing not only Vector90, but Grind as well."
Despite the setback, Grind Banking launched successfully and began offering accounts to the public in June.
The company's main product, a debit Mastercard that the bank offers through both monthly and pay-as-you-go plans, proved popular, drawing thousands of clients in the first several months. It reached 40,000 accounts in October, according to the company. Silver says Grind's target is to reach 100,000 accounts within the next six months.
Grind earns revenue from one of the two payment plans chosen by account holders: a flat monthly charge of around $6 or a pay-as-you-go plan for $1 per use. These fees, according to Silver, offer a straightforward and manageable alternative to the minimum balance fees, overdraft charges and additional expenses that can disproportionately impact low-income account holders at other financial institutions.
Grind plans to open a call center next door to its current offices in the Vector90 space within the next six months. Staffing for that project, along with upcoming hires in Grind's management team, will bring the company's workforce to 100 employees by early 2020, up from about 10 today.
He also intends to give back by supporting educational initiatives in these communities. "Financial literacy for our youth is a big place that we're gonna play," Silver said.
For reprint and licensing requests for this article, CLICK HERE.