Imports Plummet at San Pedro Bay as U.S.-China Trade War Drags On
Friday, November 8, 2019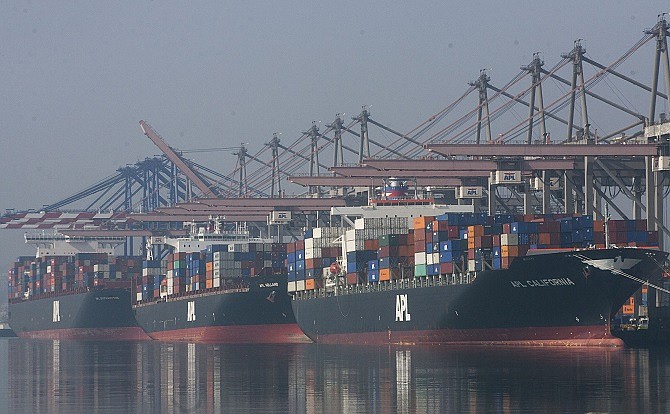 The nation's two busiest ports saw imports plummet in September when a range of Chinese goods were hit with a 15% tariff. Imports dropped 14% in September — the worst decline in more than a year.
The ports of Los Angeles and Long Beach, the nation's largest hub for Asian trade, imported 729,831 20-foot equivalent units (TEUs) — a standard measure for container cargo — according to data released this week. That was down 14% from the 771,583 TEUs that came through the porst in September 2018. Import volumes have declined for the past three months.
Exports at the ports also declined, falling to 271,967 TEUs from 293,661 in September 2018, a decrease of 7%.
"With 25% fewer ship calls, 12 consecutive months of declining exports and now decreasing imports, we're beginning to feel the far-reaching effects of the U.S.-China trade war on American exporters and manufacturers," Gene Seroka, head of the Los Angeles port — the nation's busiest — said in a statement.
Seroka has been increasingly vocal about the damage the trade war is having on Southern California ports in recent months. He expects volumes to fall in the months ahead and said, "With the holiday season upon us, less cargo means fewer jobs for American workers."
At the beginning of September a 15% levy was placed on about $112 billion worth of Chinese imports, making about two-thirds of all consumer goods imported into the U.S. from the Asian country subject to tariffs.
The Los Angeles and Long Beach ports are the largest importer of Chinese goods.
Last month, President Donald Trump announced a partial trade deal with China but details are still being worked out and an agreement has yet to be signed. A tariff set for October was canceled but another round of fees affecting a total of $300 billion in Chinese goods is still slated for Dec. 15.
Volumes at the two ports declined 12.4% in September even as those figures were level nationally. The National Retail Federation and Hackett Associates, which tracks ports with large retail volumes, found volume was about flat in September at the largest retail ports.

At the same time, the ports continue to lose market share to Gulf and Eastern seaboard ports. "Tariffs continue to have a dramatic impact on the TransPacific trade," said Jock O'Connell, an economic consultant for the Pacific Merchant Shipping Association.
For reprint and licensing requests for this article, CLICK HERE.