Honey Acquired by PayPal for $4 Billion
Wednesday, November 20, 2019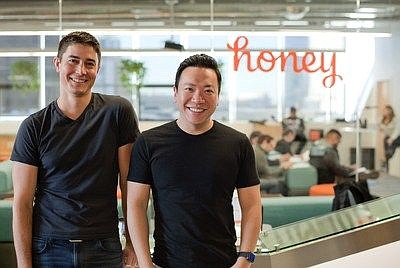 PayPal Holdings Inc. entered an agreement on Nov. 20 to acquire Honey Science Corp., a mid-Wilshire-based software developer focused on ecommerce deals, for $4 billion.
Honey's software runs in the background of a customer's web browser and alerts shoppers to potential online savings. The company also offers a mobile app.
Honey has partnered with roughly 30,000 retailers across various industries to offer coupons to online shoppers.
"Honey's vision has always been to give consumers the tools they need to make the best decisions with their money," Co-Founder and Chief Executive George Ruan said in a statement. "PayPal shares that vision and together we can build powerful commerce capabilities that create real value for both consumers and retailers around the world."
Honey finds a valuable network in linking with PayPal, which also owns mobile payment processing application Venmo. Between the two, Honey gains entry to a network of more than 275 million active Venmo accounts and 24 million PayPal merchant connections.
PayPal's acquisition of Honey fits into its larger goal of becoming a more personalized and high-selling shopping network while also increasing merchant sales.
Honey's integration with PayPal will "reach consumers at the beginning of their shopping journeys" and help merchants gain customers by delivering promotions optimized for specific channels and users, the company said in a statement.
Honey reports it has 17 million monthly active users.
The company launched in 2012 and is backed by Santa Monica-based Mucker Capital and Westwood-based BAM Ventures.
According to industry tracker PitchBook Data Inc., Honey had raised roughly $38 million prior to this acquisition.
"Honey is amongst the most transformative acquisitions in PayPal's history," PayPal Chief Executive Dan Schulman said in a statement.
"The combination of Honey's complementary consumer products with our platform will significantly enhance our ability to drive engagement and play a more meaningful role in the daily lives of our consumers," Schulman added. "As a partner of choice for our merchants, this is another way that we can help them build and strengthen their customer relationships, provide personalized offers, and drive incremental sales."
Read the extended version of this article in the Los Angeles Business Journal's Nov. 25, 2019, print edition.
Tech reporter Samson Amore can be reached at (323) 556-8335 or samore@labusinessjournal.com. Follow him on Twitter @Samsonamore.
For reprint and licensing requests for this article, CLICK HERE.