Arrowhead Hits the Mark
BIOTECH: New approach pulls company back from brink
Friday, November 22, 2019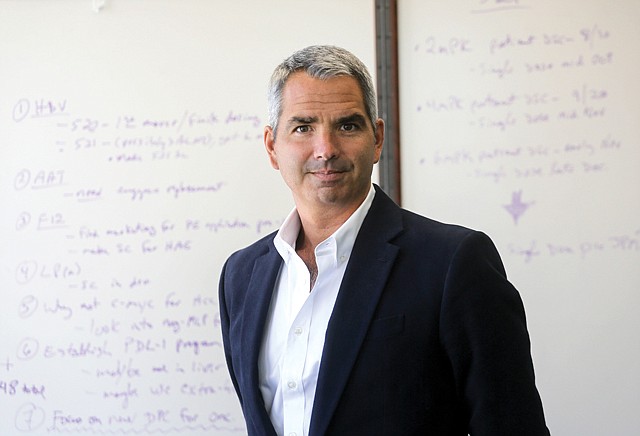 Exactly three years ago, Pasadena-based Arrowhead Pharmaceuticals Inc. was in disastrous shape.
The company's most promising drug, a hepatitis B treatment that silenced a gene causing the disease, had been placed on hold by the Food and Drug Administration over concerns about liver toxicology.
Arrowhead abandoned that drug and several others it was developing, and laid off nearly one-third of its employees.
Its stock price went into free fall, closing on Nov. 30, 2016, at $1.14. Analysts were expecting the shares to move into penny stock terrain.
Arrowhead Chief Executive Christopher Anzalone told analysts at that time not to expect to hear anything from the company over the next year, "and you probably won't like us."
As of Nov. 21, Arrowhead stock is trading at a record high of $49 a share. It has a new slate of drugs that use slightly different molecular technology to silence disease-causing genes and is targeting a range of different diseases.
Several of those drugs are now going through clinical trials with promising early results.
The company also inked a licensing deal in 2018 with Janssen Pharmaceuticals — a division of Johnson & Johnson Services Inc. — that could be worth up to $3.7 billion. That deal proved to be a significant vote of confidence in Arrowhead's technology.
Starting over
To engineer this remarkable turnaround, Arrowhead took a big gamble. Instead of trying to develop a specific fix for the toxicity problem cited by the FDA, it dropped an entire line of drugs it was developing and essentially started over.
"That was really a window into the soul of this company; it was a very hard decision," Anzalone told investors at a recent presentation. "We saw a new platform that we thought was going to be better than the old platform. … We thought we owed it to the company in the long term to focus our entire attention on that. We thought we owed it to patients to focus our entire attention on that."
While it's not uncommon for a pharmaceutical company to drop one or more drugs after receiving negative clinical test results or an adverse decision from federal regulators, it's rare that a company can have a new slate of drugs ready within a year or two.
"They already knew what to go after, which allowed them to execute quickly," said Madhu Kumar, senior research analyst with New York-based Robert W. Baird & Co. Inc.
Prev Next
For reprint and licensing requests for this article, CLICK HERE.