Arrowhead Shares Surge on Big Pharma Acquisition, Positive Earnings
Friday, November 29, 2019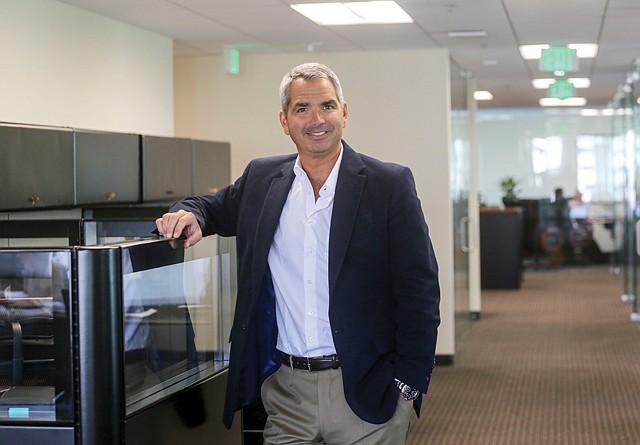 As part of that deal last year, Janssen agreed to pay Arrowhead $250 million up front and up to $3.7 billion in total for Arrowhead to develop and seek licensing for three drugs outside of Janssen's major drug pipeline.
In his presentation to analysts following the earnings release, Arrowhead Chief Executive Christopher Anzalone laid out the company's strategy to take a slate of 10 different drugs using its RNA technology to the clinical studies phase by the end of next year. Having so many drugs in trial phase greatly reduces the negative impact if one or two of those drugs should not fare well.
Traditionally, only giant pharmaceutical companies the size of Novartis ($52 billion in revenue last year) are able to take so many drugs to trials simultaneously.
"We believe this is a strikingly unique position for a company our size," Anzalone said in the earnings presentation.
The earnings report sent Arrowhead shares rocketing on Nov. 27 to close at an all-time high of $69.02 a share, more than double the price just two months ago. By contrast, almost exactly three years ago, on Nov. 30, 2017, Arrowhead shares reached their nadir of $1.14, meaning the share price has exploded by a factor of 60 during those three years.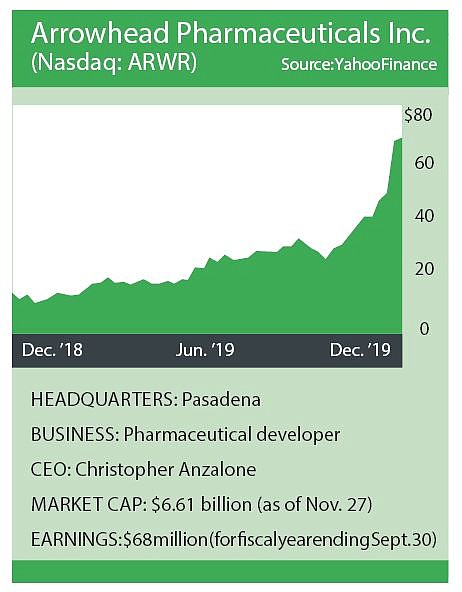 This article was originally published on Nov. 25, 2019, and was updated on Nov. 29, 2019.
Healthcare/biomed, energy, engineering/construction and infrastructure reporter Howard Fine can be reached at hfine@labusinessjournal.com. Follow him on Twitter @howardafine.
Prev Next
For reprint and licensing requests for this article, CLICK HERE.