Chipping Away at China
Trade with Cambodia, Vietnam surges at ports in wake of tariffs
Friday, October 11, 2019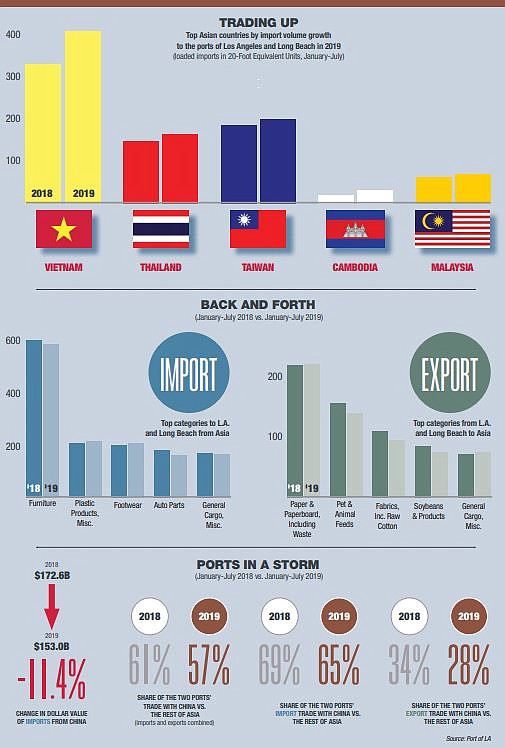 China still reigns at the ports of Los Angeles and Long Beach even as the trade war drags on between the United States and the Asian economic powerhouse.
But other countries in the region are starting to chip away at China's dominant position. According to data from the Port of Los Angeles, trade volumes with Vietnam and Cambodia shot up during the first half of 2019 as manufacturers and distributors sought out alternative production centers.
Imports from Cambodia for the first six months of the year rose 50%, and Vietnam imports increased 23%.
Much of that can be attributed to importers trying to avoid tariffs. About two-thirds of all Chinese goods face some kind of levy, and on Dec. 15, nearly all remaining Chinese imports — about $160 billion worth of goods — will be subject to tariffs.
"Every company and every industry are trying to diversify their sources," said Steve Lamar, an executive at American Apparel & Footwear Association.
The Los Angeles and Long Beach ports — two of America's busiest — have become a barometer in the ongoing trade battle. Last year, the ports were the main thoroughfare for Chinese goods into the U.S. where shoppers and manufacturers consumed $557.9 billion worth of products.
The six-month data snapshot of China trade for 2019 was taken before tariffs impacting more common consumer goods took hold in September. When data for that month becomes available, it could indicate even more dramatic changes.
"The tariffs have fueled a new sense of urgency around those diversification efforts," Lamar said. "That said, there are definitely companies (that) are still being mindful to preserve the relationships in China."
Carlos Alberini, chief executive of downtown-based fashion brand Guess Inc., said during the summer that his company was shifting production to avoid tariffs.
But for others it's not so simple.
In L.A. County, home to Barbie-maker Mattel Inc. and L.O.L. Surprise creator MGA Entertainment Inc., toy industry leaders say they can't easily replicate the complex supply chain China offers. Established safety standards are another concern.
There's also worry among the producers of the world's cellphones and laptops — the majority of which are made in China.
"The bigger issue is the higher value-added category and things that are tied to supply chains," said Clayton Dube, head of USC's U.S.-China Institute.
Last month, Apple Inc. reversed a decision to move MacBook Pro assembly production out of Texas after receiving tariff waivers for the computers' parts, which are produced in China.
"Nobody has a real grasp on this," Dube said. "What people are trying to do is diversify where they are to mitigate the risk in any one location."
For reprint and licensing requests for this article, CLICK HERE.