Pay to Play: Fees Climb for LA County Businesses
Los Angeles is the costliest city for businesses in LA County and more taxes could be on the way
Monday, September 23, 2019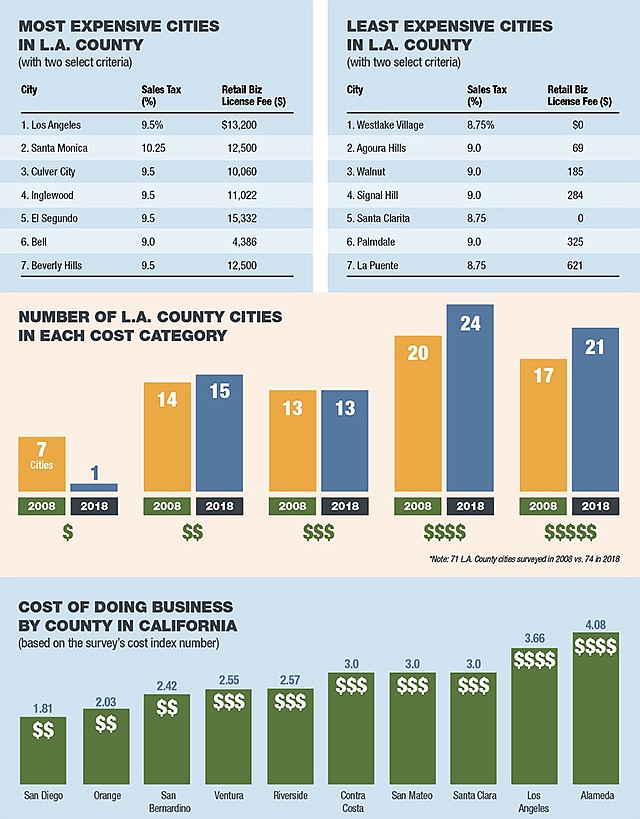 Municipal fees and taxes paid by businesses in Los Angeles County are getting ever more costly, according to the latest Cost of Doing Business Survey from Kosmont Cos. and the Rose Institute of State and Local Government at Claremont McKenna College.
Of the 74 L.A. County cities in the survey, 45 ranked either as "high cost" or "very high cost," up from 37 in 2008. Only one city ranked as "very low cost," down from seven in 2008.
The annual Cost of Doing Business Survey, which is set to be released this week, ranks 307 municipalities in nine Western states including California. The study prices out 19 different fees and taxes in place in 2018 that the jurisdictions levy on businesses.
Costs examined include business license fees, property taxes, sales taxes and utility taxes.
The survey was started by economic development consultant Larry Kosmont in the mid-1990s as a tool for companies to compare municipal taxes and fees throughout Southern California.
"Los Angeles County remains an expensive area to do business in, in part because of its high sales taxes and utility user taxes," survey authors Kosmont and Andrew Busch said in their report. Kosmont is chief executive of Kosmont Cos., a Manhattan Beach-based economic development consulting firm; Busch is director of the Rose Institute.
Los Angeles once again tops the list of costliest cities in L.A. County in terms of taxes and fees levied on business as it has for most of the 23 years the survey has been conducted.
The main culprit: its gross receipts tax on business. Even with rate cuts enacted several years ago, a professional services business with $10 million in gross billings still pays about $52,800 a year in business taxes; a retail company with $10 million in sales pays $13,200 a year.
That compares with annual business license fees in the hundreds of dollars for businesses in cities such as Palmdale and Signal Hill, and no business taxes at all in Westlake Village and Santa Clarita.
Los Angeles also has an electricity use tax of 12.5%, one of the highest in the county.
Several "very high cost" cities are clustered on the west side of L.A. County, including Beverly Hills, Culver City, El Segundo, Inglewood and Santa Monica.
Only one city — Westlake Village — was classified as "very low cost." It borders Ventura County where taxes and fees on business are substantially lower.
Kosmont said taxes and fees will likely keep increasing, especially if California voters next year approve a ballot measure to hike commercial property taxes.
"Right now, thanks to Proposition 13, property taxes paid by businesses in California are relatively low compared to other Western states, which has helped offset some of the higher costs of other taxes and fees," Kosmont said.
"If this split roll tax measure passes, that will change. It may prove to be a watershed moment for low-margin businesses as to whether they choose to remain in Los Angeles County, move out of state or close up shop."
For reprint and licensing requests for this article, CLICK HERE.