Canoo Rolls Out Vehicle Prototype
AUTOS: Startup aims to have electric 'loft on wheels' in market by 2021
Friday, September 27, 2019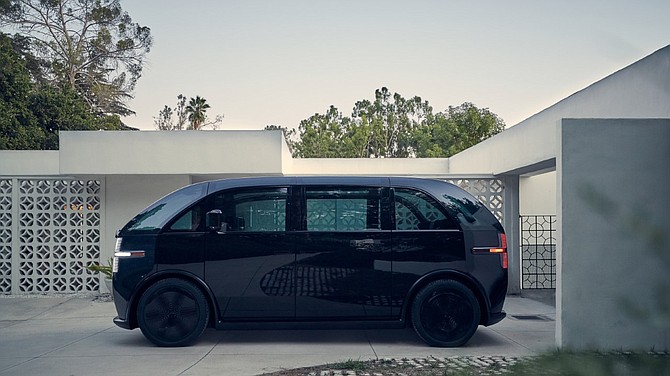 Torrance-based electric car developer Canoo Inc. thinks its first vehicle prototype has the potential to change the way drivers consider car ownership.
The startup wants its vehicle to make traditional car ownership obsolete and plans to sell its first model — simply named the Canoo — on a subscription basis. Terms of the subscription will be announced closer to the vehicle's target launch date of early 2021.
The company brought its vehicle into public view for the first time at a Sept. 24 event, displaying what Chief Technology Officer Ulrich Kranz describes as a "loft on wheels."
The vehicle doesn't look like a traditional car, partially because it was designed to eventually accommodate autonomous driving.
"The car looks pretty symmetrical," Kranz said. "It has not a real orientation, to give you an idea of fully autonomous driving, where you sit in a room on wheels, with no steering wheel."
Kranz stressed that the first line of Canoo cars won't contain self-driving capabilities until the technology is more advanced and regulated.
Canoo's design team pursued a minimalist aesthetic. The front of the car contains no screens or consoles. Instead the vehicle links directly to a mobile phone. A single steering column operates a steer-by-wire system, which maneuvers the car via electric signals instead of a typical car's hardware connection. Steer-by-wire is designed to provide more responsive handling for the driver and, eventually, more flexible steering for an autonomous pilot.
The car also comes equipped with sensors that read a driver's facial cues to determine whether they are paying attention to the road. The vehicle then sends a vibration through the steering wheel and makes a beeping noise to the driver if it detects obstacles. Unlike most driver-alert systems, Canoo's cannot be turned off.
An 80-kilowatt battery provides roughly 250 miles per charge, and the car's battery pack is located directly on the vehicle's "skateboard" chassis. Two motors are housed in the front and rear compartments of the car.
Putting the batteries and electronic drivetrain mechanisms under the car frees up cabin space, allowing Canoo to fashion its backseat after a midcentury modern living room.
"We chose to completely rethink car design and focus on what future users will actually need," said Canoo design head Richard Kim. "We started with the reduction to the absolute minimal need (and) applied that approach to seamless connectivity with the personal devices users care most about: their phones."
The company is working with a manufacturer in Michigan to make beta cars and test them for safety. Canoo wouldn't disclose the names of any manufacturers contracted to work on the project.
"We are very proud of what we have achieved in such a short time. We worked out the design process, which usually takes two years, in six months," Kranz said.
For reprint and licensing requests for this article, CLICK HERE.