Houlihan Lokey Posts Mixed Earnings Results
Monday, August 3, 2020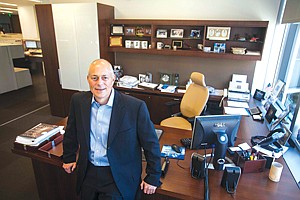 Century City-based investment bank Houlihan Lokey Inc. reported mixed results in its 2021 fiscal first-quarter earnings.
The firm's earnings per share of 56 cents beat analyst expectations of 53 cents — but revenues, at $211 million, fell short of analysts' $219 million projections for the quarter ended June 30.
Houlihan boosted its quarterly dividend to 33 cents, reflecting what J.P. Morgan Securities analyst Kenneth Worthington called "health(y) optimism about the resilience of (Houlihan Lokey) through the cycle."
The investment bank is balancing down revenues in its mergers and acquisitions advisory business line with modest boosts to its financial restructuring and capital markets businesses.
"This dynamic is similar to previous economic downturns where, for a few quarters, we experienced restructuring growth that partially offsets a decrease in corporate finance," Houlihan Lokey Chief Executive Scott Beiser said in a statement. "As the cycle extends, restructuring growth has the potential to fully offset the decrease in corporate finance."
The firm closed 43% fewer corporate finance transactions compared with the same period last year, driving a 34% revenue decrease in that business segment. In an earnings call, Beiser attributed the drop to a Covid-driven hiatus in mergers and acquisitions.
"In previous recessions, we have experienced dramatic declines in M&A activity," he said, "but never one as abrupt as the one we experienced during our first quarter."
Financial restructuring revenues increased 12% year over year, falling short of Houlihan's previous expectations for a larger boost in that business line. The firm attributed the lower-than-expected restructuring revenues, which were nevertheless a first-quarter record, to government intervention in the bond market.
"Today, we expect that the overall business environment for many firms may be worse than first anticipated, but their ultimate need to restructure may take place over a longer period of time," Beiser said. "We expect the majority of our current financial restructuring transaction fees to be recognized as we move toward the latter part of this fiscal year and in subsequent years."
Analysts at Keefe Bruyette & Woods Inc. were lukewarm on the first-quarter results.
"In the end, results this quarter were softer than we were expecting, and although (Houlihan) beat the street, we view the beat as lower quality given revenues missed," said analyst Michael Brown in a report on the earnings.
Morgan Stanley and Co. analysts, however, were more bullish on Houlihan's outlook — especially in the event of a protracted downturn.
"(Houlihan) is the best way to play a U- or W-shaped economic recovery," Morgan Stanley Equity Analyst Manan Gosalia said in a report on the earnings. "They have the largest skew to countercyclical restructuring revenues in our group and would benefit most from a longer-tailed corporate bankruptcy cycle."
For reprint and licensing requests for this article, CLICK HERE.