Popl Provides New Ways to Trade Social Info
Monday, August 3, 2020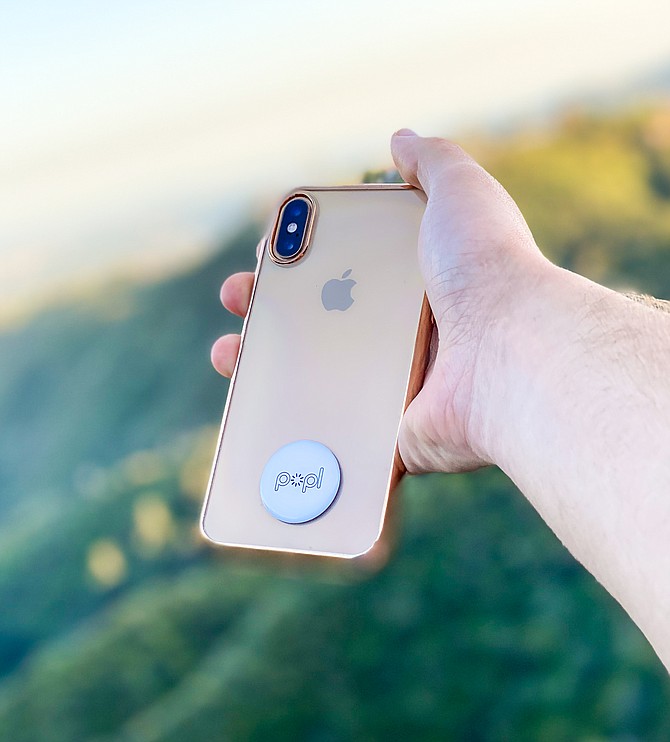 When in-person business events and social gatherings resume, Sawtelle-based Popl Co plans to be ready.
"You don't have to hand someone a business card. You don't have to shake their hands. All you have to do is to tap your phone to theirs," said co-founder and Chief Operating Officer Nick Eischens. "People are calling (Popl) the new business card."
The company's popl device — a small, round sticker that adheres to the back of a cellphone — works with Popl's mobile app, allowing users to share social media profiles, including Instagram, LinkedIn and Facebook, by tapping their phones.
Each popl is priced from $14.99 to $19.99, depending on the color and design.
Co-founder and Chief Executive Jason Alvarez-Cohen, a UCLA graduate who majored in computer science, said he took the bulk of the load of building up the back end of the system. The company filed for a patent for its technology in October, and Eischens expects it will take about a year to get the patent granted.
Alvarez-Cohen and Eischens incorporated their company as "Rippl" in August 2019, rebranded to Popl in 2020 and launched the product in February.
"After we incorporated, we started seeing a bunch of different companies that were using the same name or a different way to spell. And there's a $13 billion cryptocurrency called Ripple. So, there would be a lot of brand confusion if we stayed with the name," Eischens said.
Popl uses TikTok as its primary marketing channel and has accumulated 1.7 million followers on the platform since February. The
company made a short video that shows a woman sharing her social media profile by tapping her phone to the videographer's. The video generated about 10 million views in three days, according to Eischens.
"We've reupped our inventory since then. We're still posting on TikTok, getting 500,000 to 1 million views every post." Eischens said.
For reprint and licensing requests for this article, CLICK HERE.