Cadiz Looks to $150 Million Mixed-Shelf Offering
Monday, August 10, 2020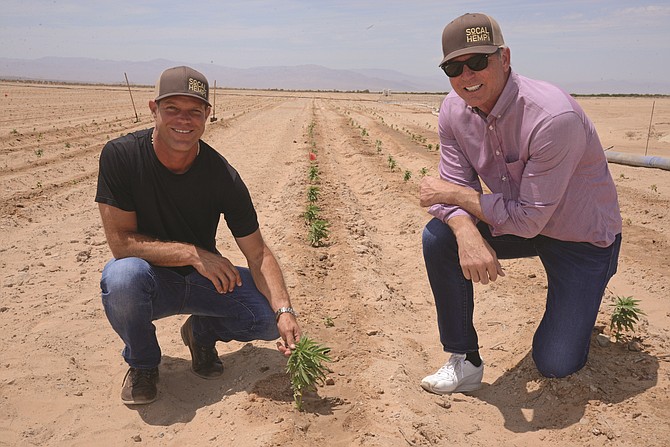 Downtown-based water infrastructure development company Cadiz Inc. has filed to raise up to $150 million through a mixed-shelf offering.
The company's July 31 filing with the Securities and Exchange Commission said the money will be used for a variety of purposes, including building water pipelines, irrigation and other infrastructure for farming on its desert land holdings; repayment of existing debt; and general business development.
A mixed-shelf offering can include any combination of stock, debt securities, warrants or subscription units.
Under SEC regulations, Cadiz will have three years to issue the new shares or debt outlined in the prospectus filing.
Cadiz has been trying for more than 25 years to get regulatory approval to tap an aquifer beneath its land holdings in the Mojave Desert north of Joshua Tree National Park. But the company has been repeatedly stymied by environmental groups that claim Cadiz's plans will drain the aquifer and harm desert wildlife.
As of last year, the company had been seeking final permits for its project to pump up to 50,000 acre-feet of water per year out of the aquifer and transfer that water via pipeline to the Metropolitan Water District of Southern California's Colorado River Aqueduct.
Ultimately the water would be passed on to several agencies in Southern California that have had to grapple with frequent water shortages.
But last year, the state Legislature, at the urging of environmental opponents, enacted a new regulatory hurdle for Cadiz, requiring the company to get approval from the State Lands Commission. That has delayed the project by at least a couple years.
In the meantime, Cadiz saw an opportunity to bring in more revenue by teaming up with cannabis grower Glass House Farms — a division of Long Beach-based California Cannabis Enterprises Inc. — to produce hemp crops on up to 9,600 acres of its desert land.
After a successful test crop, the first market crop was planted earlier this year, supplementing a small amount of existing citrus and vegetable crops.
"We have begun implementing a business plan that includes more actively developing agricultural operations while continuing to pursue the Cadiz Water Project," the company said in a statement issued last week. "We now have 2,000 acres under irrigation for lemons, vegetables and hemp, and continue to plan for additional acres to be developed in 2021 based on the success of our crops.
"As we continue development of our assets, it is prudent to secure the flexibility to finance investments in our business plan as they become needed," the company added. "The objective is to facilitate our ability to accommodate the best investment vehicle for our company should we choose to utilize it. This is a proactive strategy to prepare for positive asset development."
Investors did not take kindly to the news of the shelf offering, which has the potential to dilute share values for existing shareholders.
On Aug. 3, the first trading day after the SEC filing, Cadiz shares fell 7.7% to $9.80. The share price rebounded slightly by Aug. 4 to close at $10.06.
For reprint and licensing requests for this article, CLICK HERE.