Licensing Deals Pay Off for Arrowhead, Xencor
Monday, August 10, 2020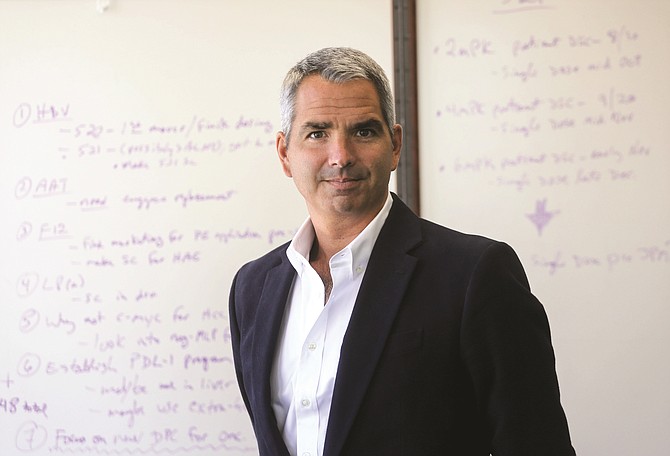 Two San Gabriel Valley biopharmaceutical companies recently announced that they had received substantial milestone payments from licensing and development deals with pharmaceutical giants.
On July 29, Pasadena-based Arrowhead Pharmaceuticals Inc. announced it has earned a $20 million milestone payment from Thousand Oaks-based Amgen Inc. following the administration of the first dose of an investigational drug designed to treat cardiovascular disease.
Two days later, Monrovia-based Xencor Inc. announced it will receive a $25 million milestone payment from MorphoSys, headquartered in Planegg, Germany. That payment comes as a result of the Food & Drug Administration approving a drug MorphoSys submitted to the FDA called Monjuvi to treat a type of lymphoma.
Arrowhead inked its licensing and collaboration deal with Amgen in September 2016 to try to bring to market RNA-based drugs that inhibit expression of genes that can bring about cardiovascular disease. Arrowhead had done the initial development work to that point.
Amgen is a giant pharmaceutical company that posted $23.4 billion in revenue last year; Arrowhead reported $169 million in revenue.
Under terms of the deal, Amgen received the right to develop and commercialize the drug technology in exchange for paying Arrowhead $35 million up front and up to $617 million in option and milestone payments.
A milestone payment is made when the drug in question achieves a key clinical development target or receives an approval from the FDA.
According to Arrowhead's announcement, one of the RNA-based drugs that Amgen was further developing and is now known as AMG 890 had seen its first dose administered in a Phase 2 clinical study — an event that triggered the milestone payment. Phase 2 clinical studies generally involve administering an experimental drug to hundreds of people to test its effectiveness.
"The start of Amgen's Phase 2 study and the resulting milestone payment to Arrowhead of $20 million represent important steps forward for the AMG 890 program, and support Arrowhead's strategy of utilizing our platform and expertise in RNAi therapeutics to build a valuable pipeline of both wholly owned and partnered drug candidates," Christopher Anzalone, Arrowhead's chief executive, said in the announcement.
Xencor licensed exclusive worldwide rights to develop and commercialize Monjuvi, previously XmAb5574, to MorphoSys in 2010. The drug is an antibody that acts to dissolve harmful lymphoma cancer cells.
MorphoSys is an even larger pharmaceutical company than Amgen. The German company reported revenue of 71.8 million euros (roughly $87 million) last year. Xencor posted $156.7 million in revenue last year.
Under terms of Xencor's deal with MorphoSys, Xencor received an upfront payment of $13 million and earned at least one milestone payment along the way toward commercialization.
Xencor Chief Executive Bassil Dahiyat said in the announcement that this was the company's second drug using its technology to be taken to market by a licensing partner. The first was a drug now known as Ultomiris, commercialized by Boston-based Alexion Pharmaceuticals Inc. after FDA approval was granted last year.
"We are incredibly proud of Xencor's discovery and early development of Monjuvi," Dahiyat said. "These partnerships expand the use of our XmAb technology and provide us with an important source of nondilutive capital, used to advance and expand our broad internal portfolio of novel XmAb bispecific antibodies and cytokine drug candidates."
In January, MorphoSys in turn formed a collaboration with Incyte Corp. of Wilmington, Del., to bring the Monjuvi drug — then pending FDA approval — to market.
Now that the drug has been approved, Xencor will receive royalty payments of unspecified amounts, according to terms of the 2010 licensing deal.
CORRECTION: An earlier version of this story misstated the revenue for MorphoSys, the German company that signed a licensing deal with Xencor. Its 2019 revenue figure is 71.8 million euros, or $87 million.
For reprint and licensing requests for this article, CLICK HERE.