Port of LA Awards $52 Million Contract for Waterfront Promenade
Thursday, August 20, 2020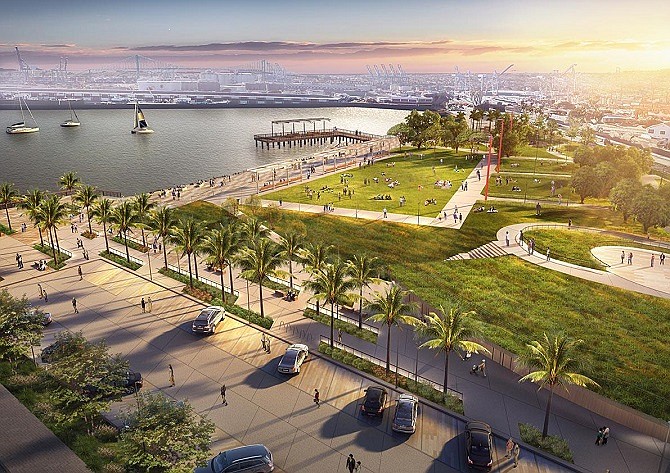 The Port of Los Angeles on Aug. 20 announced it has awarded a $51.9 million construction contract to an Orange County contractor to build the long-awaited Wilmington Waterfront Promenade.
The contract was awarded to Sully-Miller Contracting Co. of Brea. Construction is set to begin in the fall, with completion set for 2023.
The 9-acre Wilmington Waterfront Promenade has been in the planning stages since 2008 as part of the Port's Wilmington Waterfront Development Program to transform the area between the commercial corridor on Avalon Boulevard and the waterfront.
But issues coordinating the port and other public agencies with property in the area — including the Los Angeles Department of Water & Power — and frequent design changes pushed the development back repeatedly.
Earlier this year, the port reached a land swap deal with the DWP that enabled the program to move forward.
Watertown, Mass.-based Sasaki Associates Inc., the designer chosen for the promenade project, also had to cope with frequent design changes in response to community concerns. The firm finally finished its design work earlier this year.
With those issues out of the way, the port's Board of Commissioners was finally able to award the construction contract.
"This $52 million investment means that we will finally break ground on the long-awaited Wilmington Waterfront this year!" Los Angeles City Councilmember Joe Buscaino said in the announcement. "The Wilmington community has been patient and deserves more green space, buffer zones, and open space to alleviate industrial impacts."
Key features of the Wilmington Waterfront Promenade project include the realignment of Water Street, construction of a community park adjacent to Banning's Landing Community Center, the waterfront promenade, a public pier and public dock, a playground and parking lots.
Other entities will also provide irrigation, signage, public seating and bike racks.
For reprint and licensing requests for this article, CLICK HERE.