Living Walls Offer Growing Opportunity
Habitat Horticulture allows businesses to go green
Friday, February 7, 2020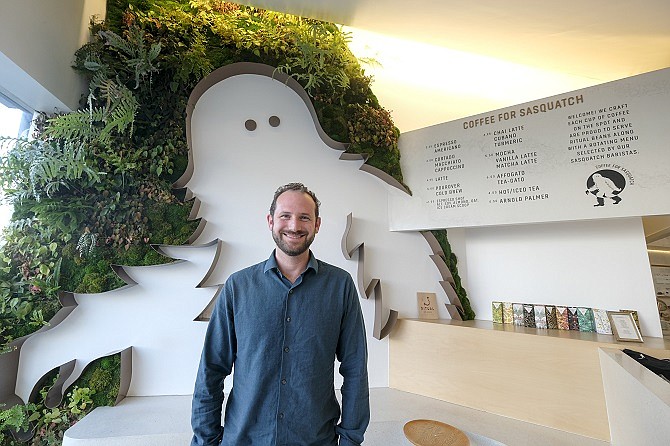 Late last year, architect Dan Brunn, founder of Mid-Wilshire design firm Dan Brunn Architecture, unveiled his new self-designed residence, the eco-friendly Bridge House L.A.
The 4,500-square-foot, Hancock Park showplace was created both as a home and a venue for social and educational events with project partners Dwell magazine and several product manufacturers.
The 212-foot-long, 20-foot-wide, cedar-clad, single-story structure gets its name because it spans a brook that flows below the center of the house.
And the home provides another surprise: A living wall of green plants that forms the backdrop for a baby grand piano, art shelves and a pass-through window to the airy kitchen.
This is not the first time Brunn has incorporated a living wall, or "green wall," into his design work in Los Angeles.
There's also a living wall in the Brunn-designed Coffee For Sasquatch shop on Melrose Avenue in Hancock Park. The greenery forms a whimsical "forest" backdrop for the mythical Sasquatch, also known as Bigfoot — in this case a white cutout that resembles a friendly ghost.
Sasquatch has figured into countless selfies since the coffee shop opened in 2017. "It goes beyond selfies — people are coming in and doing mini photo shoots," Brunn said. "It's kind of nuts, but it's awesome."
Increasing interest
For both walls, Brunn tapped Habitat Horticulture, based in South L.A. and San Francisco. The architect said Bridge House represents his first use of a living wall in a residence, but he had included them in commercial projects.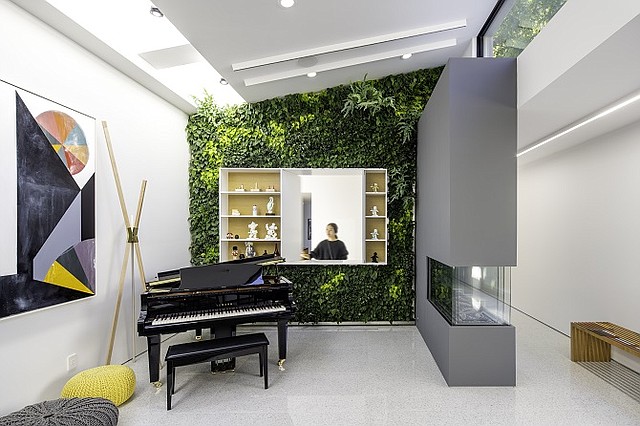 "It's a natural way to filter and oxygenate a room," Brunn said. "Beyond the warmth that it gives to a room, it also creates better living conditions. We just love that."
Brunn is not the only designer who has adopted living walls in recent years. Stacey Olson, a Southwest regional director of sustainable design for downtown-based Gensler, said the company has been seeing an "exponential" increase in requests from tenants, landlords and developers for integrating health and well-being strategy into building construction. "It isn't localized to Los Angeles. We've been seeing a surge for all things health and well-being-related across the globe," Olson said via email, adding that living walls are increasingly playing a part in the mix.
Olson said technology and maintenance options for living walls are rapidly improving, which is increasing interest as costs go down.
"People have a natural (affinity) for biophilia in all shapes and sizes," Olson said. "Historically, we've seen an operational concern that living walls require too much maintenance, that they're too messy, that they can attract insects. That's changing
now as a number of commercially available products now include maintenance agreements."
Malls and museums
Habitat Horticulture Founding Principal and Lead Designer David Brenner agreed that biophilia — that is, liking stuff found in nature — is a basic human need. However, he added, living walls may have a practical function to a certain degree. "Studies show that you need quite a few plants to actually make an impact, but you can," Brenner said. "It's hard to say where having an air filter inside or having all those plants is more efficient, but I like to say it is."
Habitat Horticulture is perhaps best known for an outdoor wall at San Francisco Museum of Modern Art that Brenner said is perhaps the largest living wall in the United States.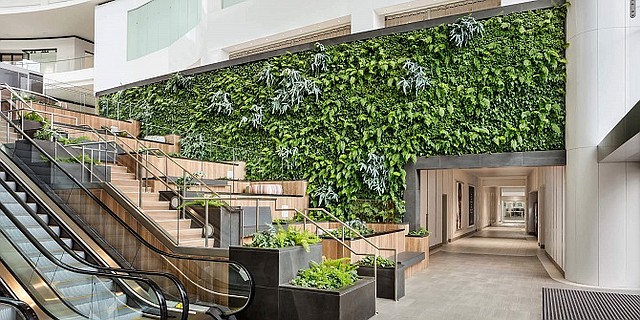 Locally, the company's exterior work can be seen in private homes in Los Angeles and at the Westfield Century City shopping mall, as well as interior walls at the Del Amo Fashion Center in Torrance.
Brenner said not all walls use recycled water. But typically a sophisticated system of sensors keeps water use relatively efficient and prevents overwatering by shutting down the water supply when optimum levels are reached.
Narrow walls are more efficient than wide walls because of the trickle-down effect in the watering process.
'Tangible benefits'
Complicating the sensor situation with recirculating water, Brenner said, can lead to a more temperamental wall: "I have seen a lot of dead living walls, and it usually is because the water has been (automatically) shut off."
Steven Peck, president of Toronto-based Green Roofs for Healthy Cities, a nonprofit organization dedicated to increasing green wall and green roof installation, said it would be hard to find statistics on green walls, but "we are definitely seeing more of these types of projects. People are realizing there are some really tangible benefits to having interior green walls."
Peck acknowledged that the bigger the interior wall, the more impact it will have on reducing energy consumption and cleaning the interior air.
He also pointed out that a greater diversity of plants on the wall can increase its positive effect on air quality and improve the wall's general resiliency in the event some species don't survive the planting.
Peck said Los Angeles and West Coast cities in general are more likely to embrace exterior living walls than colder climes where plants go into hibernation.
However, he said, Los Angeles lags other cities, including San Francisco; Denver; and Portland, Ore., in encouraging green roofs or passing legislation requiring vegetation on roofs above a designated size.
"It's a wasted opportunity," Peck said. "Los Angeles is way behind the curve at this point."
For reprint and licensing requests for this article, CLICK HERE.