Coming Soon: What's Underway for Hollywood Park Complex
Friday, January 3, 2020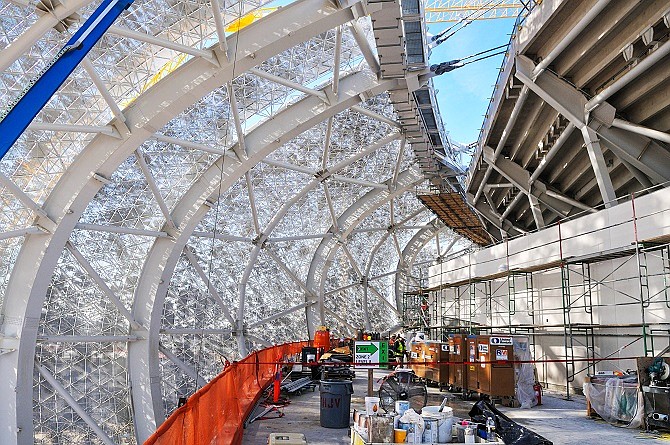 While eyes are focused on the giant stadium superstructure nearing completion in Inglewood, Los Angeles Rams owner Stan Kroenke's real estate development company is also hard at work on the surrounding 280-acre retail and entertainment complex.
The first phase of that development, according to SoFi Stadium and Hollywood Park managing director Jason Gannon, is scheduled to open prior to Super Bowl LVI, which will be held at the stadium in February 2022.
The initial build-out will include an office tower that will house the headquarters of NFL Media, more than 500,000 square feet of retail space, a 300-room hotel and 314 apartment units.
Other phases are planned for the complex, with a total build-out for the project reaching more than 13 million total square feet on the 298-acre parcel of Hollywood Park that Kroenke acquired starting in 2014.
Another 2,200 residential units and millions of square feet of additional office and retail space will follow.
Gannon did not lay out a timetable or provide any more detailed plans for these later-phase projects.
"The size of this project is unparalleled, and it is all part of Stan Kroenke's commitment to the Los Angeles area," Gannon said. "It will be a place where people can live, work, shop and play."
Right now, though, it's where a massive construction effort is underway. The project's team is led by the general contractor joint venture of New York-based Turner Construction Co. and Century City-based AECOM's Hunt Construction unit.
Gannon said there are a total of 12,000 construction jobs on the site.
Here's a look at key elements of the complex and where they stand:
SoFi Stadium at Hollywood Park
For the moment, the stadium that will be home to the Rams and Los Angeles Chargers is in the spotlight. San Francisco-based Social Finance Inc., known as SoFi, secured naming rights in September with a 20-year deal worth a reported $400 million.
At 3.1 million square feet, the stadium will be the largest in the National Football League, with seating for 70,000 and 100,000-plus when seating is reconfigured for mega-events such as the Super Bowl and Olympic ceremonies. It will also include about 260 luxury suites.
The stadium field sits 100 feet below ground level, while the upper deck is nearly 150 feet above ground; that total height of nearly 250 feet is the tallest of any NFL stadium.
The stadium's most unique feature is its roof, which is under construction. Consisting of a translucent polymer known as ETFE, it will cover the stadium but leave openings on the sides for outside air to circulate. As of mid-December, construction teams were lifting huge ETFE panels into place on the roof.
Prev Next
For reprint and licensing requests for this article, CLICK HERE.