Retail Therapy
Strong demand for auto dealer, grocery store properties boosts sector
Friday, January 3, 2020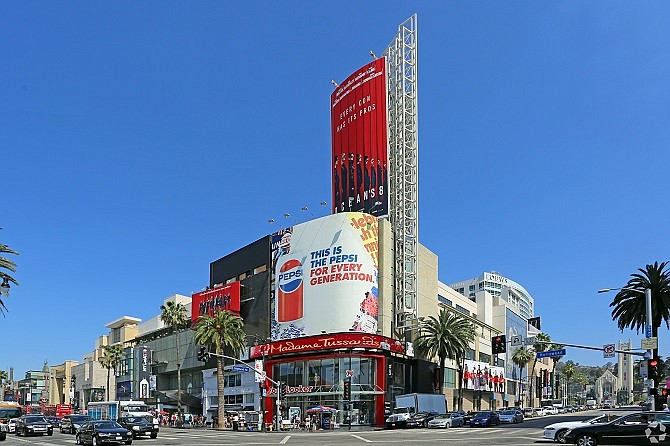 Auto dealerships and grocery-anchored shopping centers drove the top 10 retail real estate sales in Los Angeles County in 2019, based on data from CoStar Group Inc.
"Investor interest is still high," said Eli Randel of Commercial Real Estate Exchange Inc. "Well-located properties with good tenant mixes still garner tremendous demand."
Arroyo Parkway purchased a building leased to Whole Foods Market Inc. and 2 acres of nearby land in Pasadena from a family trust for $105 million. In Manhattan Beach, Coastal Market Plaza, which was leased to Gelson's Market and First Republic Bank, sold for $52 million. And a Gelson's storefront in Pacific Palisades sold for $51 million.
"Grocery-anchored centers are still strong," Randel said."Experiential tenants can be really powerful right now. Restaurants and things like that. Tenants that can feed off and benefit from each other. If you have a gym next to a smoothie store, it seems pretty logical they will benefit from each other's foot traffic,"
CBRE Group Inc.'s Patrick Wade added that "a lot of investors are looking for properties that have those kind of tenant lineups."
Three of the top 10 retail sales last year were car dealerships. In West L.A., the Martin family brought in Hines as a joint venture partner to recapitalize 4.76 acres at 12101 W. Olympic Blvd. for land value at $100 million.
In West Covina, the Mercedes-Benz of West Covina, Audi of West Covina and Toyota of West Covina dealerships sold for a combined $61.2 million. And in Glendale, a portfolio dubbed the Glendale Infinity plus Parking Lots sold for nearly $35.5 million.
Work to do
Many of the top retail sales of the year had one thing in common: They were considered fixer-uppers.
The top sale in 2019 was the Hollywood & Highland Center. Gaw Capital Partners and DJM Capital Partners Inc. purchased the 463,000-square-foot shopping center from CIM Group for $325 million.
Avison Young's Chris Maling said the center had two things investors looked for most in retail properties: existing cash flow and the ability to increase that cash flow through renovations or by repurposing part of the center for other uses.
"A buyer sees that there is existing cash flow and that they can come in and rework a portion of the property to be more relevant in today's brick-and-mortar retail environment because you've got the density at that location," Maling said of the Hollywood & Highland property sale.
Many of the top retail sales of 2019 came with excess land. Experts say this allows
buyers to add mixed-use components, getting more bang for their buck with development opportunities. 
Strong year ahead
Maling said in the past year he has seen more private investors emerge as opposed to just institutional capital. But he added that he expected a strong 2020 after seeing fewer transactions in the market during 2019. In 2018, there were 977 sales of retail properties over 5,000 square feet; 2019 saw 741.
"It should still be a very active and robust 2020 no matter what other outside influences happen," he said.
Crexi's Randel expects retail sales in 2020 to be similar to 2019, adding that the retail apocalypse has been "overstated here in L.A."
Economic uncertainty, though, especially during an election year, could lead to some hesitation in the marketplace, experts said.
As long as interest rates remain low, CBRE's Wade said, he expects 2020 to be similar to 2019 in terms of sale volume and cap rates.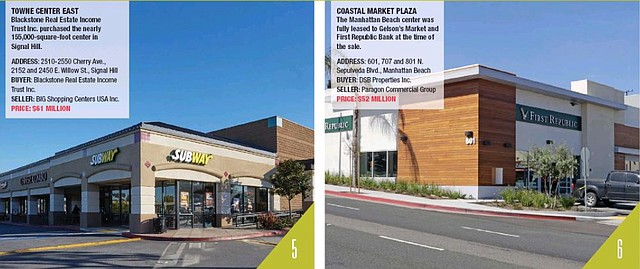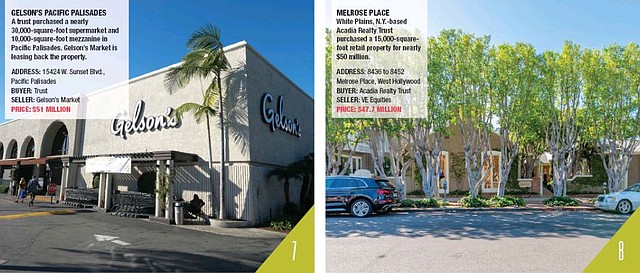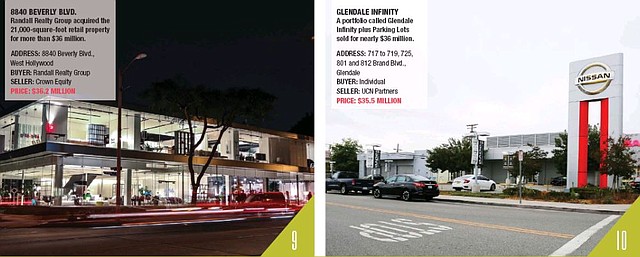 For reprint and licensing requests for this article, CLICK HERE.