Trade & Retail: Ports grapple with changes from trade war and AB5
Friday, January 3, 2020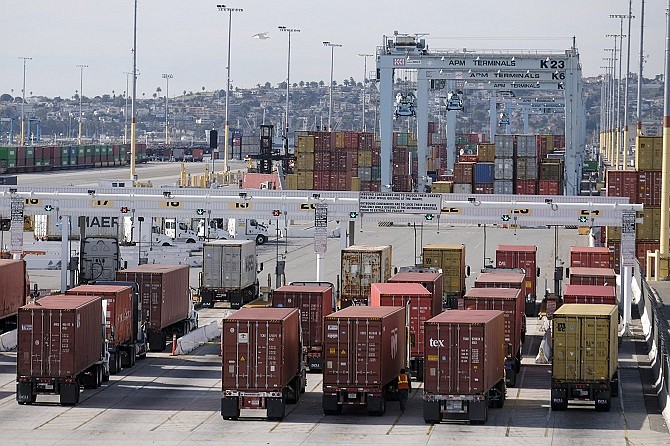 For the roughly 17,000 truckers who transport goods in and out of the Los Angeles and Long Beach ports, 2020 brings much uncertainty.
Assembly Bill 5, the gig worker rule that became law on Jan. 1, mandates that certain contract workers in California be classified as employees. It excludes some professions — doctors, lawyers, hairstylists and others — while contractors who drive under the trucking companies' permits and get paid by the load are likely subject to the new rule.
As the AB5 deadline loomed, some drivers set up limited liability companies, giving them their own permits to operate and enabling them to pay for their insurance and pick up loads for several trucking companies.
For drivers who lease their big rigs from the trucking companies, however, going out on their own may not be as easy. They are likely waiting for the trucking companies to make the move, which can be pricey — employee benefits, and Social Security and Medicare taxes can add about 30% to labor costs.    
Companies that deal with the ports are also monitoring the latest developments in the trade war with China, an issue that dominated much of the past two years and will continue to have repercussions into 2020.
Beijing in late December announced it will cut import tariffs for nearly 860 products and purchase more American goods, while the United States said it would cancel plans for new tariffs and reduce existing ones. The two countries are scheduled to sign phase one of the trade agreement this month.
The San Pedro Bay ports pick up the largest share of imports from China, and both saw cargo traffic dip in November — the third month in a row for the Los Angeles port and the 10th consecutive monthly decline for Long Beach.
While companies are waiting for a trade deal to materialize, a growing number of shoppers are continuing to experiment with secondhand retail in 2020. The leading online players in the resale sector include California-based ThredUp Inc., RealReal Inc. and Poshmark Inc., and Los Angeles is home to a plethora of brick-and-mortar resellers such as Wasteland and Decades Inc.
The U.S. secondhand apparel market grew to $24 billion in 2018 from $20 billion in 2017 and is poised to reach $37 billion by 2021, according to the Annual Resale Report from ThredUp and Global Data. The rise in popularity of used goods coincides with heightened awareness of climate change issues, especially among Generation Z, the youngest consumer segment.
Keep Reading: 2020 Year-Ahead Special Report
For reprint and licensing requests for this article, CLICK HERE.