Wedbush Securities Founder Dies at 87
Edward Wedbush launched brokerage in 1955
Originally published January 6, 2020 at 7:11 p.m., updated January 10, 2020 at 2 p.m.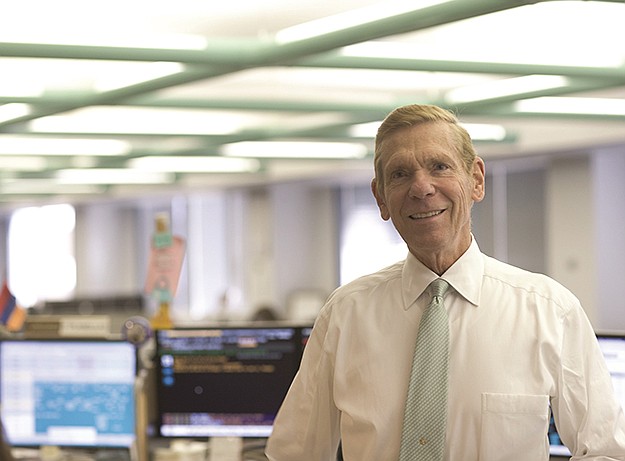 Edward Wedbush, founder of downtown-based Wedbush Securities Inc., died at his home in Rancho Santa Fe on Jan. 5. He was 87 years old.
Wedbush launched his eponymous firm in 1955. He and a partner, Robert Werner, pooled $10,000 to start the business, then called Wedbush & Co. The firm opened its first office in Crenshaw in 1957.
Wedbush served as president and chief executive of the brokerage and investment firm for 63 years. He stepped down in 2018, naming his son, Gary Wedbush, and Richard Jablonski as co-presidents.
"He literally built this firm from scratch," said Donald Hultgren, a Wedbush board member and executive vice president of business development and strategy.
"It's a sad day," Hultgren added, "but we're all very fortunate to have had the opportunity to learn from him."
He described Wedbush as someone who led by example and was passionate about his work.
"He literally loved the stock market," Hultgren said. "He continued to trade in the stock market until his very last days."
Wedbush's firm began wholesale trading in 1969 with its purchase of Noble Cooke & Co. The company became a member of the New York Stock Exchange in 1971 and began providing clearing services the following year.
Wedbush's founder was a pioneer in the third-party clearing business, according to Hultgren.
"At the time when Ed (Wedbush) began to do that, it was not very common," he said. "Most firms at the time were trying to clear their own trades, and many were not very efficient at it."
The firm is one of the few locally based brokerages left in Los Angeles. Waves of consolidation in past decades saw local rivals, such as Crowell Weedon & Co., acquired by national players.
Hultgren said one of the keys to Wedbush's long-term success was an acute focus on his firm's finances.
"He kept a very sharp eye on the costs of the organization," Hultgren said, adding that this helped ensure that the firm stayed profitable most years.
The founder was famously frugal. In one well-publicized incident, the ongoing dilapidated state of the roof on his Ladera Heights home eventually elicited a lawsuit from county officials.
Hultgren said members of his firm were still processing their founder's passing and had yet to make specific memorial plans.
"It's a little early," he said. "We're still a little shook up."
Wedbush is survived by his wife Jean, and his children Gary, Eric, and Leigh Ann.
For reprint and licensing requests for this article, CLICK HERE.