Bank Branches Change It Up
LA sets the pace for new customer experiences
Friday, January 10, 2020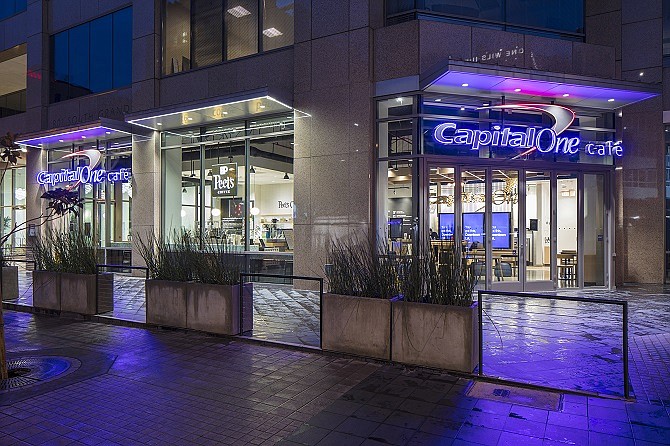 Capital One Financial Corp.'s location on South Grand Avenue does not look like a bank. If not for the signage, it could easily be mistaken for a coffee house.
Bright red chairs and tables topped with umbrellas flank the entrance. Inside, couches and long bar-height tables surround a full-service Peet's Coffee Inc. store
Two ATMs sit inconspicuously behind a wall of blue grating at the back of the space, adjacent to meeting rooms and a small classroom-like area. It is all open to the public, Capital One customers or not.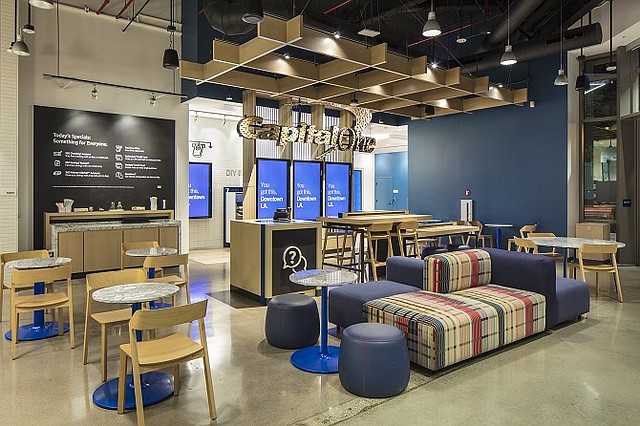 The unconventional location embodies a broader trend as banks across the country trim and transform their branch networks.
Thousands of locations have closed in the decade since the 2008 financial crisis while the remaining branches are shrinking in square footage and redefining their basic purposes.
Nowhere is this more apparent than Los Angeles County, which has more bank branch locations than anywhere else in the country.
For the last six years, L.A. County has also led California in net branch closures, according to data from S&P Global Market Intelligence provided to the Business Journal. Over this same period, the county saw the second-highest branch network shrinkage in the nation, with a loss of 140 locations. Only Cook County in Illinois, with 260 net closures, was hit harder.
Last year alone, banks in L.A. County eliminated 26 branches — a larger net drop than the area registered during the 2008-2009 financial crisis, according to S&P data.
Tech and community friendly
Although pressures to cut staffing and rental costs have likely played a role, experts say the main branch killer is a shift in consumer banking preferences.
"As more banking moves online and to mobile platforms, there's less reason for people to go into a branch," said Aaron Deer, managing director of equity research at investment bank Sandler O'Neill & Partners.
Deer said the introduction of the iPhone in 2009 and the rise of mobile banking shortly after increased consumer demand to perform day-to-day transactions on digital platforms.
To keep up, banks have had to ramp up investment in technology.
"The costs related to real estate are going down, but the expenditures related to tech are soaring," said Deer. "If you look at banks' operating expenses, those have not gone down materially."
Branch networks are transforming from the large, transaction-focused offices that were standard across the industry for the last half-century.
Prev Next
For reprint and licensing requests for this article, CLICK HERE.
Stories You May Also Be Interested In