Healthy Returns
Arrowhead, Fulgent drove a strong 2019 for L.A. stocks
Friday, January 10, 2020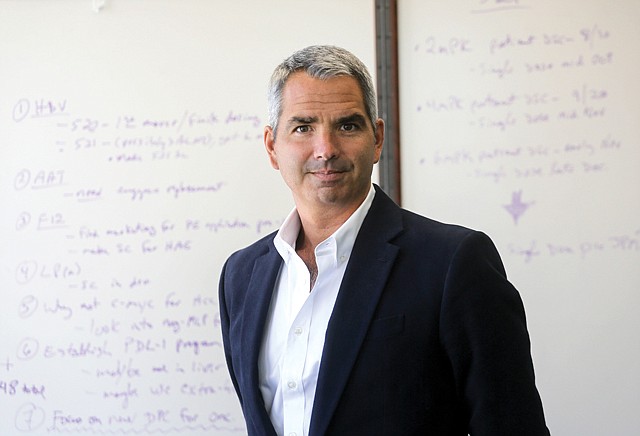 Last year was a good one for the stock market, and Los Angeles-area companies rode the wave.
The Business Journal's index of L.A.-based publicly traded companies performed roughly in line with the major indexes in 2019.
With a year-over-year increase of 27.4%, the LABJ Stock Index beat out the Dow Jones Industrial's gain of 22.3%, fell short of Nasdaq's substantial 35.2% rise, and finished close to the showings by the S&P 500 (28.9%) and the Russell 3000 (28.5%).

"What occurred was a great year of outperformance," said Sahak Manuelian, managing director of equity trading at Wedbush Securities Inc.
The analyst said the technology, financial services and health care industries drove the year's performance. While tech stocks were generally strong throughout the year, some sectors that lagged in spring and summer experienced late-year rallies.
"Health care was a blatant example of this," Manuelian said. "Coming out of the summer, health care wasn't very sexy."
Several factors drove the uptick in that sector, according to Manuelian, including a late-year spate of mergers and acquisitions, better-than-expected earnings, and positive test results for key products.
Pasadena-based Arrowhead Pharmaceuticals Inc. saw the biggest share price percentage gain among publicly traded companies in L.A. County, surging 411% to close at $63.43 on Dec. 31.
By comparison, the S&P Pharmaceuticals Select Industry Index rose 25% last year.
Arrowhead investors have been gushing over the company's revamped RNA "gene silencing" platform for drug development to treat a wide range of diseases, including renal cell carcinoma and cystic fibrosis, as well as a pair of lucrative partnerships with pharmaceutical giants Amgen Inc. and Janssen Pharmaceuticals, which is owned by Johnson & Johnson.
Just over three years ago, Arrowhead's original RNA drug ran into problems with toxic side effects, sending the company close to penny stock territory.
Temple City-based genetic testing company Fulgent Genetics Inc. was the second-biggest gainer of 2019, jumping 307% to close at $12.90 a share on Dec. 31.
The company benefited from a sharp drop in the price of genetic tests that allowed it to tap into new markets, including the home genetic testing space. Fulgent has also formed several partnerships with companies and foundations eager to use its tests.
Culver City immunotherapy company NantKwest, founded by billionaire Patrick Soon-Shiong, came in at No. 3, rising 227% to close at $3.79 a share on Dec. 31. The company has had promising test results for its immune cell approach to treat cancerous tumor cells, including a joint test with another Soon-Shiong company, Immunity Bio of Culver City.
Internet companies also had solid representation among L.A.'s top-performing stocks.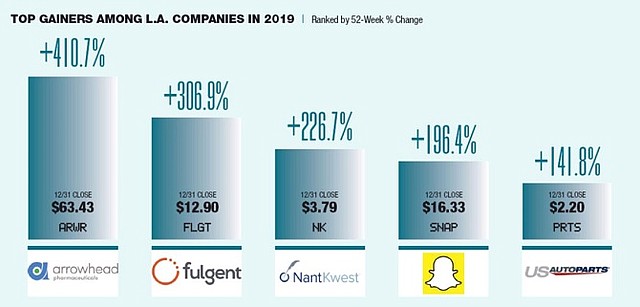 Santa Monica-based social media heavyweight Snap Inc. rose 196% to end the year at $16.33 per share. It marked a turnaround for the company after two rough years following its 2017 initial public offering. The stock hit a record low of $4.99 per share in December 2018 before angling upward.
Doubling down on its core Gen Z user base, innovation in its augmented reality technology and improved advertising capabilities helped drive Snap's yearlong rally.
Carson-based U.S. Auto Parts Network finished fifth among L.A. gainers. The online automotive parts retailer saw its stock rise 142% to close the year at $2.20 per share. Insider buying and strong business fundamentals were key factors, according to Wedbush's Manuelian.
The analyst added that both U.S. Auto Parts and Snap likely benefited from the overall strength of internet stocks throughout 2019.
Two media companies, Genius Brands International Inc. and Global Eagle Entertainment Inc., headed up the list of L.A.'s top declining stocks. Both fell from small-cap to micro-cap over the course of 2019.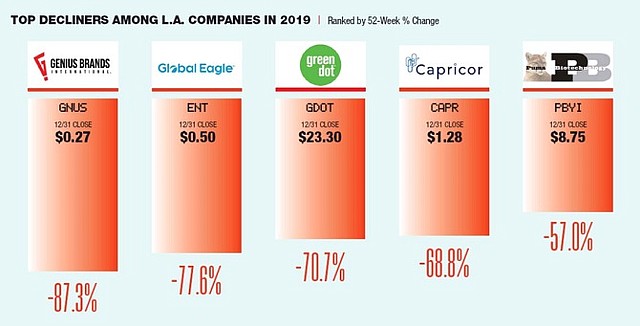 Genius Brands International lost 87% of its value to close at 27 cents per share. Global Eagle Entertainment fared only slightly better, falling 78% to close at 50 cents per share.
A mainstay of L.A. finance took third place on the list of decliners. Pasadena-based Green Dot Corp.'s stock fell more than 71% in 2019, ending at $23.30 a share.
The company faced a difficult year as rising fintech players such as Chime Financial Inc. and Acorns Grow Inc. cut into Green Dot's market share.
Green Dot's consumer business — its core revenue generator — has been hit particularly hard. Active accounts fell by roughly 250,000 year over year in the third quarter of 2019. It was the company's second consecutive quarter of year-over-year declines.
Not all local biomedical/pharmaceutical companies did well last year. Beverly Hills-based biotech firm Capricor Therapeutics saw its share price plunge 69% during 2019 to close at $1.28 on Dec. 31.
Capricor is trying to develop biological-based drugs to treat Duchenne muscular dystrophy and other rare disorders. But last fall, the company failed to obtain fast-track status from the FDA for its main drug to treat DMD, signaling continued operational losses for several quarters to come. That, in turn, put pressure on the company to issue more shares — which it did last month — thereby diluting the value of existing shares.
For reprint and licensing requests for this article, CLICK HERE.