Waterfront Project Gets Underway
Port of Los Angeles initiative launches after years of delays
Friday, January 31, 2020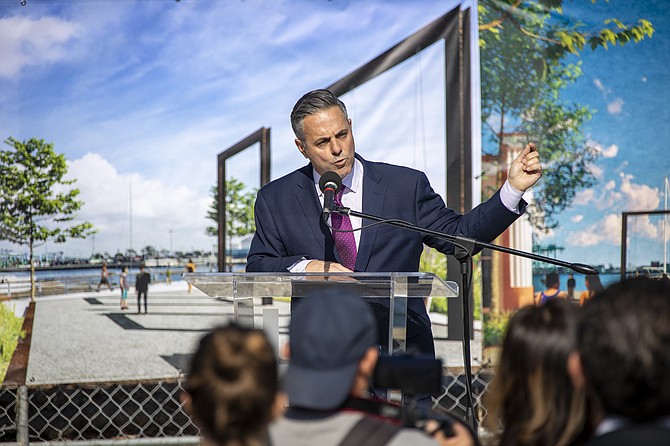 Officials for the Port of Los Angeles last week kicked off a $33 million project that aims to connect San Pedro's Downtown Harbor to the future San Pedro Public Market development.
The project, part of the L.A. Waterfront initiative, consists of a 4-acre town square located at 6th Street and Harbor Boulevard.
The development "will provide residents and visitors exciting ways to enjoy the waterfront while also offering a front-row view at the nation's busiest port," Jaime Lee, president of the Los Angeles Board of Harbor Commissioners, said in a statement.
The project also includes a 1.9-acre, 30-foot-wide promenade, which will run parallel to the port's Main Channel for nearly a mile. Work is scheduled to be completed next year.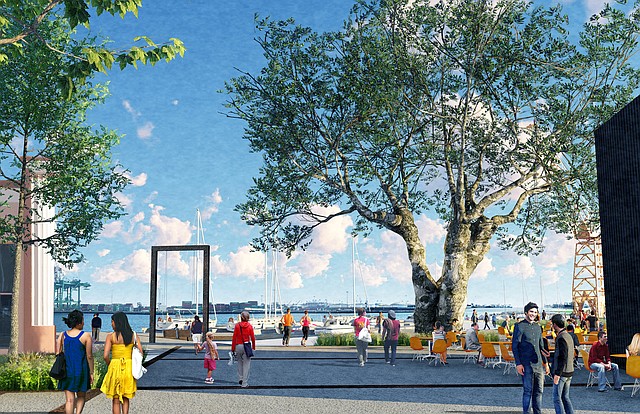 The port's staff developed the design in collaboration with New York-based urban design company James Corner Field Operations, and the construction contract was awarded to Griffith Co. in Brea.
The development is funded through the port's Public Access Investment Plan, which collects a percentage of the port's operating revenue to fund community infrastructure improvements. To date, the port has contributed more than $700 million to support various efforts and has earmarked another $300 million for distribution by 2025.
The town square and promenade are among several waterfront development and community enhancement projects across more than 400 acres of Port of Los Angeles property in the harbor communities of San Pedro and Wilmington, according to the port.
Other projects include the San Pedro Public Market, a 42-acre public space that will feature entertainment, dining and retail, access to historical centers and museums, and a 6,200-seat, open-air Nederlander Organization Inc. amphitheater, also scheduled for completion in 2021.
Additional developments are the AltaSea at the Port of Los Angeles, a 35-acre education campus constructed on a historic pier at City Dock No. 1, and the $52.7 million Wilmington Waterfront Promenade, an 8-acre site that will include a promenade, pedestrian plaza, parking lot, and realignment of Water Street adjacent to the railroad tracks and parking northwest of Banning's Landing Community Center.
Talks about the L.A. Waterfront developments started in 2000 when the California Coastal Conservancy provided $250,000 to the L.A. Harbor-Watts Economic Development Corp. to finance the predevelopment work on the promenade. In 2009 the Los Angeles Board of Harbor Commissioners approved the $1.2 billion San Pedro waterfront redevelopment plan, which included construction of an 8-mile promenade to downtown San Pedro, bike paths, parks, a pier and extension of the port's popular streetcar service.
A scaled-down version of the plan encompassing San Pedro's Ports O' Call Village was adopted by the board in 2015 when a 50-year ground lease was granted to developers Jerico Development Inc. and Ratkovich Co. to deliver the $150 million San Pedro Public Market.
"It's been a long road, and now we've finally reached that pivotal point in this long process," City Councilman Joe Buscaino said during the groundbreaking ceremony. "We are actually going to build something."
For reprint and licensing requests for this article, CLICK HERE.