Tribeca's Rose Bowl Events Bring Summer Film Experience to LA
Monday, July 20, 2020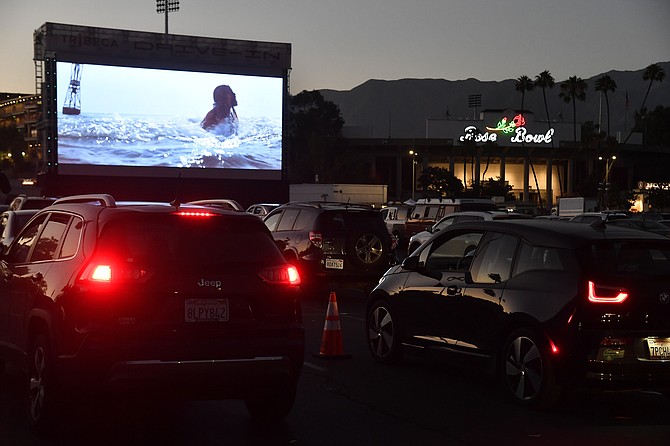 Coming soon to a parking lot near you?
In response to Covid-19 shutdowns that have included movie theaters, one entertainment company is seeking to fill the void by bringing classic films to alternative spaces for drive-in viewing.
New York-based Tribeca Enterprises, the company behind Manhattan's annual Tribeca Film Festival, has put greater L.A. on its short list by offering its Tribeca Drive-In series of Hollywood classics at the Rose Bowl in Pasadena through July, as well as in cities in New York and Florida.
Tribeca also has partnered with Walmart Inc. to convert 160 of its U.S. store parking lots into drive-in theaters with free screenings beginning in August and continuing through October. There is no word yet from the company on whether Los Angeles County Walmart outlets will be included in the mix.
California movie theater reopening dates have bounced around the calendar in recent weeks in response to pandemic developments. In early June, the state announced guidelines that allowed theaters to reopen June 12 with limited seating. AMC Entertainment Inc., the world's largest movie theater exhibition company, which has numerous screens in Los Angeles, said at the time that it would open about 97% of its theaters worldwide by mid-July.
A July 15 opening would have allowed theaters to take advantage of the planned July 17 opening of Warner Bros.' $200 million blockbuster "Tenet," and Walt Disney Co.'s live-action remake of "Mulan," first slated for July 24.
Since then, however, the "Mulan" release date has been postponed to Aug. 24 and "Tenet" to Aug. 31. AMC Theatres as well as Cineworld Group's Regal Cinemas now plan to open July 31 nationwide.
Angelenos hoping to be the first to see this summer's tentpole films now face an even more unpredictable future following a July 13 state order calling for the shutdown of indoor operations for movie theaters, restaurants, bars and more amid a spike in Covid-19 cases.
While that first-run, in-theater experience remains elusive, the Tribeca Drive-In series at the Rose Bowl has provided a big-screen light at the end of the tunnel for those hungering for a summer movie experience.
The Rose Bowl's Tribeca Drive-In series opened for the Independence Day weekend with a roster of 11 favorites that included "Jaws," "Apollo 13," "E.T. the Extra-Terrestrial" and a Saturday matinee of "The Wizard of Oz." The final weekend of the series, July 23-26, will screen "Meet the Fockers," "Bridesmaids," "The Lego Movie" and "Do the Right Thing," among others.
Tribeca Enterprises Executive Vice President Paula Weinstein said all Independence Day screenings sold out in a parking lot that can accommodate 480 cars with a ticket price of $26.60 per car while adhering to a 6-foot distance between cars. Patrons have been required to wear masks when outside of their cars. Weinstein added that Tribeca has been able to include matinee screenings of family movies because LED technology allows clear visibility even during daylight hours.
The Tribeca Film Festival was founded in 2002 by Robert De Niro, Jane Rosenthal and Craig Hatkoff with the purpose of stimulating the Manhattan economy and cultural scene in the aftermath of the 2001 World Trade Center terrorist attacks. Its first-year events included outdoor screenings.
Weinstein said creating a cultural community in the face of crisis is part of the Tribeca Film Festival DNA. She said the Pasadena screenings have employed 150 to 200 local people, including independent food trucks.
Weinstein added that Tribeca's drive-in offerings are not intended to compete with local drive-in theaters, nor does the company have any aspirations to delve into the first-run exhibition market.
"I love going to a big movie house and feeling the excitement," she said. "And the filmmakers want their films to premiere at the theaters, not outdoors. We want that part of the business to flourish."
For reprint and licensing requests for this article, CLICK HERE.