Vista Studios Sees Future
Meets demand for remote, live tools
Monday, June 15, 2020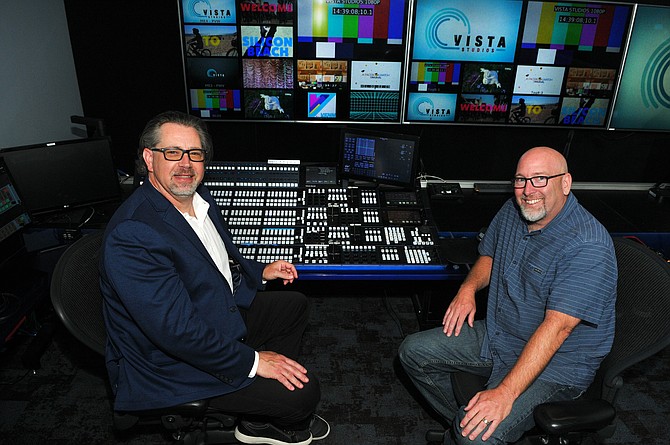 Broadcast veteran Randall Heer founded Vista Studios in 2017 with the idea of creating the "Swiss Army knife" of independent production hubs, focusing on live production.
Heer, who serves as Vista's chief executive, could not have foreseen, however, that the studio's adaptability to emerging platforms, as well as its sophisticated remote production capabilities, would make it an attractive option for creating new content during a global pandemic.
The studio, which occupies a renovated warehouse in Playa Vista, can accommodate traditional four-wall studio activity while also providing necessary tools for live studio production, as well as high-quality remote production for distribution on multiple platforms.
Those remote capabilities are being called on more than ever during the Covid-19 pandemic.
Heer chose the studio's Westside location because of its proximity to spaces occupied by the FAANG group of streaming powerhouses — Facebook, Amazon, Apple, Netflix and Google — with the idea of meeting their eventual demand for live programming, including sports and news.
"The massive FAANG group are all entering media production. They are all producing media — not one of them has a purpose-built live studio," Heer said. "We are here to service that market."
He said streaming services are beginning to acknowledge the viewer preference for live news and sports programming mixed with high-production-value scripted entertainment and documentaries, particularly during a crisis such as the coronavirus outbreak or the massive demonstrations that have followed the death of George Floyd.
Viewers, Heer added, want to find all their content on one platform.
"Right now, when you are going home to watch Netflix, you don't want to just watch a movie. You (also) want to see the streets of Santa Monica and Marina del Rey," Heer said during a recent Business Journal visit to Vista Studios. "Eventually, every one of those big media companies making movies is going to have to get into the business of live content. It has to happen."
Network partnership
In early April, when shelter-at-home orders had led to a near-complete shutdown of Hollywood movie and TV production, Vista Studios announced a partnership with Venn, an ad-supported 24/7 gaming network, to serve as the company's L.A. production center.
New York-based Venn bills itself as the "MTV of gaming" and plans to launch with 35 hours each week of Gen Z-friendly original programming, including interactive video games, music, and other entertainment programs and news delivered across commercial channels, streaming services, social media and other platforms.
Ariel Horn, Venn co-founder and co-chief executive with Ben Kusin, said the company had been planning a bicoastal launch in the latter part of 2020. The goal was to open a flagship live studio space at 3 World Trade Center in Manhattan conducive to live audiences and gaming events. Venn also planned a concurrent opening for what Horn described as a versatile "turnkey" production facility in L.A.
Instead, Horn and Kusin decided to move up the launch to August and to begin in Los Angeles only, largely because Vista could immediately meet Covid-19 production requirements.
"Randall (Heer) and Vista were the perfect partners because they had already worked through all of the Covid-19 protocols with the city of Los Angeles and the (Centers for Disease Control and Prevention), so we could … get our studio up and running in a safe way," Horn said.
"They had remote capabilities as well as a full backbone of professional studio equipment, control rooms, green rooms, and a massive 12,000-(square)-foot studio for us to build into," Horn added. "It made it extremely easy for us to accelerate our beta launch and work to get our content launched quickly despite it being a challenging time."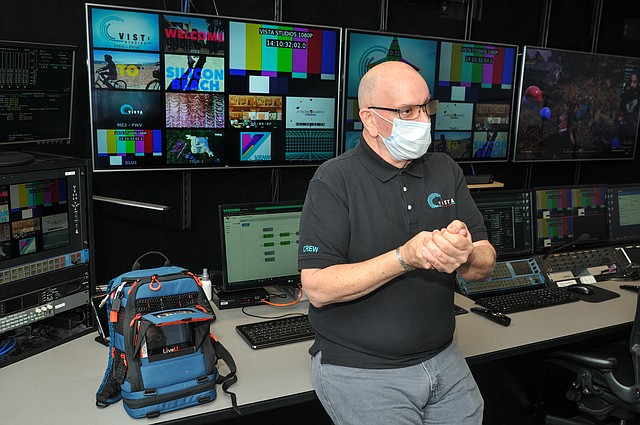 Vista Vice President of Operations Mark Depping recently showed off studio equipment that includes bonded cellular, an advanced technology that allows field broadcasters to send full-resolution video back to the production studio; lightweight remote backpacks; and two-way comms over mobile phones.
Vista used REMI (Remote Integration Technology) for work from 25 field locations for PBS' three-night late April event "Nature: American Spring Live," which was also streamed on Facebook.

"We had somebody sneaking up on baby ducks being born with a telephoto lens," Depping said. "They all had technology that allowed them to go on for hours on end with a long-life battery and send us back pictures."
Learning from sports
Both Randall and Depping have backgrounds in sports broadcasting, and Depping said remote technology used for years in sports is becoming more prevalent for other forms of entertainment as talk show hosts, chefs and others may want to do their shows from home.
"I think the virus has taken a thing that has been kind of standard for sports operations and made people think: 'How can we use this? How can we repurpose this?' Coming from sports, we already knew how to use this stuff," Depping said.
Heer said Vista Studios has never intended to replace Hollywood's major studios for feature film or TV series production, either during the Covid-19 crisis or after it.
He said there is a lot of room, however, between big-budget scripted entertainment productions and the now-familiar and not-always-attractive live visuals of Zoom.
"I think there will be a requirement of getting back to a higher level of production, but I think something fundamental is happening," Heer said. "There has been a shift in the industry where people who were resistant to trying this style of (live) production have been forced to embrace it, and that means it is going to be more prevalent in the future because a lot of the resistance and obstacles have been lifted because Covid stripped them away. Everything doesn't have to be a Martin Scorsese picture.
"Not everyone embraces change," Heer said. "And we kinda do."
For reprint and licensing requests for this article, CLICK HERE.