Aerojet Secures $1.8 Billion NASA Project
Agency expands contract for SLS rocket engines
Monday, May 11, 2020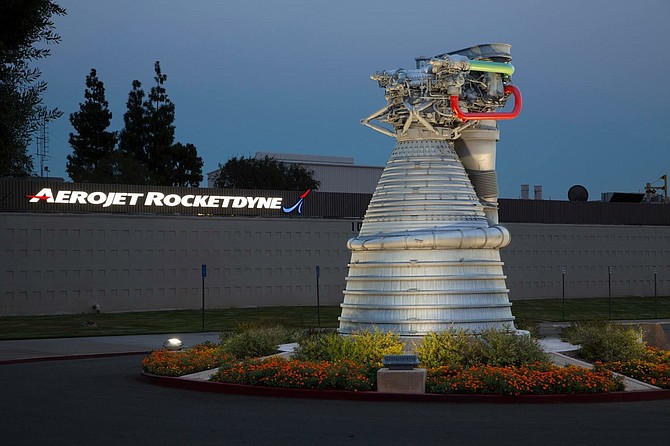 Rocket propulsion manufacturer Aerojet Rocketdyne Inc., a subsidiary of El Segundo-based Aerojet Rocketdyne Holdings Inc., was awarded a $1.79 billion follow-on contract by NASA to manufacture 18 engines for the agency's Space Launch System rocket.
The new contract, announced by the space agency on May 1, expands NASA's initial 2015 deal with Aerojet Rocketdyne, which called for six SLS rocket engines to carry crew and cargo to the lunar vicinity.
The combined contracts total almost $3.5 billion and run through Sept. 30, 2029. They are part of NASA's Artemis program, which aims to return humans to the moon by 2024 and to establish sustainable exploration on the moon by 2028.
NASA's addition to the Aerojet Rocketdyne contract follows the agency's April 30 announcement that it had awarded nearly $1 billion to three companies, including Hawthorne-based Space Exploration Technologies Corp., as part of the Artemis effort.
NASA said Aerojet Rocketdyne's upgraded engines reach the higher performance level necessary to launch the SLS rocket, which is much larger than the rockets that were used from 1981 to 2011 for more than 100 space shuttle missions.
NASA said each SLS rocket requires four engines providing a total of 2 million pounds of thrust.
Aerojet Rocketdyne to date has finished upgrading 16 engines to support the first four SLS launches, an Aerojet Rocketdyne spokeswoman said. The engines were transferred from the Space Shuttle Program to the SLS Program when the shuttle program ended, according to NASA.
A total of 24 new engines ordered by NASA will be used to sustain additional missions, the spokeswoman said.
The company said it has begun work on six of the new engines, with delivery expected to begin in 2023.
Aerojet Rocketdyne said it is targeting cost savings of more than 30% for the new engines compared to the cost of the space shuttle engines.
The engines are built at Aerojet Rocketdyne's factory in Canoga Park. The company is based in Sacramento. It's executive team, led by Chief Executive Eileen Drake, is based in El Segundo, according to the company spokeswoman.
For reprint and licensing requests for this article, CLICK HERE.