LA Business Leaders Temper Expectations for Biden Administration
Monday, November 16, 2020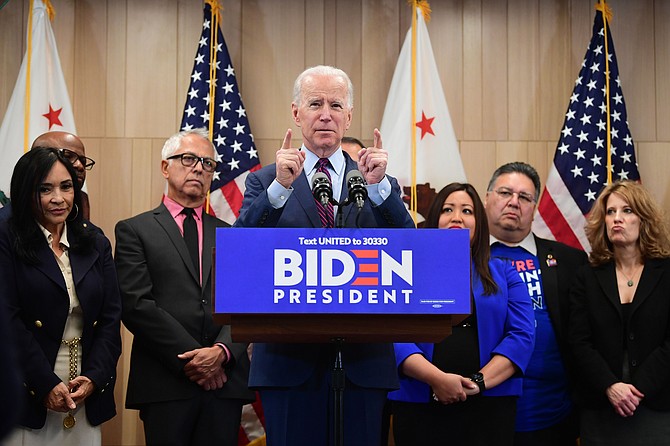 L.A. County's economy can expect a modest boost from the election of Joe Biden as president, though some industry sectors are poised to gain more than others.

The region's health care, tech, trade and renewable energy industries may fare better under a Biden administration, along with businesses that are reliant on immigrant labor.

Other areas, such as finance and real estate, could encounter a more challenging environment after four years of freewheeling policies and deregulation from President Donald Trump's administration.

That's the consensus of economists, industry experts and business leaders who reflected last week on how the election results will impact the local economy and individual businesses.

"Overall, a new Biden administration will be a slight positive for the region," said Taner Osman, research manager with Westchester-based Beacon Economics. 

Enthusiasm is tempered by the potential for a Republican-controlled Senate, which could limit Biden's ability to enact a more far-reaching agenda. 

For instance, the president-elect's push for a massive pandemic relief bill that would lift the Los Angeles economy may face an uphill fight if Republicans retain the Senate following two January runoff elections in Georgia. 

A stimulus package, like the $3 trillion plan pushed by Democrats before the election, would deliver tens of billions of dollars in relief to local governments, businesses and unemployed residents of L.A. County.

Even if Washington is divided, though, the region stands to benefit from a shift in attitude by the executive branch. 

While the current White House has disparaged California's environmental laws and immigration policies, to name just two areas, a Biden administration is more likely to work with California on multiple fronts.

"We're not going to have an administration in place that wants to pick a fight with California," Osman said. "So we won't see measures that have disproportionately negative impacts on the state or on our region."

Finance: Concern about taxes

The possibility of higher taxes under a Biden presidency is top of mind for many in L.A.'s financial industry.

If Democrats secure a majority in the Senate, some local observers say the ensuing policies might weigh down the industry. On the other hand, they say, a Republican-controlled chamber would likely limit the tax impact on L.A.

Brian Parker, co-founder and managing director of Torrance-based EP Wealth Advisors, said increased capital gains taxes could have a dampening effect on deals.

"If you are a business owner near the end of your career and are going to pay higher in capital gains, you may be less likely to sell," Parker said. "You might see fewer transactions under that." 

George Mitsanas, a principal at Gantry Inc. and founder of that firm's Southern California operations, also highlighted potential tax increases as a key issue for the local finance community.

Mitsanas argued that increases in taxes on high-income earners could drive businesses and business leaders out of Los Angeles, including those in the local finance industry. 

Parker said increases in federal taxes could have an outsized impact on California, where already-high taxes relative to other states might make relocation appealing for professionals and businesses.
— James Cutchin
Health Care: Finally, a focus on Covid

L.A.'s health care sector may be one of the bigger winners with a Biden administration in Washington.

On the most pressing issue, the Covid-19 pandemic, a more consistent and serious attitude would be welcome, said Beacon Economics' Osman.

"Right now, it is the coronavirus that is holding this region's economy back," Osman said. "If the Biden administration takes the coronavirus more seriously, that can lead us to a place where we can get more control over the virus. And that in turn helps the L.A. economy."

Among local health care companies, a likely winner is Long Beach-based managed care giant Molina Healthcare Inc. One of Molina's key markets has been the state health care exchanges set up under the Affordable Care Act. Those exchanges had been under threat from the Trump administration — threats that are likely to recede once Biden takes office.

But actions to expand health care coverage, either through Medicaid or a government-run public option, are likely to meet resistance in a Republican-controlled Senate.

"By and large, health care companies for the foreseeable future will continue to operate much as they do today," said Sahak Manuelian, managing director and head of equity trading for downtown-based Wedbush Securities Inc.

Manuelian said the local biotech industry, including Pasadena-based Arrowhead Pharmaceuticals Inc., is not as affected by health care policy changes and is more impacted by Food and Drug Administration approvals.
— Howard Fine
Infrastructure: Tempered expectations

A much-anticipated public infrastructure bonanza from the Biden administration is less likely if Republicans retain control of the Senate. Instead, infrastructure analysts say, more modest spending proposals are likely.

But a fresh approach to environmental regulation from a Biden administration could provide a boost for companies in the renewables sector.

On traditional infrastructure, such as highway construction, Congress must reauthorize a federal highway spending plan. Expectations for what might emerge are now being scaled back.

"While industry consensus remains that a comprehensive highway bill will emerge during 2021, added stimulus and size of a bill could be lower than expected in a Republican Senate," said Mike Dudas, partner for engineering, infrastructure, metals and mining at Stamford, Conn.-based Vertical Research Partners.

But, Dudas said, there might be opportunities for local firms that help companies navigate environmental and other regulations.

"Added regulatory burdens emanating from a Biden administration could drive additional business for firms like AECOM."

And a Biden administration is likely to be more friendly toward California's environmental policies, which could play out in areas like wind, solar and geothermal energy infrastructure.

"We are very encouraged that our regional industry strengths and experience align with President-Elect Biden's stated priorities, in areas such as electric vehicles, energy efficiency and renewable energy," said Bill Allen, chief executive of the Los Angeles County Economic Development Corp.
— Howard Fine
Real Estate: Keeping a close watch

Local real estate experts say the incoming Biden administration raises the prospect that tax law changes could have an impact on transactions.

"There's been some chatter about overall tax rate changes, which affects real estate," said John Loper, associate professor of real estate at USC.

One area that experts are watching is 1031 exchanges, a federal tax incentive that allows investors to defer capital gains taxes by rolling them from the sale of one property into the purchase of another, or vice versa.

"That is something that could be changed or eliminated, and that would have a huge effect on real estate sales with commercial properties. It does not affect homeowners," Loper said.

Biden reportedly plans to end the exchanges for investors with an annual income of more than $400,000. 

Tom Lagos, executive director with Marcus & Millichap Inc.'s Institutional Property Advisors, said changes to 1031 exchanges and capital gains taxes could impact the market, including single-tenant triple-net sales.

These properties are fully leased to one tenant who is responsible for maintenance and even taxes on the building making it an attractive option for investors looking to park money.

"These two combined could have a very (unintended negative) impact on single-tenant triple-net values," Lagos said. "Demand for this product could be throttled back."

More immediately, though, Lagos said that a Biden victory could speed up how many investors purchase these properties in the short term as "buyers may want to come and rush into it until legislation comes into place clarifying what will and won't happen in that sector."
— Hannah Madans
Tech: New opportunities

L.A.'s tech sector was poised for continued growth regardless of the outcome of the election, but some see a Biden win benefiting a more diverse group of entrepreneurs.
"Women and underrepresented people of color are going to be impacted the most," said Tracy Gray, founder and managing partner at 22 Fund. "There's capital out there, but it's not helping the people who need it."

She pointed out that Obama-era programs aimed at bolstering support for startups through the Small Business Administration were phased out during Trump's presidency. 

If these programs are revisited by Biden, more federal dollars could become available for fund managers committed to social impact investing.

Gray said Biden's commitment to reenter the Paris Agreement to reduce climate change could also produce new opportunities for cleantech businesses in Los Angeles, especially if federal subsidies become available to push the United States toward its climate goals.

One company likely breathing a big sigh of relief after Biden's victory is TikTok, which has its largest U.S. office in Culver City. The short-form video platform's Beijing-based parent company, ByteDance Ltd., has been locked in a legal battle with the Trump administration since August when Trump attempted to ban the TikTok app unless ByteDance sold its U.S. business to an American company.
— Elijah Chiland
Trade: Ready for a new approach

After suffering through the Trump administration's trade war with China, there's cautious optimism that a Biden White House will work to ease tensions and clear the way for more normalized imports and exports of goods and services.  

"The trade policy needs to be reconsidered because it has not been working," said Christopher Tang, a professor in business administration at UCLA. 

"Yes, we import a little less from China, but that did not result in creating more jobs, including more manufacturing centers in the U.S. Instead, a lot of sourcing locations shifted from China to countries such as Vietnam."

Tang also hopes Biden's administration will work with both sides of Congress to come up with a sound industrial policy. 

"It's more like a strategic planning for the country to really rethink what kind of industry the United States must keep ... and then work with all the different constituencies, all the stakeholders, to come up with the plan," said Tang.

When it comes to restoring manufacturing and creating good jobs, Tang urged careful consideration of what those jobs might be. 

"First of all, the cost would be higher unless we change the nature of work," he said. "Companies need to invest in technology automation so that they can reduce the number workers needed in the U.S. … We need to leapfrog the developing countries, not compete with them."
— Mediha DiMartino
For reprint and licensing requests for this article, CLICK HERE.