SpaceX Launches Crewed Mission With NASA
Monday, November 16, 2020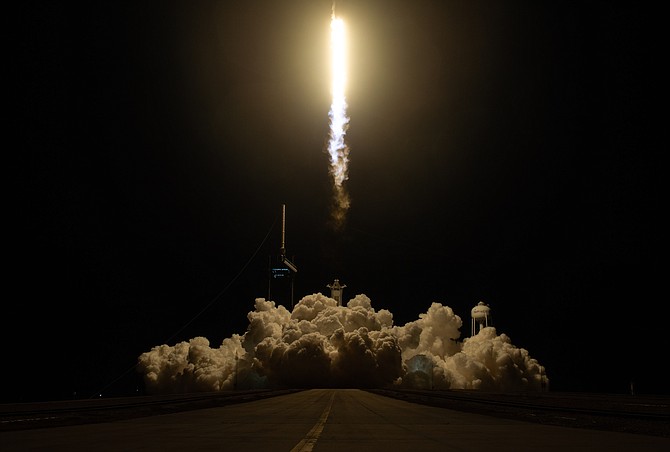 Space Exploration Technologies
 Inc.
 launched one of the most high-profile missions
 in
 its nearly two
-
decade
 history on Nov. 15, sending four astronauts 
out of Earth's atmosphere en route to the International Space Station.
It was the second manned spaceflight undertaken by SpaceX and the first mission completed by the company since its Falcon 9 rocket and accompanying Crew Dragon shuttle became the first commercially designed spacecraft certified by NASA for human space flight earlier this month. 
The spacecraft lifted off from the Kennedy Space Center in Cape Canaveral, Fla., just before 7:30 p.m. local time. Following takeoff, SpaceX successfully landed the first stage rocket on a drone ship stationed in the Atlantic Ocean. 
The four astronauts who comprise the spacecraft's crew are expected to dock at the Space Station in the evening of Nov. 16. 
SpaceX launched its first crewed mission in May in a demonstration flight with two astronauts. It was the first manned mission to launch from U.S. soil in nearly 10 years. The Dragon shuttle successfully docked at the Space Station and made a safe return trip to Earth in August. 
The company's most recent flight is the first of six missions to the space station that it plans to complete in partnership with NASA. The space agency has begun partnering with private companies in recent years, but SpaceX is the first to complete missions crewed by NASA and Japan Aerospace Exploration Agency astronauts. 
In the past, SpaceX has also partnered with NASA and the U.S. Space Force to deploy satellites and carry cargo to the Space Station. 
Additionally, both SpaceX and Long Beach-based Rocket Lab are also partnering with NASA on its Artemis program, which aims to land the first woman on the moon by 2024. 
For reprint and licensing requests for this article, CLICK HERE.