GoodRX Preparing for $100 Million IPO
Monday, September 7, 2020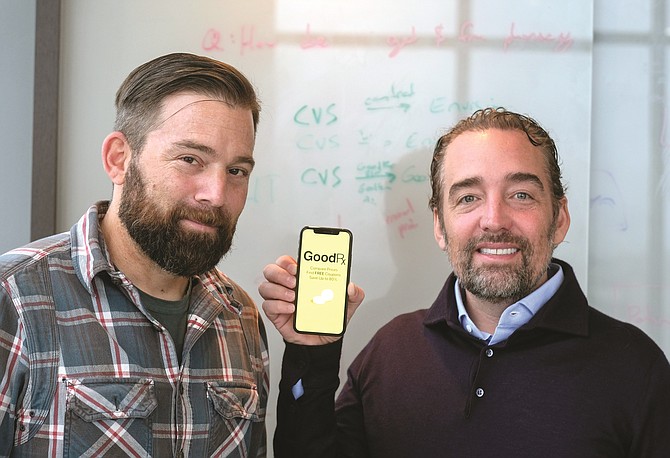 Santa Monica-based GoodRx Holdings Inc., which operates a popular and fast-growing prescription drug comparison price shopping platform, is poised to become the first Los Angeles County company to go public in more than a year.

GoodRx on Aug. 28 filed a registration statement with the Securities and Exchange Commission for a public offering of up to $100 million worth of shares. 
The company intends to use the proceeds to transform itself into a business that more broadly helps "Americans get the health care they need at a price they can afford," according to the registration filing.
"To achieve this, we are building the leading consumer-focused digital health care platform in the United States," the filing said.

GoodRx plans to do for health care what it has already done for consumers looking for the best prescription drug prices among their local pharmacies.

The company was established nearly a decade ago when Doug Hirsch, a former Facebook Inc. executive who was then in the insurance business, recoiled at the prospect of paying $450 — even with his insurance card — for a single prescription at his local pharmacy and decided to shop around.
Hirsch ended up finding the same prescription drug for as low as $250 at another pharmacy and in the process learned just how varied prescription drug prices could be.

That's when he decided to team up with his friend and fellow tech veteran Trevor Bezdek to create a platform to help people find the lowest prescription drug prices in their areas. And so, GoodRx was born in 2011.

Hirsch and GoodRx co-founder and Co-Chief Executive Bezdek recounted that story in a letter they wrote to preface the public offering registration.

The company now has the ability to price drugs at 70,000 pharmacies across the United States. It makes money from fees it charges, either on individual prescription purchase transactions or from pharmacy benefit managers.

Comparison pricing juggernaut

The idea of price shopping for prescription drugs caught fire with consumers, but just how popular the service had become for the closely held company was a mystery — until this registration filing.
By 2016, revenue at GoodRx had already hit $99 million. It then nearly quadrupled over the next three years to reach $388 million for 2019.

That growth has continued in 2020 — despite the Covid-19 pandemic — with GoodRx recording $256.7 million in revenue during the first six months of the year, well above the $173.2 million the company reported for the first six months of 2019.

The rise in basic net income for GoodRx was just as spectacular, from $8.9 million in 2016 to $66 million last year. For the first six months of 2020, net income was $54.7 million, up from $31.2 million for the first half of 2019.

Almost all of this was before the company began its expansion and transformation last year, which featured the acquisition of San Francisco-based telehealth service HeyDoctor and the launch of a comparison telehealth shopping platform.

"Our goal has always been to provide access to affordable and convenient health care to all Americans. We started by helping people find lower prices on prescriptions, but we've long wanted to help make doctor visits and other health care services affordable as well," Hirsch said in an email to the Business Journal last month. "Telehealth is a natural extension of our platform."

The public offering is intended to help fund this transformation. The company decided to strike after the markets had recovered from their pandemic-induced swoon this past spring. In August, both the Nasdaq and S&P 500 indexes reentered record territory, with the Dow Jones 30 Industrials index not far behind.
A company spokeswoman did not respond to an email seeking comment on the IPO timing.

IPO drought 

Assuming GoodRx goes through with the offering in the next few weeks, the company intends to list its Class A common stock on the Nasdaq Global Select Market under the ticker symbol GDRX.
This would be the first IPO by an L.A. County-based company since a pair of IPOs in the spring of 2019. Plant-based meat substitute company Beyond Meat Inc., headquartered in El Segundo, made a spectacular market debut in May 2019 while Cerritos-based internet clothing retailer Revolve Group Inc. had its IPO a month later.

Beyond Meat's share price has fared well, closing Sept. 1 at $135.24, double the $66.79 close on its initial day of trading on May 3, 2019. Revolve Group's share price, though, has fallen, closing Sept. 1 at $21.46, down 35% from its initial close of $33.30 on June 10, 2019.

L.A. County's drought of IPOs over the past 15 months stands apart from the rest of the nation, which has seen a strong market for IPOs at a time when stocks were often in or near record territory, according to Sahak Manuelian, head of equity trading at downtown-based Wedbush Securities Inc.

Manuelian said the prevalence of private equity funds in the Los Angeles area and the increasing popularity of special purpose acquisition company, or SPAC, deals as an alternate way for companies to go public may be factors behind the dearth of IPOs among local companies.

He also said he is not surprised that the first IPO that could come out of the gate in L.A. County this year is in the health care arena.

The strong market performance of publicly traded health care companies, especially since the Covid-19 pandemic struck, he said, has fueled more interest in public offerings from health care companies.
Once a registration statement is filed, Manuelian added, the public offering itself usually follows within a few weeks though there have been times when rapidly evolving equity market reversals have forced postponements.

Pricing of the shares will take place closer to the offering date, usually a day or two beforehand.

Insider clout

According to the registration statement, under the IPO, Bezdek and Hirsch will each be awarded 4.5 million shares of Class B stock. Each Class B share has 10 times the voting power of a Class A share, which means Bezdek and Hirsch will have considerable clout on company policy decisions.

Manuelian said such arrangements give insiders more control and are frequently used as a tactic to ward off potential hostile takeover attempts.

Bezdek and Hirsch each received a total compensation package last year of about $1.1 million, including a base salary of $500,000 and nearly $609,000 in nonequity incentive compensation.

According to the filing, Morgan Stanley, Goldman Sachs & Co., JP Morgan Chase & Co. and Barclays Group will act as lead bookrunners for the proposed offering.

The filing named nine other investment banks as additional bookrunners and nine securities firms as co-managers.


For reprint and licensing requests for this article, CLICK HERE.