GoodRx Founders Poised for Big Gains From IPO
Monday, September 21, 2020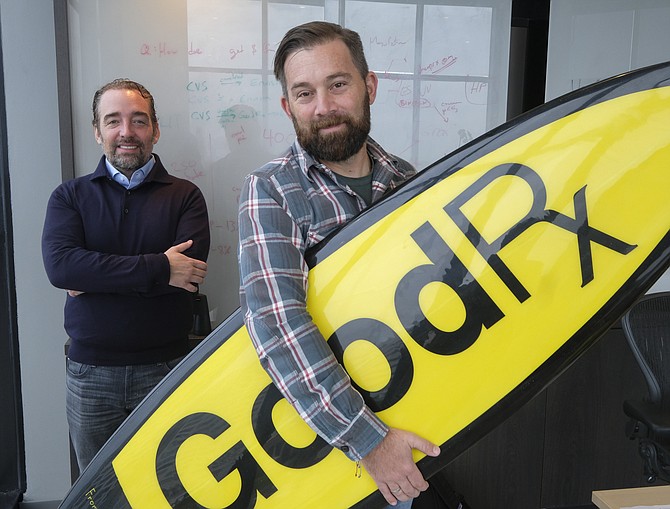 GoodRx Holdings Inc. founders Doug Hirsch and Trevor Bezdek are positioned to reap handsome rewards from the planned initial public offering of their Santa Monica-based prescription drug price shopping platform. According to an amended S-1 registration prospectus the company filed on Sept. 14 with the Securities and Exchange Commission, the co-chief executives will be offered "founders awards" of 12.3 million shares each.

The company assigned a fair market value of $533 million to both awards combined, to be realized within the next four years, based on performance and time vesting rules.

Hirsch and Bezdek each will also be awarded 4.5 million shares in Class B stock, which has 10 times the voting power of identically priced Class A shares available to the public.
GoodRx has priced its IPO at between $24 and $28 a share, aiming to raise $570 million from the offering. According to the company's Sept. 14 announcement, GoodRx plans to offer a total of 38.9 million shares worth approximately $970 million. Only 23.4 million shares worth an estimated $570 million will be offered by the company; the rest will be sold by existing shareholders, and those proceeds will not go to the company.

The exact timing of the IPO was not specified, but usually once a company sets out a purchase price range, the offering takes place within days.

The $570 million that the company said it is seeking to raise far exceeds the maximum of $100 million the company said it would seek to raise in its initial registration filing on Aug. 28.

Once the shares are offered, Menlo Park-based private equity firm Silver Lake Partners — which assumed an approximately one-third stake in the company two years ago — has pledged to purchase $100 million worth of the shares in a private placement.

The company intends to use the proceeds to transform itself into a business that more broadly helps "Americans get the health care they need at a price they can afford," according to the registration filing. "To achieve this, we are building the leading consumer-focused digital health care platform in the United States."

GoodRx was founded by Hirsch and Bezdek in 2011 as a way to help consumers compare prices for prescription drugs at pharmacies, taking advantage of little-known price variations.

The company now has 70,000 pharmacies on its platform; it makes money from fees it charges, either on individual prescription purchase transactions or from pharmacy benefit managers.

Last year, in its first venture outside its prescription drug pricing platform, GoodRx acquired San Francisco-headquartered telehealth service HeyDoctor.

Also in the amended prospectus document but not disclosed elsewhere: GoodRx on Aug. 31 agreed to purchase Asheville, N.C.-based prescription management company Scriptcycle for $60.1 million in cash. Scriptcycle primarily serves retail pharmacy chains.

In addition, the prospectus document revealed that GoodRx paid $14.3 million in cash to acquire HeyDoctor.
For reprint and licensing requests for this article, CLICK HERE.