GoodRx Stock Soars on Opening Day
Originally published September 23, 2020 at 6:46 p.m., updated September 25, 2020 at 3:47 p.m.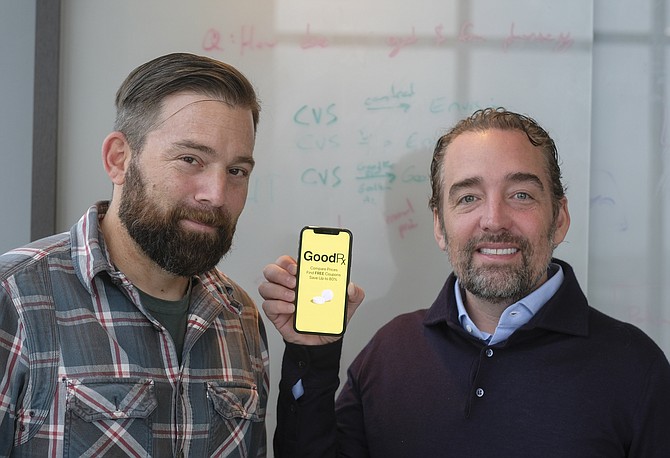 GoodRx Holdings Inc. reaped a bonanza as it began life as a public company last week.
The Santa Monica-based health tech company on Sept. 23 opened Nasdaq trading under the symbol GDRX with 34.6 million shares priced at $33 a share, good for a $1.14 billion opening haul.
The stock closed its first day of trading at $50.50, a 53% gain, as investors snapped up shares of the profitable company, which runs a prescription drug price comparison shopping platform.
The share price slipped back a bit on the second day of trading, closing down 7.5% to $46.70 — good for a market cap of approximately $17.9 billion and a place among the top 10 publicly traded companies in Los Angeles County.
GoodRx realized proceeds from 23.4 million of the shares offered, meaning it raised $772 million for its own use from the offering.
Another 11.4 million shares were sold by existing shareholders. Proceeds from those sales went to the shareholders, not the company.
That $772 million was far above the $100 million the company said it hoped to raise when it filed its initial prospectus on Aug. 28.
And it was 35% above the $570 million it said it hoped to raise in an amended prospectus filing on Sept. 14, when it projected setting the opening price between $24 and $28 a share.
Based on reports of high demand from potential investors as the first trading day approached, the company upped the offering price to $33 a share.
GoodRx issued a total of 38.6 million shares of Class A stock and 345.6 million shares of Class B stock. The company's Class B shares — each with a voting value of 10 Class A shares — went mostly to management and other existing shareholders.
In all, the company has roughly 384 million shares outstanding.
Profitable venture
GoodRx was founded by Doug Hirsch and Trevor Bezdek in 2011 as a way to help consumers comparison price shop for prescription drugs at pharmacies, taking advantage of little-known price variations.
The company now has 70,000 pharmacies in its platform and makes money from fees it charges, either on individual prescription transactions or from pharmacy benefit managers.
Last year, in its first venture outside its prescription drug pricing platform, GoodRx acquired San Francisco telehealth service HeyDoctor.
In a message to investors released before the Sept. 23 Nasdaq opening bell, Hirsch and Bezdek said, "We started GoodRx in 2011 because we realized too many people in the United States don't receive the health care they need — they can't easily get to a doctor or can't afford treatment. These are the hard realities of our broken health care system.
"We have to do better. We can do better," the pair said. "That's why GoodRx has built a leading consumer-focused, digital health care platform in the U.S. We aim to provide every American with access to affordable and convenient healthcare."
Even as it has been saving money for consumers, GoodRx itself has been doing quite well financially.
In its initial prospectus on Aug. 28, the company reported that revenue had quadrupled over three years to reach $388 million in 2019.
GoodRx also reported $256.7 million in revenue for the first six months of 2020. Basic net income rose from $8.9 million in 2016 to $66 million last year.
For the first six months of 2020, net income was $54.7 million, up from $31.2 million for the first half of 2019.
These results place GoodRx among the few companies that recorded substantial profits prior to going public. Plus, it's part of a hot health care sector. Both factors have made the company more desirable among investors.
'Insatiable' demand
"Insatiable investor demand for IPOs this year has certainly been a theme, especially within biotech/health care/tech complex," said Sahak Manuelian, managing director and head of equity trading at downtown-based Wedbush Securities Inc.
Regarding GoodRx, Manuelian said investors are seeking exposure to telemedicine, noting the company's purchase of HeyDoctor.
"The opportunity to own such a company in this exciting segment of health care has investors bidding up the stock," he said.
And the company's basic business — offering access to lower prices for prescription drugs — is also proving attractive to investors.
"That will always resonate well, and going into this upcoming election, it seems like they got the timing right," Manuelian said.
Hirsch and Bezdek also did very well on the first day of trading. In its amended S-1 registration prospectus filed Sept. 14 with the Securities and Exchange Commission, the company said it offered Hirsch and Bezdek "founders awards" of 12.3 million shares each.
The company assigned the combined awards a fair market value of $533 million, to be realized within the next four years, based on performance and time vesting rules.
The market value of those shares as of Sept. 24 was $1.15 billion, or more than $574 million for each of the co-founders.
Hirsch and Bezdek have also been awarded 4.5 million shares each in Class B stock. At the Sept. 24 close of $46.70 per share, their individual stakes were each worth $210 million.
For reprint and licensing requests for this article, CLICK HERE.