LA, Long Beach Ports Log Record Results in First Quarter
Monday, April 19, 2021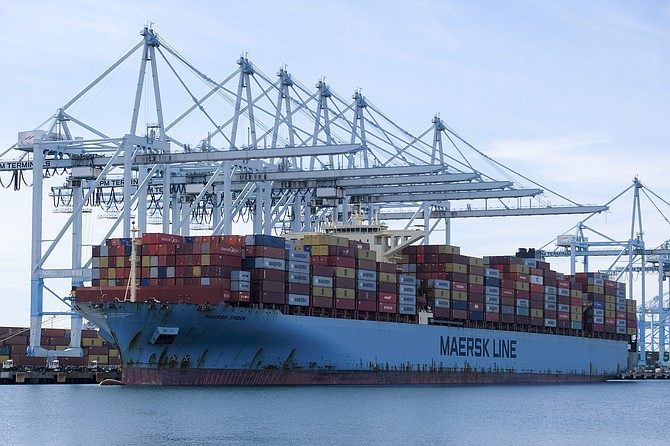 As cargo ships continue to clutter the horizon at the San Pedro Bay, both ports notched their best first quarter on record.

Dockworkers and terminal operators at the Port of Long Beach moved 2,376,128 twenty-foot equivalent units (TEUs) during the first three months of 2021, a 41.2% increase from the 1,682,921 TEUs they handled during the same period in 2020, and up from the 1,806,724 TEUs in the first quarter of 2019.

"Although the pandemic is receding, consumers are spending less on travel this year and turning toward online retail in unprecedented numbers to purchase exercise equipment, office furniture and home improvement items," Executive Director Mario Cordero said in a statement.
 
"The demand for ecommerce is happening more quickly than we anticipated, but we will continue to collaborate with our industry stakeholders to catch up with the unprecedented cargo volume at our gateway," he added.

The Port of Los Angeles saw 2,592,431 TEUs, up 44% from 1,799,749 TEUs during the first three months of last year and a 17% uptick from 2,208,733 TEUs in the first quarter of 2019.  

Port of L.A. Executive Director Gene Seroka said during a video press conference on April 14 that the port is "on track to close its fiscal year on June 30th, exceeding 10 million TEUs. This would be the first ever for any Western Hemisphere port."
 
The cargo surge and vessels at anchor will likely persist through the second quarter, just in time for the ports to "then pivot very quickly to what is considered our traditional peak season, which usually begins at the end of July or August," Seroka said.
 
"We'll have to start moving the back-to-school products … fast-fashion in the fall and then come up on the all-important time for retail, our fourth quarter, year-end holidays. So, we've got to get this right, and we got everybody pulling in the same direction."

For March, the Port of L.A. processed 957,599 TEUs, a 113% jump compared to 449,568 TEUs at the onset of the pandemic in March 2020 and a 47% increase compared to 650,977 TEUs handled in March 2019. Imports reached 490,115 TEUs last month, an increase of 123% compared to the previous year. Exports remained about flat at 122,899 TEUs while empty containers surged 219% compared to March 2020, reaching 344,585 TEUs.

Seroka pointed to high demand in Asia for the reason why so many containers continue to go back across the Pacific empty.

"Based on our assessment and what's been discussed in the marketplace, it's quicker to get the empties moved out onto ships and to the next point of origin in Asia to recycle to come back as imports than it would be for the additional transit time to reach U.S. exporters here and then deliver to Asia or buyers on the other side of the Pacific," he said.
 
"So, they're trying to cut down the transit times to keep catching up on the massive orders for imports and the next round that come into the United States," Seroka added.

Port of Long Beach's dockworkers and terminal operators moved 840,387 TEUs last month, a 62.3% jump from March 2020, a 52% uptick from March 2019, and its busiest month on record Imports were up 74% to 408,172 TEUs while exports declined 3.9% to 139,710 TEUs. The volume of empty containers shipped overseas form the Port of Long Beach increased 112.5% to 292,505 TEUs.

Seroka used the press conference to point out several ways the local ports can benefit from American Jobs Plan, President Joe Biden's $2.3 trillion infrastructure proposal. He highlighted the need for improvements to digital industrial infrastructure, grid resiliency for ports and moving to zero-emission trucks.

"Now is the ideal time to invest in the transition of heavy-duty vehicles, especially Class A trucks to zero-emission operations," he said. "Our goal here at the Port of Los Angeles is to achieve 100% zero-emissions drayage trucks by the year 2035."
For reprint and licensing requests for this article, CLICK HERE.