How the King of Deals Resurrected the King of Pop's Estate
Monday, December 6, 2021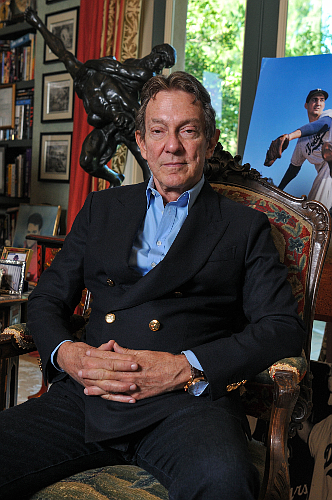 There aren't many lawyers in the entertainment industry as famous as their celebrity clients, but John Branca is one of them.
 
Branca is co-executor of the Michael Jackson estate and represented Jackson off and on from 1980 until Jackson's unexpected death in 2009 while also brokering historic deals for the likes of Rolling Stones, Aerosmith, Dr. Dre, The Eagles, Motown Records founder Berry Gordy and others. These deals not only helped the individual artists or acts achieve record earnings, keep rights in their songwriting catalogs and generally protect their creative legacies, but, in many cases, also set precedents that fundamentally changed the nature of the music industry going forward.

Branca told the Business Journal that over the last 12 years, he has earned $2.5 billion for Jackson's estate through a combination of catalog deals and high-profile documentary, film and theatrical projects, the latest of which, the Broadway play "MJ the Musical," begins previews Dec. 6. Three of those record deals rank among the biggest in the history of the recording industry, including in 2010 when Sony Music Entertainment paid $250 million for his entire catalogue, a $750 million deal in 2016 for Jackson's 50% share of what was then Sony/ATV Music Publishing and then when Sony reupped in 2018 for another seven years of rights with another $250 million contract.

Branca's early professional experiences helped him forge his career path, first as a teenage musician in the rock band The Other Half and later as an estate planner for law firm Kindel & Anderson. Inspired by a Time magazine profile of Elton John that quoted John's then-lawyer Barry Tyerman, Branca moved into entertainment law where he was mentored by renowned music lawyer David Braun, whose clients included Bob Dylan, Neil Diamond and the Beach Boys. Jackson hired him in 1980 as a replacement for his father and manager, Joseph.

Setting the bar
Branca was an integral part of many of Jackson's earliest and most significant achievements, as far back as 1983 when he helped raise $500,000 to make the groundbreaking video for "Thriller," whose million-selling "making of" videotape was the first of its kind, helping to drive album sales to 70 million copies worldwide and legitimize music videos as an art form.
 
Two years later, Branca helped broker the $47.5 million purchase of ATV Music Publishing, which held copyrights to The Beatles' and Little Richard's songs. The contentious acquisition caused a rift between Jackson and his "The Girl Is Mine" collaborator Paul McCartney, but it netted Jackson $560 million during the three decades he owned it, and another $750 million when his estate sold its share to Sony in 2016.

Branca credits Jackson for being the first to see the value in that deal, but contrary to some long-held rumors that the singer bought the catalog out from under McCartney, Branca insists his client tried to obtain permission or at least to broker an accord with the former Beatle ahead of time.
 
"I went to Paul McCartney's lawyer at the time to see if they were bidding because they were friends, and Michael didn't want to go behind McCartney's back," Branca said. "The attorney obviously probably didn't take us seriously. But I still have the note from Michael telling me to get the deal done."

In 1989, Branca and future Live Nation Entertainment Inc. Chairman Michael Cohl developed the concept of "package" touring for the Rolling Stones' Steel Wheels concert cycle, which centralized ticket sales, sponsorships and logistics with a national promoter instead of their local counterparts. Like "Thriller" did with music videos, Branca's Steel Wheels deal changed the model for almost all major tours going forward.
 
Almost two decades later, he was among the first to spot the financial opportunities afforded by the passage of the 2006 Songwriters Capital Gains Tax Equity Act, which benefited American artists selling their song catalogs. He later facilitated catalog sales for Aerosmith's Steven Tyler and the late Kurt Cobain (through his widow Courtney Love) in 2008 and paving the way for a deluge of similar transactions over the subsequent 13 years.

Creating value
Despite this careerlong aptitude for anticipating trends, and in some cases kickstarting them himself, Branca insists he's only as good as his clients, a claim which is probably an easier one for him to make than for many other lawyers.
 
"When you represent the biggest artists in the world, you have a level of expertise that other lawyers don't have," he said. "So, when you're representing the Rolling Stones, you can come up with all sorts of ideas that nobody else has ever done — because it's the Rolling Stones."

That said, handling a client's career after their death is a much different challenge, especially when it's unexpected, as was the case with Jackson in 2009.
"There was no planning; there was no anticipation," Branca said.
 
Armed with Jackson's songs, his recordings, videos, name and likeness, all of which Jackson owned, Branca took on the responsibility of shepherding Jackson's legacy and relieving the artist's estate of a tax liability that the Internal Revenue Service at one point calculated to be more than $700 million.
 
Branca said he relied on his decades of experience with the singer for insights into opportunities Jackson might have pursued, starting by turning behind-the-scenes footage of rehearsals for the performer's upcoming tour into the documentary "Michael Jackson's This Is It."
 
The film went on to become the highest-grossing documentary of all time with more than $261 million in box office receipts, emboldening Branca to collaborate on two Cirque du Soleil shows in Las Vegas, two documentaries about different eras in Jackson's career, the Broadway show and an upcoming feature film Branca hopes will become "the largest grossing, most acclaimed biopic in the history of
Hollywood."
 
Though he credited the shows' success to an unparalleled interest in Jackson, as well as "picking the right partners" on each new endeavor, Branca's instincts have consistently proved right. He said the Cirque show "Michael Jackson: One" has grossed more than half a billion dollars since its 2013 premiere, and Jackson maintains a consistent ranking at or near the top of Forbes' annual list of the highest-paid deceased celebrities. Even the child sexual abuse allegations against Jackson that resurfaced in 2019 with the release of the HBO documentary "Leaving Neverland" haven't slowed his popularity; in 2020 alone, his music generated $75 million in revenue for the estate and 7.3 billion streams.
 
Branca acknowledged that he's done a good job with the estate, but ultimately for him, being the steward of an artist like Michael Jackson is about being his fan first. "We try to do the things that we want to see or listen to," he said.
 
But after more than 40 years in the business, he said, each client presents him with new challenges.

"The truth is that as a business adviser, there's no cookie-cutter approach," Branca said. "When you're dealing with such huge artists, you get hired, and you get in the middle of it and then you help figure it out. And if you're good, you come up with creative business ideas that create value."
For reprint and licensing requests for this article, CLICK HERE.