Business Managers Land Starring Roles in Celebrity-Branded Business Ventures
Monday, December 20, 2021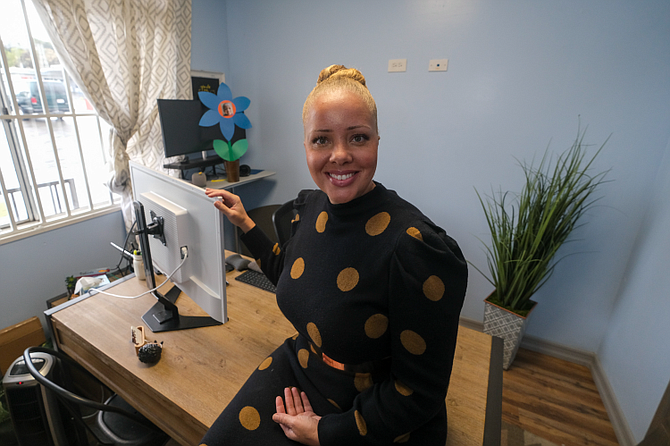 Spurred by peers occasionally hitting jackpots, Hollywood talent has been diversifying into entrepreneurial side ventures in which, in a new twist, their business managers and lawyers take frontline roles. Those side hustles outside core entertainment careers can be in beverages, food, cosmetics, fashion, personal fitness, cannabis products and an array of online media propositions they own or co-own.

"We're living in a very unique period in time where innovation is plentiful and capital is readily accessible," Belva Anakwenze, principal at Abacus Financial Business Management in Palms, said.

A prime example of the celebrity gold rush is the Casamigos tequila brand George Clooney co-created in 2013 and sold for a cool $1 billion in 2017 to spirits giant Diageo. Clooney's co-creator was Rande Gerber, an entertainment entrepreneur married to supermodel Cindy Crawford. That lofty price tag jolted Hollywood.
"Even 10 to 15 years ago, these examples of celebrities taking equity in founding of companies were rare," said Century City-based attorney Shaun Clark.

Clark, a partner at law firm Sheppard Mullin Richter & Hampton, sees social media as the game changer.

"I attribute a lot of the shift to technology that gives sophisticated influencers and talent a voice and direct connectivity with their fans and demographic," he said. "You're not just leveraging their name, voice and recognition, you are talking to an entire following that sees and likes what the celebrities are saying."

In the hard liquor industry, where gaining market share is normally a glacial process, celebrity associations boost sales for tequila, a category that seems overrun with Hollywood and other talent. Besides Clooney's Casamigos, actress/producer Eva Longoria backs Casa Del Sol, basketballer Michael Jordan co-founded Cincoro, LeBron James drives 1707 Lobos, influencer Kendall Jenner pushes 818 Tequila, and pop music's Nick Jonas launched Villa One. Jenner's 818 brand generated mixed reviews from aficionados but sold out at launch.

The latest sensation is Dwayne "The Rock" Johnson's Teremana, which ranked a lofty No. 6 among mid-priced tequila brands in 2020, the highest newcomer brand in that middle-priced category, according to beverage market researcher Shanken Daily News. Armed with Johnson's celebrity firepower, the brand's distributor Mast-Jägermeister became an instant force in tequila.
 
"It's very rare for a premium brand to do that kind of volume in its very first year on the market," according to researcher Shanken.

Source material
In some cases, celebrities develop their own ideas, but more often, celebrities attach to embryonic businesses presented to them. Both of these entrepreneurial options are unlike traditional endorsement deals with major brands that pay one-time big money to famous talent to be essentially hired-hand presenters for a limited period of time.
As for talent-has-this-idea situations, business managers take a lead role in creating a business plan.
 
"The business manager might be the quarterback for putting together financial information that will enable the client's idea or product move to the next stage and possibly to market," said Mickey Segal, the founding and managing partner of Westwood-based business manager NKSFB. "These are by the larger clients" with deep pockets to fund development.
 
Segal oversees Hollywood's biggest business management specialist, with 600 employees in five offices, and is a division of Focus Financial Partners.

Talent's business managers can serve as de facto chief financial officers of the ventures, supervise product/vendor relationships, point the way to third-party funding, and counsel clients on insurance and overhead expenses. To some degree, business managers incubate startups hatched by their clients. That incubation can be indirect by helping to arrange third parties to take over functions that aren't in the business manager's wheelhouse or are too large to handle directly.

Business manager Mike Merriman advises a music client who launched a successful beer-drinking contraption, the Chugbud. Merriman, president of downtown-based Parr3, serves as de facto chief financial officer of the startup for his client, known professionally as Mike, a hip-hop/pop music singer with 4.5 million monthly listeners on music streamer Spotify.
 
The singer has a big following on the college music concert circuit where the party-hearty Chugbud is a natural lifestyle fit. Merriman said his client "went from assembling the product in a garage to outsourcing high-volume manufacturing and selling tens of thousands of units." 

Active and passive income
The other template involves numerous instances in which existing embryonic businesses seek to connect with celebrity. Well-known talent is wooed to serve as brand ambassador — often with a slice of equity ownership as payment and a long-term involvement — and the startups may even solicit a celebrity cash investment.
Century City-based business manager John Blakeman, a partner at Macias Gini & O'Connell, noted that "late-stage investment companies and emerging brands are looking for some capital to take them to the next level. Through VCs and other investment avenues, proposals are crossing business managers' desks."
 
Another role of business managers and attorney advisers is being frank when clients want to go all-in for demonstrably high-risk ventures that seem like poor bets and that would stretch the client financially to personally fund. Then the business manager's job is "talking them off the ledge and saving them from themselves," said Anakwenze.
In the past, business managers and attorneys were not on the front line — personal managers who guide overall careers and agents who book gigs were traditionally initial catalysts. All are part of a celebrity's team of advisers.
 
But with the boom in celebrity monetization avenues, business startups and digital media have become mashups blurring lines. Of course, business managers remain mainstays for traditional services in accounting, banking, financial planning and also in lining up passive investments such as purchasing income-producing real estate or small stakes in startups. Lawyers recently became hubs, too, from involvement with increasingly complex celebrity endorsement deals and their industry contacts.

These celebrity associations provide instant visibility for the business ventures, but there's risk if talent gets involved in controversy down the road. For example, earlier this month, brewer Anheuser-Busch Cos. abruptly discontinued its Cacti Agave Spiked Seltzer drink, which is branded by rapper Travis Scott, after 10 people died in a crowd surge while Scott performed at the Astroworld Festival.
 
For business managers and lawyers, side ventures help clients fulfill wealth-building goals, however, and can establish bona fides in business outside of Hollywood, which can be a springboard to second careers.
 
Further, unlike traditional Hollywood work, which often requires long concert tours or reporting to Hollywood soundstages at the crack of dawn, client creative talent engage in side gigs that have the potential of becoming self-propelling after putting in elbow grease to launch. Business managers perennially advise their clients to pursue activities that allow them to "earn money while you sleep."
For reprint and licensing requests for this article, CLICK HERE.