Supply Chain Issues Will Continue Through First Half of 2022
Monday, December 20, 2021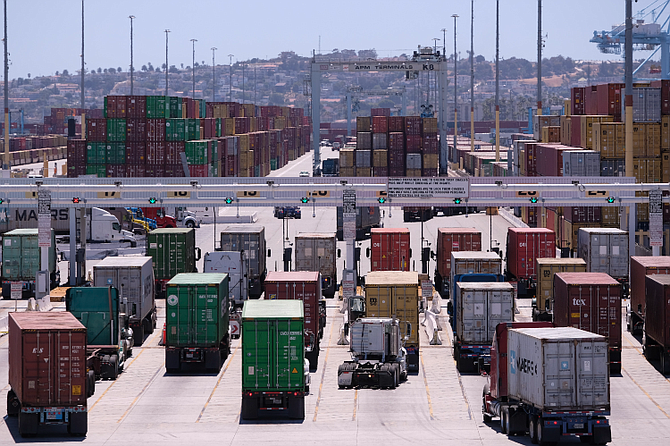 Dray Alliance Inc. last week announced it picked up $40 million in Series B funding, bringing its total raised to $55 million. The funding round includes $20 million equity financing from Headline, Craft Ventures, Harpoon Ventures, Matrix Partners and Quiet Capital, and $20 million in working capital financing from J.P.Morgan Chase & Co. 

The capital influx will help Dray Alliance "expand nationwide to all ports in the U.S. before we consider international expansion in the next phase of our company's growth," said Chief Executive Steve Wen, who co-founded the company in 2018 with Jason Yu and Hank Cui.

Dray Alliance's proprietary online platform matches available trucks with cargo containers ready to be picked up at the local ports and warehouses. With industry watchers anticipating supply chain pressures continuing into first half of 2020, perhaps it's no surprise the investors are betting on the Long Beach-based startup.

This year, local ports will likely surpass cargo volume records set in 2018. Dockworkers and terminal operators at the Port of Long Beach already moved 8.63 million twenty-foot equivalent units of cargo through November, and Executive Director Mario Cordero said he expects to see the surge starting to taper off by mid-2022.
 
"It's likely that it will be another record year of cargo for the Port of Long Beach," Cordero said via email.

Meanwhile, the Port of Los Angeles is on track to finish the year at 10.7 million TEUs.
Port of L.A. Executive Director Gene Seroka said his team has been using Horizon, a six-month cargo forecasting tool that enables them to have "a better line of sight and start seeing around corners," but he wasn't certain if the annual cargo records will become the new normal.

"Now, in the midst of the holiday season when many want to spend time with family and friends and take a little bit of vacation time away from this hectic supply chain, we're going to have to do our level best to keep moving products," Seroka said. "At the same time, we're going to have to capture and harness the strength of this mini peak with the early Lunar New Year and then take a look at what we're going to do in Q2. If Q2 is strong with this inventory replenishment program that the retailers have, I think we'll have yet another very strong year."

On the macro scale, the supply chain disruptions will remain high until the second half of 2022, according to a report published Dec. 9 by Euler Hermes Group, a Paris-based provider of credit insurance.

"Volatility in trade flows should remain the norm until the spring," the report stated. "Looking ahead, three factors will drive the normalization of trade from (the second half of) 2022: A cooling down of consumer spending on durable goods, given their longer replacement cycles and the shift toward sustainable consumption behaviors; less acute input shortages as inventories have returned to or even exceeded pre-crisis levels in most sectors and capex has increased (mainly in the United States); and reduced shipping congestions as capacity increases."

Dray Alliance's Wen has been immersed in supply chain issues since he was 12 when his parents, who immigrated from China, started an import-export business in the San Gabriel Valley and relied on him as a translator. He said he sees investing in automation, technology and other infrastructure as an integral part of improving the conditions for the shippers, truckers and the ports in 2022 and beyond.

"The silver lining out of all this is that now people know how things work, and what was breaking, so that there's more of a motivation for everyone to get involved on solving this issue, all the way from the White House to local government," he said.
Keep reading the 
2022 Year Ahead Special Report
.
For reprint and licensing requests for this article, CLICK HERE.