Ports See Cargo Surge to Start the Year
Monday, February 22, 2021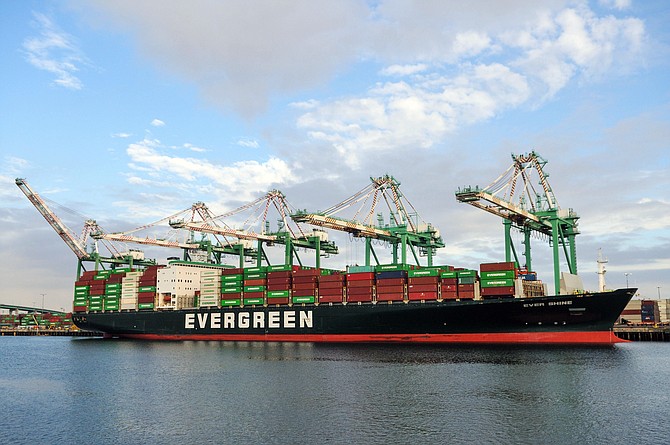 The first month of the year brought more of the same to the San Pedro Bay port complex: dozens of ships at anchorage waiting to be unloaded, increased terminal and on-street dwell times, and reduced staffing levels at local warehouses.
 
To deal with the surge in cargo, some shippers are now diverting traffic to less-congested ports on the West Coast.

"It's not a popular decision — it's very difficult one," Port of Los Angeles Executive Director Gene Seroka said during a virtual press conference Feb. 17. "I am not an individual who wants to turn a pound of freight away from our ports, but we have to be realistic. With 62 ships at anchor, we've got to do something different."

Diverting cargo will "allow us a little bit of time to dig out," Seroka added. "We will do everything we can to make sure that this is temporary, but the American economy has to keep moving, and by stalling the progress of freight flow, it doesn't do anybody good."

In January, dockworkers and terminal operators at the Port of L.A. moved 835,513 twenty-foot equivalent units, or TEUs, of cargo, representing a 3.6% increase compared to January 2020.

"On the import side of our business, we moved more than 437,000 TEUs, a 5.5% jump over last January as American consumers have continued on their unprecedented buying surge that started last summer and hasn't slowed yet," Seroka said.
 
"Exports came in at a dismal 119,000 TEUs, a 19.5% decrease compared to last January, and exports continue to lag dropping 25 of the last 27 months here in Los Angeles. The primary causes continue to be American trade policy, China retaliatory tariffs and the value of the U.S. dollar making our goods more expensive to buy than from other countries," he added.

The Port of Long Beach, meanwhile, recorded its busiest January as cargo volume jumped 21.9% to 764,006 TEUs. Imports increased 17.5% to 364,255 TEUs, and exports were up 7% to 116,254 TEUs.
 
The volume of empty containers headed back overseas increased 34.6% to 270,221 TEUs.

"After the volatility with cargo volumes in 2020, we hope to see some stability and continued economic recovery over the next year as we remain focused on attracting business and building for the future," 
Port of Long Beach Executive Director Mario Cordero said in a statement.

"We remain focused on the health and safety of our dockworkers as they continue to unload a record-breaking amount of cargo from a surge of container vessels calling at the Port," he added.

Seroka also pushed for worker safety and vaccinations, stating that about 800 workers "are off the job out of 15,000 dockworkers due to Covid-related illness or otherwise being quarantined."

It does not appear that the cargo surge will let up in the next couple months. The Port of Los Angeles anticipates its February cargo volume will be around 730,000 TEUs and 775,000 TEUs in March.
 
"The data forecasting tools that we use, and the industry context that we regularly speak with, are showing that the flow of cargo will continue strong into the second quarter of this year," Seroka said.
 
"While there may be a slight break, we will see traditional cargo that is scheduled for year-end holidays starting to pick up again in August, but I don't see us really taking a huge dip in cargo flow," he added. "Online sales of the U.S. retailers have jumped from 10% to 20% now during the pandemic. So, what took 10 years to build up basically took 10 months to double, and we will continue to see that happening as well."

Port of Long Beach officials said in a statement that "although activity typically slows down in February during overseas celebrations for the Lunar New Year, projections show that this month could be busier than usual as unscheduled container ship calls continue to make up for voyages that were canceled at the start of the Covid-19 pandemic in early 2020."
For reprint and licensing requests for this article, CLICK HERE.