Snap Drives Growth of LA's AR Industry
Monday, February 22, 2021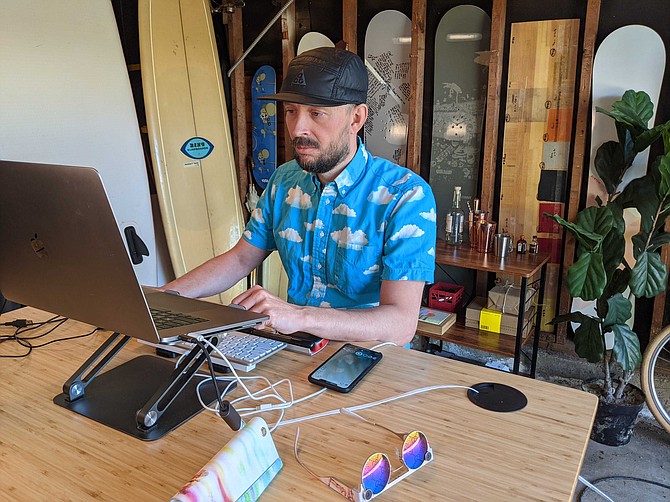 Visual artist Clay Weishaar said he was incredulous when someone from Snap Inc. contacted him in 2018 to let him know one of his lenses was trending.
 
The augmented reality filter allowed users to take photos in which sprinkle-covered doughnuts appear to rise out of the ground.

"Out of the blue, Snap just reaches out to me," said Weishaar, who was at the time developing science-fiction concepts with the Ridley Scott Creative Group and had recently begun experimenting with Snap's AR development tool, Lens Studio.

"They're talking about my lens getting millions of views, and I wasn't aware of this happening," Weishaar said. "I was just in my own zone creating."

Snap invited Weishaar to join the company's Official Lens Creator program, which supports third-party developers in the creation of new Lenses for Snap's signature app, Snapchat.

Since then, Weishaar has partnered frequently with Snap, and he said those efforts have helped him land work developing augmented reality concepts for major brands, including Nike Inc., Gucci and Adidas. He's also had the chance to meet and collaborate with other developers working in the augmented reality space.

"They've built an amazing global community around people who really want to pioneer the medium," Weishaar said.

Building a community of developers has been a key part of Snap's efforts to make augmented reality a core part of its business, and it's helped to support an ecosystem of small companies and individual developers like Weishaar, operating in Los Angeles and beyond.

The company works with hundreds of individual creators, as well as established augmented reality companies like Culver City-based Fishermen Labs.

Snap first made a name for itself through its ephemeral, photo-based messaging system. But the company has invested heavily in developing an array of augmented reality features to complement its straightforward messaging tools since unveiling its Lenses feature in 2015.

Lenses digitally alter the images a user captures within the Snapchat camera feature. They can transform a user's face into that of a demonic creature (or a puppy dog), or make a dazzling rainbow appear in a clear blue sky.

On a February call with investors, Chief Executive Evan Spiegel said more than 200 million people per day now use Lenses and other augmented reality features on Snapchat.

Spiegel and other Snap executives frequently point to this level of engagement as a key driver of the company's focus on augmented reality technology — something that's even led the company to release a line of camera-equipped AR sunglasses called Spectacles.
 
Sales numbers for the sunglasses have been underwhelming, but Spiegel has pointed to the devices as a part of Snap's long-term commitment to fostering innovation within the augmented reality sphere.

Mike McGuire, a digital marketing analyst with Gartner Inc., said Snap has been successful building a platform with tremendous appeal to its core demographic of users in their teens and twenties. With that success comes the challenge of creating a consistent stream of new features to keep those users engaged.

"I believe their audience kind of expects these new tools they're given to create new forms of expression and communication," McGuire said.

He explained that Snap's search for new and innovative features for users to interact with may be what's driving the company to open up its augmented reality development tools to third-party partners.

"You've got to have that growing developer base," McGuire said. "Snap can't create everything."

Accelerator program
In December, Snap announced it had created a $3.5 million fund for Lens creators. The company's search for development partners — in augmented reality and beyond — also led Snap to create Yellow, a startup accelerator program launched in 2018. Companies selected to participate receive $150,000 in seed funding from Snap in exchange for a small equity stake.
 
The company added another program last year called Yellow Collabs, which gives more established businesses the chance to collaborate with Snap on new features. No investment is involved, and Snap doesn't get equity in companies that participate.
Among the first companies chosen for the Yellow Collabs program was app developer Snack Break Inc., based in mid-Wilshire, which is developing a digital drawing tool called Arteest. Chief Executive Justin Spraggins said his company decided to experiment with augmented reality features for the first time as part of its collaboration with Snap.

"We're focused on new trends, new ways to help people interact digitally with one another," Spraggins said. "(AR) just unlocks a whole new mode of social interaction."
Through the Collabs program, Spraggins said, his company was able to work closely with both Snap employees and other participants. He said this gave him insight into the broad array of potential uses for AR features.

Snack Break is also working on a video-messaging app called Takes, and Spraggins said the company is considering incorporating AR features that give users the option to record messages from virtual offices adorned with customized decorations and memorabilia.

"For anyone who's doing AR right now in the social space, it's a very exciting place to play," he said.

Weishaar also participated in the Yellow Collabs program with his creative studio, Venice-based Fake Artists. The studio produced an app called Dropr, which allows users to recreate virtually the real-life experience of hunting down a coveted pair of shoes (and then trying them on, using Snapchat's AR features).
 
Virtual fashion tools like this one have the potential to combine a fun user experience with branded content that advertisers will be eager to pay for — something key to Snap's ability to make its big investment in AR pay off.

Branded success
The company, as well as the advertisers it works with, have already found some success with branded AR experiences. Chief Business Officer Jeremi Gorman said during the company's most recent earnings call that a custom Lens promoting Activision Blizzard Inc.'s "Call of Duty" games drove a 17-point boost in purchase intent among those who engaged with it.

But Weishaar is quick to point out that virtual try-ons and branded Lenses only scratch the surface of the value Snap's AR technology could deliver in the long run.

"It's a crazy time right now," Weishaar said. "We take on completely different identities through the lens of a camera using AR technology. Five years from now, we're all going to have our own virtual personas."

Snap executives frequently speak in similarly bold terms about the potential of augmented reality to impact the way users interact with those around them.

"Today on Snapchat, augmented reality isn't just an experiment," Chief Technology Officer Bobby Murphy said at Snap's 2020 Partner Summit.
 
"The most innovative companies, creators and developers are building augmented reality experiences for the Snapchat community that stretch our imagination, and in the process, they are shaping how we experience the world around us," Murphy said.

McGuire said AR technology is still in a "parlor trick stage" in which its future impact on the world is still uncertain. But he said Snap is wise to partner with so many developers seeking out innovative new uses for the technology.

"When you look at how (AR) has already evolved," he said, "as long as they keep it funded and maintain that approach on research and development, something is likely to come out of it."


For reprint and licensing requests for this article, CLICK HERE.