Port of LA Rebounds in 2020 After Difficult Stretch
Monday, January 18, 2021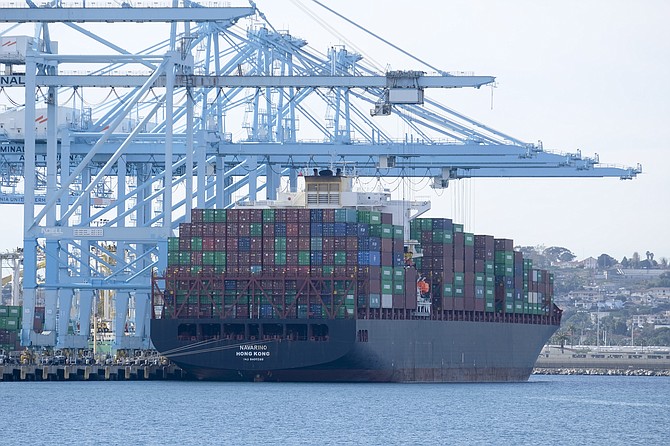 As he "looked into the abyss" of missed sailings back in March, Gene Seroka said he "never would have imagined" that the Port of Los Angeles would move 9.2 million twenty-foot equivalent units of cargo in 2020 — nearly matching its 2019 performance.

"I think our numbers (in March) totaled like 450,000 TEUs, which is less than half of what we averaged per month in the second half of the year," said Seroka, the port's executive director. "And then by the end of May … we were down 19% year over year for the first five months of 2020. So, it was quite difficult."

Despite a challenging stretch sparked by the start of the Covid-19 pandemic, the Port of L.A. finished 2020 with the fourth-highest cargo volume in its history.

Seroka compared cargo volume fluctuations during the year to "three swings of the pendulum." Volume took off during the third swing in September, he added, and that gain "has been relatively well sustained." 

Dockworkers and terminal operators at the port moved a total of 9.2 million TEUs in 2020, a 1.5% drop compared to 2019, Seroka said at a Jan. 14 State of the Port event. Cargo volume dropped 19% in the first five months of 2020 but surged 50% during the second half of the year compared to the first half. In the week before Christmas, the port handled 94% more traffic compared to the same week in 2019. The port saw 63 missed sailings in 2020, about two-thirds of which were eventually replaced. 

Uncertainty caused by the pandemic pushed port officials "to get greater market intelligence, to develop the necessary technical expertise to be able to see farther upstream than we ever had," Seroka said. "We thought that if we could really get a good idea of what's coming, we could be better prepared on the ground because the volume was such a huge surge for us here in L.A." 

The port's push for supply chain digitization will continue in 2021 and will include the launch of the Control Tower, a cloud-based platform that will provide real-time port-level views of truck turn times as well as metrics on truck and rail capacity and velocity.

"This is probably the most complex port gateway in the world, with 200,000 cargo owners; 100 trains a day; 18,000 truck companies; 12 marine terminals; and about 10 to 12 major shipping lines," Seroka said.

"So, think of the Control Tower as looking at the whole port complex in one view. It will tell you how good the truck turn times are or not. It will tell you how long it takes truckers to get into the port and get out, at a high level or at the terminal level, by truck, by container," Seroka added.

Putting the new technology to work doesn't just help the port manage its current load. It also positions the port for future growth.

"We've got to move about 60,000 trucks per day or 3,000 per hour. We don't do that today. So how can we do it better to make it more orderly for the truck drivers to get in and out, so they can earn a good paycheck, because they typically get paid for every run they make," Seroka said. 

He also announced a $7.5 million Truck Turn-Time and Dual-Transaction Incentive Program, which will start next month and reward terminal operators who move containerized cargo more efficiently through their terminals.

The port's other priorities for 2021 include job creation, cargo growth, accelerating zero-emission technology development, and deployment and investment in infrastructure.

"Jobs creation and cargo growth go hand in hand," Seroka said. "It's because of (Los Angeles Mayor Eric Garcetti's) vision that we thought early on in my tenure, some six and a half years ago, that if we could rally around the business community, the labor community and others, we could drive more cargo so the logistics decisionmakers could choose us as their gateway of preference.

"It seems to have worked. We continue to grow the cargo. Even coming out of the pandemic, we'll be just about even or a little shy of 2019 volume. The second half of the year, the (longshore workers) were out on the job in record numbers. While they may not have made up for the loss of work in the first half, they sure came close," he added.

Infrastructure improvements continued throughout the pandemic due to the port's "strong financial policy and our great workforce," Seroka said. 

"We didn't know if the cargo was going to ever come back or jobs on the waterfront would, but at least we knew that when they did, we would be prepared. We've completed three major projects so far, and part of it is around West Harbor but only the demolition side," he added. "We've also got about nine projects that are currently underway."

The port, in an effort to become a "zero-emission terminal equipment by 2030 and a zero-emissions drayage fleet by 2035," also has 16 demonstration projects underway involving the testing of 134 pieces of advanced equipment, including 78 zero-emissions trucks. 
For reprint and licensing requests for this article, CLICK HERE.