New Herbalife CEO Agwunobi Puts His Pandemic Background to Work
The LABJ Interview
Monday, March 22, 2021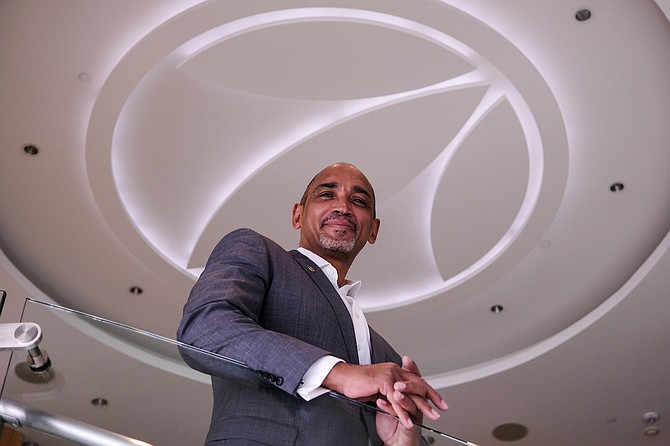 Talk about tough timing. John Agwunobi became chief executive of Herbalife Nutrition Ltd. in March 2020, just a few days after the World Health Organization declared Covid-19 a global pandemic.
 
With product distributors in 95 countries that relied heavily on community meetings to drum up sales for Herbalife's growing roster of health and nutrition products, the pandemic cut deeply into the company's operations.

But it turned out that few corporate chief executives could have been as prepared for the pandemic-related challenges that lay ahead as Agwunobi. Early in his career, he served as Florida's secretary of health.
 
Then, in the administration of former President George W. Bush, he first served as assistant secretary of health for the Health and Human Services Department. He was then named admiral of the U.S. Public Health Service Commissioned Corps, where one of his responsibilities was helping to coordinate the federal government response to pandemics.
 
Agwunobi, 56, sat down with the Business Journal to discuss the pandemic's impact on Herbalife, the company's recent challenges in China and his unique perspective on pandemic preparedness.

What have been the greatest surprises in your first year as chief executive of Herbalife?
I've been at the company for five years, so the company itself wasn't much of a surprise. But I was surprised at the strength of the C-suite team that I had to work with. And of course, the biggest challenge has been dealing with the pandemic — I took over officially in March 2020, right as the pandemic was starting.

How has the pandemic impacted Herbalife?
We looked at the impact in three main buckets: First, as a company with employees around the world, we had to shut down our offices to nonessential personnel who had the ability to work remotely. And we had to make sure we could stay connected. Then, there were our distributors. They are independent of us, and many had their own teams they were responsible for. They found ways to do things online and ensure deliveries.

And the third bucket?
Ah, that would be the customers. At first, they were completely traumatized. Then, as time went on, many of them were seeing what was happening in their communities and pivoted to health and wellness. We saw demand soar for our workout nutrition products and then for weight management products. That, in turn, meant we had to address this rapidly increasing demand.

So how did you meet this surging demand?
As we looked to boost our product supplies, that's when we realized we had a fourth bucket: our vendors and suppliers of sources for key ingredients for our nutrition products. Some of our suppliers were struggling to meet our increased demand as their factories were in various stages of lockdown. But we and they were able to pull through, and we ended up having a really stellar year — a record year for us, in fact, with sales up nearly 14%.

Were there any other pandemic impacts?
Yes, something rather unexpected. Our nutrition clubs and other meeting groups all had to go online. And one thing we noticed is that these clubs helped people who were otherwise going through some very scary times in isolation — it helped them stay connected.

This all must have been quite a trial by fire for you.
To some extent. But I had some experience dealing with pandemics and knew a lot of what to expect and the potential for the situation to worsen as the SARS 2 coronavirus was in China.

When was that?
Back when I was assistant secretary for health and an admiral in the U.S. Public Health Service — that was in the administration of George W. Bush, right after the first SARS pandemic (of 2003). I oversaw all the public health service agencies: the National Institutes of Health, the Food and Drug Administration, the Centers for Disease Control and the Office of the Surgeon General. And one of my major responsibilities was for government preparation and response to pandemics. My job was to coordinate stockpiles of personal protective equipment and ventilators, as well as ensuring vaccine response plans were in order.

That experience must have given you a unique perspective on the current pandemic. How would you grade the response to this pandemic so far?
Well, I'm not going to give a letter grade. And as I respond to you, I'm not going to focus on any particular government or administration. I'm going to focus on the global response since this pandemic has impacted just about every country around the globe. I believe that when we look back on this pandemic, we will applaud the many great steps and interventions, such as the rapidity of identification of the virus and the rapidity of vaccine development.

And what about the public response side?
One thing that people don't realize is that in every pandemic, there are two components to the response: the science and technology side, and the politics and culture. Many countries were swept up by their own internal realities of their political systems and cultures. Some might call this a weakness — I call it the reality that must be dealt with in every pandemic. Science is central and must be the foundation, but it's not enough. You have to address the public perception, the cultural differences, the internal politics. And that has to be considered in advance.

Getting back to Herbalife, the popular perception is that the company just sells nutrition shakes. But the shakes are only part of its product line. What new products has Herbalife come out with recently?
I agree — most people don't realize that we at Herbalife have about 120 different products that fit into three broad categories: weight management, sports nutrition and general health/wellness. And we're coming out with a new product or a new flavor almost every day. In just the fourth quarter, we launched 95 products: some entirely new products and some new flavors for our existing products. We're paying special attention to the local flavors in each of the countries we're in. For example, we introduced a new kulfi flavor in India, and in the U.S., (we introduced) a new protein mix that can be infused in baked products, like pancakes and waffles.

In China, Herbalife reported fourth-quarter sales were down 8% from the year-earlier quarter, the only market in which sales dropped significantly. In your recent earnings call, there was mention of a mandate restricting community meetings lasting longer than expected. So, what's Herbalife doing to return to revenue growth in China?
We continue to refine and make investments in the market in China. On the technology front, we have invested in a digital transformation, including partnerships with Tencent and a personal store on WeChat, so that our distributors can better serve their customers. We have also invested in our digital infrastructure in order to align with demands of the high-tech Chinese consumer.

Any other steps?
We are introducing new products to the market that address specific consumer needs, like our Herbalife24 sports product line. We supported the launch with sponsored sports teams and athletes, including the esports team Guangzhou Charge. The products and sponsorships are intended to meet the younger, fit and active millennial demographic that makes up 80% of our audience. And in the fourth quarter, we opened the first global product innovation center in Shanghai.

Outside of China, what are some of the major initiatives Herbalife is planning to roll out this year?
A top priority is the push to digitally transform our business. We're moving more of our distributors onto smartphone-based apps. We did a big push on this in 2020 and are continuing that into 2021. We're also continuing to work with our distributors to train more and work more with their customers — to develop their coaching capabilities and in setting health and wellness goals for their customers.
On the product side, we are continuing to expand our sports product line. We have a small base of sports products — what I previously referred to as Herbalife 24 — designed to help customers gain muscle weight. And we're also going beyond the healthy shake that's been the core of our business for decades by introducing more of our baked-goods protein mixes — we started this in the U.S. but plan to expand that.

Herbalife's presence in Los Angeles County extends beyond the headquarters at L.A. Live. What other facilities does the company have in the county?
We have a product development office in Torrance — that's where a lot of our scientists are. We also have a distribution center in Carson. And not far from L.A. County, in Lake Forest (in Orange County), we have a manufacturing facility.

It's been nearly a decade since activist hedge fund investor William Ackman bet against Herbalife and called its business model a pyramid scheme, prompting an FTC investigation. What lessons did Herbalife take away from that prolonged battle?
There were many lessons learned along the way. I'll focus on just one that we applied beyond the U.S. We separated customers from our distributors. The customers belong to our distributors and not to us. That meant developing separate sets of tools for both our distributors and their customers, not lumping everyone together.

And what about Herbalife's way of doing business that had come under fire?
Look, the fundamental business and fundamental business model has remained strong, and the results prove it. We had growth in 2018, growth in 2019 and record-shattering growth in 2020. We are now focused on what's going to happen in the future.
For reprint and licensing requests for this article, CLICK HERE.