Setting an Example by Impacting, Empowering and Inspiring the Community
Custom Content by the Los Angeles Business Journal
Monday, November 22, 2021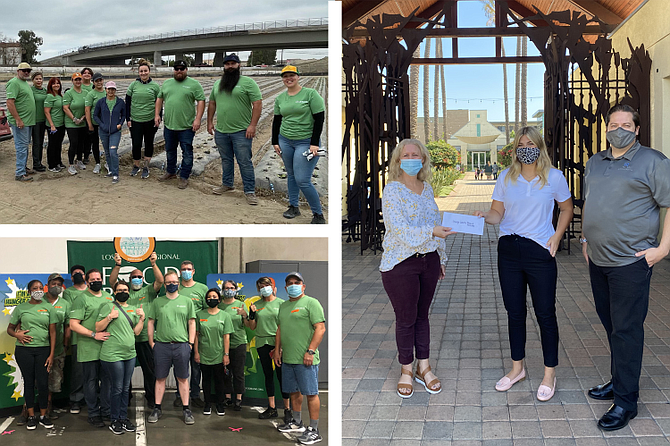 The Rosendin Foundation launched in 2020 as the charitable arm to Rosendin Holdings, Inc. and its two subsidiaries, Rosendin Electric, Inc. (Rosendin) and Modular Power Solutions (MPS). Since its start, The Foundation has supported 114 unique non-profits throughout the US and distributed $638,000 in much-needed grants plus another $44,850 in-kind donations. None of that support is possible without the generous volunteers that support The Rosendin Foundation. Volunteers like Sara Barnes, business development coordinator for Rosendin.
 
Though Barnes is a new full-time employee at Rosendin, she has a lengthy history of volunteerism in her local community. From a young age, she has been an active volunteer in the Camp Pendleton community, where her grandmother was the principal at the on-base school. She involved Barnes in several events that benefited the military community, including Thanksgiving meal distribution, making quilts, gathering small items to give to new and expecting mothers, and a holiday pajama party for children. This exposure to community service inspired Barnes to continue to give back to those communities where she has lived – even while a student at Cal Poly in San Luis Obispo. She volunteered at the ECHO Homeless Shelter to tutor elementary and middle school students who were experiencing homelessness. As a member of Gamma Phi Beta sorority, she helped raise over $1,000 for a charity event that helped support Transitions Mental Health, a local non-profit organization providing mental health care to the San Luis Obispo area.

Barnes' desire to contribute to her community continued as she moved to the Los Angeles area and began working for Rosendin in mid-2021. Sara learned about The Rosendin Foundation and its mission to positively impact communities, build and empower people, and inspire innovation. Other Foundation volunteers recruited her to join The Foundation's Communications Committee. As a member of this committee, Barnes identifies areas for giving, helps connect employees with volunteering opportunities, connects local non-profit organizations with The Foundation, and informs them of available grant opportunities.

Barnes is excited to pursue her passion for helping her community beyond what she can accomplish by herself.
 
She recounted the impact of a recent emergency grant donation, saying, "One of my first experiences as a member of The Foundation was to deliver an emergency grant check to an amazing nonprofit, Orange County Rescue Mission. However, this was not a simple check drop-off, as the team at the Rescue Mission gave me and my colleague, Ray Nelson, a comprehensive tour of their main facility. Seeing where The Foundation's grant money is going makes the impact of The Rosendin Foundation much more palpable."

In addition to issuing grants, the employees of Rosendin and MPS volunteer with non-profit organizations within their local community to address The Rosendin Foundation's current focus areas of nutritional, emotional, and occupational health. The Rosendin Foundation has issued $52,500 to Los Angeles Metropolitan Area non-profit organizations through annual and emergency grants, including Habitat for Humanity, Laura's House, and the Los Angeles Regional Food Bank. Rosendin's Southern California teams recently participated in The Rosendin Foundation's first-ever Annual Service Day, working in gardens and food sorting warehouses for The Giving Farm and Los Angeles Food Bank, respectively.

Barnes continues to encourage employee and community participation in The Foundation's fundraising events. Most recently, these included a Sports Memorabilia Auction and Virtual Mixology and Cooking Class.  

"I'm excited about the future volunteer and fundraising events that are planned in the Los Angeles Metropolitan area in the coming months," states Barnes. "I am looking forward to all the benefits I can bring to my community by being a part of this amazing Foundation, and I am very grateful for the opportunity."
 
The Rosendin Foundation thanks Sara Barnes for her efforts to impact, empower, and inspire her community.

Information for this article was provided by
the Rosendin Foundation. Learn more at
therosendinfoundation.org.
Return to Index.
For reprint and licensing requests for this article, CLICK HERE.