Drought Not Drying Up Investor Appetite for American States Water
Monday, November 29, 2021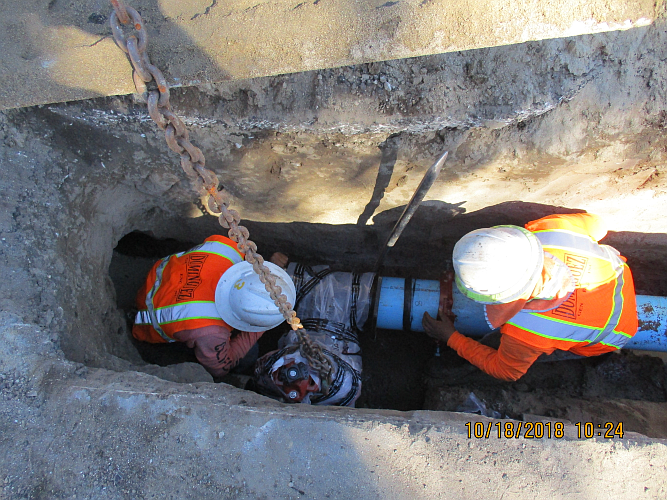 One might think a severe drought would be bad news for a company whose main business is supplying water to residential and business customers.
 
But — so far, at least — that hasn't been the case for San Dimas-based American States Water Co., parent company of Golden State Water, a utility that provides water to customers in the Los Angeles basin and Central California.

In fact, quite the opposite: Investors have sent American States Water share prices soaring to $96 as of Nov. 19, the highest level in more than five years.

Investors, it seems, have been more focused on a solid third quarter earnings report and the anticipated closing of Golden State Water's rate case pending before the California Public Utilities Commission. The drought and its impact on water supplies have not yet been severe enough to give investors pause.

The earnings report showed American States Water's third quarter revenue of $136.8 million topping the $133.7 million posted for the same period last year, while third-quarter net income rose to $28.2 million from $26.5 million last year.

For the first nine months of 2021, the company's revenue rose to $382.2 million from $364 million last year while net income rose to $111 million from $101.2 million.
These results were generally in line with consensus analyst estimates.

"American States' Q3 '21 report was right down the middle of the fairway," Jonathan Reeder, senior equity analyst with Wells Fargo Securities, said in a Nov. 2 report issued after the earnings release. "Year-to-date results are consistent with management's solid execution and track record."

Weathering the drought
Conspicuously absent from Reeder's report and analyst questions during American States Water's earnings teleconference call was mention of the state's two-year drought, which prompted Gov. Gavin Newsom to declare a statewide emergency Oct. 19.

Newsom's proclamation "requires local water suppliers to implement water shortage contingency plans that are responsive to local conditions and prepare for the possibility of a third dry year," according to a press release from his office.

So far, American States Water and its Golden State Water utility seem to be taking this in stride, and investors appear to be on board with this approach.

In an interview with the Business Journal, Robert Sprowls, American States Water's chief executive, said the company has been planning for drought conditions for years.
"We have invested for decades to build modern infrastructure that uses both groundwater and imported water," Sprowls said. "As we've done this, we've tried to make this stand up in times of drought. And we've done what we can to keep costs lower for customers."

Sprowls noted that the bulk of Golden State Water's 262,000 customers are in Southern California, which has a bit more capacity to withstand drought conditions than Northern California.
 
One key reason is the construction in the 1990s of Diamond Valley Lake in the Inland Empire. That reservoir is designed to hold more than 800,000 acre-feet of water, enough to meet the needs of 18 million people across Southern California for six months.
 
As of July, the reservoir was at 80% capacity — much higher than most other major reservoirs in the state.

This has allowed Golden State Water and other water purveyors in the region to lessen their dependence on the State Water Project and the Colorado River Aqueduct, which have been severely impacted by the drought.

Equally as important, Sprowls said, is that Golden State Water customers have generally complied with the voluntary goal of reducing water usage by 15% from last year's level.

"The most efficient way to deal with supply issues is to reduce demand," he said. "In September, we received approval from the California Public Utilities Commission to institute a water conservation and rationing plan. We're now working with customers to reduce demand by using water responsibly and efficiently."

Sprowls said that a few Golden State Water customers — under 2% of the total — are in sections of coastal Central California that are subject to mandatory water rationing, with limits of two days per week for outdoor watering. In those areas, he said, there is little native groundwater, which means they must import virtually all their water.
The remainder of Golden State Water's customers face voluntary conservation measures — at least for now.

"We are in nowhere as severe a situation as we were back in 2015-16 when most of our customers faced water rationing restrictions," he said. "Even back then, however, the vast majority of our customers complied with the restrictions, which makes us confident that if we have to go to that stage with this drought, our customers will be able to step up and meet that challenge."

Rate case
Investors have been paying more attention to Golden State Water's pending rate case for the years 2022-24, which will determine how much revenue it is allowed to take in and the rate of return for investors. In American State Water's third quarter earnings call, Sprowls said Golden State Water and the Public Advocates Office of the California Public Utilities Commission "have reached the settlement agreement in principle on the majority of the items in this general rate case application."

He said the two parties have yet to reach agreement in three areas: a medical cost balancing account, a general liability insurance cost balancing account and the consolidation of rate case applications for two of Golden State Water's customer service areas. As a result, he said, a final settlement agreement with the Public Advocate's Office has been pushed back to next year.

One significant feature of Golden State Water's rate filing is the request to increase capital spending 23% to $462 million.
 
Sprowls told the Business Journal that this increase is to meet the need for maintenance on aging pipes and other water infrastructure as well as for replacing about 64 miles of the utility's 2,800 miles of pipelines.

"A portion of this increase is for higher construction and materials costs," he said.
He noted that the utility is attempting to make bulk purchases of materials whenever possible to minimize price spikes on specific projects.

Rising costs have been less of a factor for another American States Water subsidiary, American States Utility Services, which constructs and maintains water and wastewater treatment infrastructure on U.S. military bases.

"We have a contract with national materials supplier that has helped mitigate cost increases," he said. "Also, all contracts are on a federal government-wide price escalator that depends on certain cost indices, so some of the increases have already been factored into the contracts." 
For reprint and licensing requests for this article, CLICK HERE.