LA-Based Banks Outpace National Banks in Profits
Monday, October 4, 2021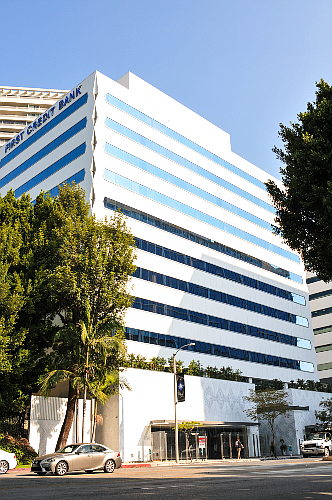 Big banks headquartered outside Los Angeles County may have locked down a lion's share of the local market, but a homegrown basket of banks have racked up the profits.
 
If anything, last month's $8 billion acquisition of New York-based MUFG Union Bank by Minneapolis-based U.S. Bank highlights how L.A. County's banking market is controlled by a few huge corporate behemoths with headquarters everywhere but here.
 
After U.S. Bank completes its purchase of Union Bank from Japanese holding company parent Mitsubishi UFJ Financial Group Inc., the top five banks will control 62% of the local market. U.S. Bank and Union Bank will have more than 170 branches in L.A. County and billions in assets, deposits and commercial loans. The combined organization will hold 10.4% of L.A. County's market as ranked by share of deposits.

Currently, U.S. Bank has 1.9% of the market while Union Bank has 8.5%, short of Wells Fargo & Co.'s 12.9% share, JPMorgan Chase & Co.'s 13.8% and Bank of America's No. 1 leading 16.4%.
 
"We really don't have a significant, large local bank that is headquartered downtown," said Walter Mix III, managing director with Berkeley Research Group, a financial consulting firm headquartered in Emeryville. "I think this is interesting," added Mix, who is based in BRG's Los Angeles office.
Still, the smaller banks in town have financial muscle to flex.

Small but mighty
First Credit Bank — which boasts assets of $441 million — holds the distinction of being the most profitable bank in Los Angeles County, as of June 30.

Back in 1979, First Credit Bank's Chairman Farhad Ghassemieh and his family fled Iran to come to the United States only to find a dark economy struggling with inflation at 15% and double-digit interest rates.

He needed a job and said he believed the time was right to begin planning to form a bank, even though many savings and loans and banks were failing at the time due to economic challenges.

His strategy was to form a new bank by merging two failed banks in 1983 in Blythe. Because he didn't want to live in the High Desert, he moved the charter to West Hollywood. The move paid off.

In the fiscal 2021 second quarter, First Credit Bank had $234.7 million in deposits, $300 million in outstanding loans and profit of $10.6 million.
That's good enough to give the bank a return on assets of 4.7%, more than double the second-most profitable bank, Rowland Heights-based First General Bank, at 2.3%, according to an analysis by the Business Journal of FDIC data filed by local banks.  

Return on assets, or ROA, shows how efficient a company is at using its assets to generate profits.
 
In the case of Ghassemieh, he said he believes his fortune is based on First Credit's commercial lending strategy of loans to gas stations; convenience stores; and small, family-owned motels with 40 to 60 rooms.
 
Most big banks won't touch high-interest rate loans to these kinds of borrowers, especially gas stations, because there's too much liability associated with the environmental issues percolating behind them.

But gas prices are high these days, and Ghassemieh doesn't see a problem with loans getting repaid or the potential liabilities.

"There's a good reason for our profitability," said Ghassemieh. "Smaller banks are flexible. They accommodate the borrower. We don't have too many (corporate) restrictions."

Dominic Ng, chairman, president and chief executive of Pasadena-based East West Bancorp Inc., parent of the $60 billion-in-asset East West Bank and largest independent bank in Los Angeles County in terms of assets, agreed with his smaller rival.

"They have a lot more flexibility to do what they can do," Ng said. "And I'd say, so far, it's working well."

Competitive landscape
Of the five most profitable banks in Los Angeles County based on return on assets, four have less than $2.1 billion in total assets, which is considered tiny in the banking world.
 
First General Bank, with $1.17 billion in assets, has an ROA of 2.3%; Koreatown-based Pacific City Bank, with $2.09 billion in assets, has an ROA of 2%; and Arcadia-based American Plus Bank, with $583 million in assets, has an ROA of 19%.

Beverly Hills-based Pacific Western Bank, with $34 billion in assets, and which has cobbled together 31 acquisitions between 2000 and this year, is the outlier in the ROA universe locally. The bank has a ROA of 2.1%, good enough for third place on the list of most profitable banks in the county.

Since the pandemic began in early 2020, deposits with the county's top 10 banks by market share have grown 25% to $25.4 billion on June 30 from $20.4 billion. During that same period, loans grew 7% to $19.3 billion from $18 billion, and assets grew 18.6% to $29.3 billion from $24.7 billion.

"I've got to tell you, things are very competitive," said Chang Liu, president and chief executive officer of downtown-based Cathay Bank, a $20 billion-in-asset institution. "There's still a lot of demand for loans and given the low interest rate environment, it's made the landscape probably the most competitive that I've ever seen."
For reprint and licensing requests for this article, CLICK HERE.