LA Care Expands Mission to Address Physician Shortage, Housing for Homeless
Monday, October 11, 2021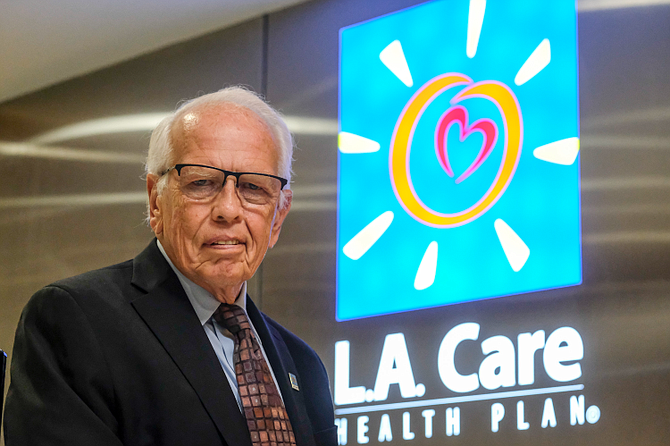 L.A. Care Health Plan, the behemoth Westlake-based provider of health insurance that now covers nearly one in four L.A. County residents, has been broadening its reach, moving into a new market and tackling societal concerns.

The quasi-public insurer, which uses public funds to cover 98% of its budget, has become a player on the state's Affordable Care Act exchange, seeking to position itself as the public option for health insurance in that competitive marketplace.

"They are beginning to operate more like a private insurer," said Michael Cousineau, professor emeritus of clinical preventive medicine at the USC Keck School of Medicine.

L.A. Care has also launched initiatives in the last few years aimed at addressing broader problems such as the shortage of physicians and the increasing numbers of homeless people. The insurer's chief executive, John Baackes, said these programs are designed to boost health care and social safety net services for its member patients.

Over the past year, L.A. Care has continued those efforts, giving $5 million each to Charles R. Drew University of Medicine and Science in Willowbrook and the Keck Graduate Institute in Claremont, with the money going toward training prospective physicians.

Medicaid roots
These recent moves take L.A. Care well beyond the core mission laid out when state officials set it up 24 years ago as one of two managed care providers for Medi-Cal, California's version of Medicaid for low-income residents.
 
The other provider was Health Net, now a subsidiary of St. Louis-based Centene Corp. L.A. Care was designated the publicly operated insurer while Health Net was an existing commercial insurer.

The goal, according to state legislation that enabled this setup, was to bring the efficiencies of managed care competition to insuring the state's Medi-Cal population.

Currently, about 3.2 million of the county's 3.8 million residents who are eligible for Medi-Cal coverage are enrolled in the managed care Medi-Cal program; the rest are in the traditional fee-for-service program. As of last year, L.A. Care served about 2.1 million of those Medi-Cal managed care enrollees, with Health Net serving about 1 million, according to a 2020 report from the California Healthcare Foundation.

Since last year, L.A. Care has added more than 100,000 Medi-Cal managed care enrollees, bringing the total to about 2.3 million.

It has also enrolled members through the Medicare program and through the state Affordable Care Act exchange, bringing its total number of insured to 2.45 million Los Angeles County residents, very close to 25% of the county's population of 10 million.

Although it is often regarded as a government agency, L.A. Care is governed by 13 board members representing specific stakeholder groups, including consumers, physicians, children's health care providers, local hospitals and the Los Angeles County Department of Health Services.

To help run the Medi-Cal insurance program, L.A. Care has partnered with three private-sector insurance plans: Oakland-based Kaiser Permanente; Anthem Blue Cross, the California-operating subsidiary of Indianapolis-based Anthem Inc.; and Blue Shield of California Promise Health Plan of Monterey Park. The idea was that these partners would handle L.A. Care members who had previously enrolled with the private insurers but had since lost or dropped their coverage.

Together, these three partners run the insurance programs for about 46% of L.A. Care's members, with L.A. Care picking up the remainder, according to Baackes.
 
L.A. Care did hit a bump last year when the state, anticipating a severe budget shortfall, cut a significant portion of its funding. That cut, combined with the unexpected increase in utilization as Covid-related job losses mounted, led to a $132 million operating loss for 2020. The loss forced the insurer to dip into its reserves. Most of the state funding cut last year was restored this year, Baackes said.

Safety net expansion
The funding hiccup did not stop L.A. Care's initiatives to enhance the health care and social safety net for its Medi-Cal members.

In 2018, using $155 million in reserve funds, L.A. Care launched a five-year initiative called "elevating the safety net" aimed at boosting the ranks of physicians willing and able to treat Medi-Cal members.

"The idea is to train safety net doctors," Baackes said. "We felt this is a great investment for the future."

One of these safety net measures aims to help physician groups hire more primary care doctors to treat Medi-Cal and other low-income patients.
 
According to the 2020 California Health Care Foundation report, L.A. County in 2020 had 57.5 primary care physicians for every 100,000 residents. The U.S. Health and Human Services Department recommends between 60 and 80 primary care physicians for every 100,000 people. To get to the minimum recommended level, the county needs about 250 more primary care physicians for its population of roughly 10 million. And that doesn't take into account replacing physicians who retire.

Through individual grants of up to $125,000 per medical group, L.A. Care has bankrolled physician groups' moves to provide salary subsidies, relocation costs and other sign-on bonuses. Over the last three years, these efforts have led to the hiring of about 130 physicians, according to figures from L.A. Care.

Another program under L.A. Care's safety net initiative helps primary care physicians pay off their medical school loans when they sign on with providers to care for Medi-Cal and other low-income patients. According to a July report from EducationData.org, the average student medical school debt is nearly $216,000.

Under the L.A. Care program, physicians can receive up to $5,000 per month for up to five years specifically earmarked for loan repayments — that's a maximum of $300,000. According to figures from the insurer, 97 loan repayment grants have been doled out to date.

A third program provides medical school scholarships: four per year at the David Geffen School of Medicine at UCLA in Westwood and at the Charles R. Drew University of Medicine and Science. So far, according to L.A. Care, 32 of these scholarships have been awarded.

Boosting housing
On another front, in 2017, L.A. Care launched its housing initiative, contributing $20 million over five years to Brilliant Corners, a nonprofit supportive housing agency with headquarters in both San Francisco and downtown. The money has been going toward affordable housing projects for homeless Medi-Cal patients, with Los Angeles County also contributing federal funds for "wrap-around" social services to high-risk Medi-Cal members at these projects.

To date, this initiative has funded housing for 326 households, according to L.A. Care.
One local health care expert said these types of programs from L.A. Care or any other insurers are long overdue.

"This is where health care has to go," said Paul Chung, chairman of health systems science at Kaiser Permanente Bernard J. Tyson School of Medicine in Pasadena. Chung is an unpaid technical adviser to L.A. Care.

"Not many health care systems have been willing to put their money where their mouth is and invest actual dollars," he said.

Chung added that L.A. Care has not been reckless in its approach.
"They have been moving cautiously, looking for targeted investments that generate returns that benefit their Medi-Cal enrollees," he said.


Public option
In 2014, L.A. Care made its first foray beyond its traditional role of Medi-Cal managed care provider when it joined the state's Affordable Care Act exchange, known as Covered California. It was — and remains — the only one of the 16 publicly funded Medi-Cal managed care providers in the state to join Covered California.

"From the outset, we sought to be the public option for the ACA exchange," Baackes said, referring to publicly funded health plans that can compete against private insurers.
The premise is that because publicly funded health plans don't have to deliver profits for investors, they can offer the lowest pricing for insurance coverage.
 
"We are delivering on that," he said. "We had a 4.6% cut in our Covered California premium rates last year, confirming our position as the price leader among all the health plans."

This is the only part of L.A. Care's health plan offerings that generates revenue; all of the other programs are funded by government dollars.

"L.A. Care has become a pioneer for the public option in practice," Chung said. "Ultimately, L.A. Care could present itself as the public option in the employer-based insurance market."

So far, though, the insurance company has made no official moves in that direction.
For reprint and licensing requests for this article, CLICK HERE.