Trust Aims to Help Small Businesses Make Smarter Ad Buys
Monday, September 6, 2021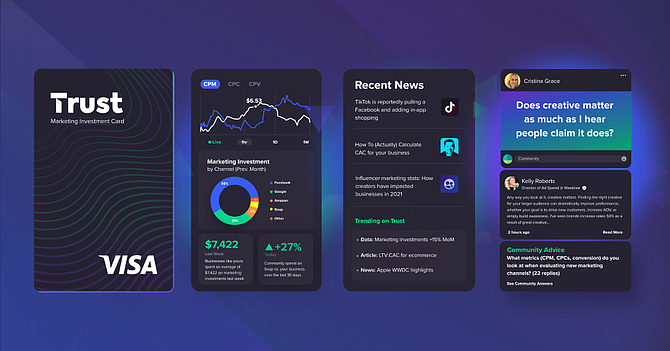 As an alum of social media giant Snap Inc.'s revenue product strategy team, James Borow said he has seen firsthand the struggles that small businesses face in advertising and marketing.
 
"Smaller companies are so unproven in the eyes of established businesses that it's often hard for them to get the type of attention, the type of financial benefits and the type of data that established businesses would get," he said.

In 2019, Borow and fellow former Snap employees, Chris Lorenz, Geoffrey Anderson, Sean Friedland and Daniel Druger, created Trust Software Inc., a Santa Monica-based digital marketing insights platform designed to help "digitally native" small businesses make more money off their advertising investments.
 
Trust gives its clients a payment card through payment processing software Stripe to use for ad buys. Borow said the cards have higher buying limits than what are traditionally available to small businesses, and clients are given 45 days to make payments back to Trust.
 
Borow calls Trust a "community corporate card" because data collected from its use are made available on a platform to help all of Trust's users learn from one another. On the platform, clients share data insights and advertising costs for companies like Snap, Facebook Inc. and TikTok.

Borow said the founding team's background at Snap benefited Trust by giving them a look at the process of digital advertising from a "vendor perspective."
 
"It gave a really good perspective of how much companies like Snapchat and Facebook and others want to work for smaller businesses, but also how hard it can be to work with them," Borow said.

Investors are attracted to Trust's team and concept.
 
On Aug. 11, the company raised $9 million in seed funding from Lerer Hippeau, Lightspeed Venture Partners, Upfront Ventures and Upper90. The investment brings the company's total to $14.6 million.
 
Borow said he plans to use the funding to "aggressively" up its hiring efforts. The company currently has 12 employees.
 
Borow also aims to scale Trust's client base. He said Trust's target demographic for clients are early stage startups and direct-to-consumer brands. Some of Trust's clients include Falls Church, Va.-based Apothékary Inc., Marina del Rey-based Well Traveled Group Inc. and Santa Monica-based Verishop Inc. 
For reprint and licensing requests for this article, CLICK HERE.