Covid Can't Shutter Peter Fetterman Gallery
Monday, September 13, 2021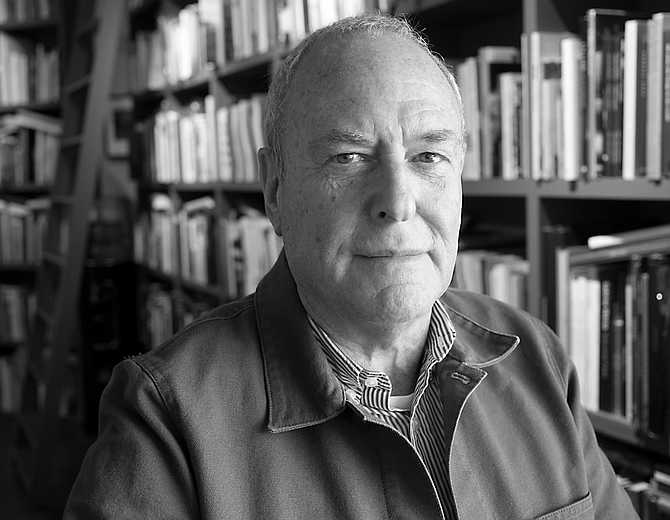 In 1979, Peter Fetterman was working as an independent filmmaker in England when he decided to take a two-week vacation to Los Angeles.

The vacation stretched out, and during his first few months in L.A., Fetterman said, he didn't have much to his name, except a beat-up Ford Pinto and $2,000. But one evening while attending a dinner party hosted by a commercial photographer, he dropped $400 on a photograph of a movie premiere at the Carthay Circle Theatre.
 
The purchase altered the course of his life.

"I should have spent the $400 putting new breaks on my car," Fetterman said. "But I bought this photograph because I connected with it, and it started me on a path of collecting photos." Now the owner of the Santa Monica-based fine art photography art gallery Peter Fetterman Productions Inc., Fetterman has turned that initial visit into a 40-year career.
 
He started his gallery in the back of his rent-controlled Santa Monica apartment not long after that first purchase, and with every photo he sold, he used the profits to buy two more. Finally in 1990, Fetterman self-financed the opening of his gallery in Santa Monica's Bergamot Station where it still resides today.
 
Over the course of a few decades — in which his gallery has showcased works from the likes of Henri Cartier-Bresson, Sebastião Salgado and Ansel Adams — Fetterman said he has seen the landscape of the art gallery world in Los Angeles transform. Nothing, however, prepared him for Covid-19.
 
"I went through this stage of total panic because my overheads are high. I have responsibility not only to my staff but to all the photographers that depend on me to pay their mortgages," Fetterman said.

But by focusing on ecommerce sales and appointment-only exhibitions his gallery is bouncing back better than ever.
 
Before the pandemic, Fetterman said, he attended seven to eight art fairs a year to meet new clients. The leads he generated at those art fairs typically ended up accounting for 70% of the gallery's annual revenue, he said.
 
But as art fairs across the world came to a halt due to travel restrictions, Fetterman said he was left scrambling to figure out how to make a profit.
 
With costs from rent, staffing and employee benefits, Fetterman said his overhead is approximately $2 million annually. He said he needs to do $4 million a year in sales to break even.

"My business model was basically dependent on exhibiting at art fairs all over the world," Fetterman said. "You spend $150,000 for a five-day art fair in New York or Paris or London in the hope of meeting one or two or three good collectors, turning them onto your taste, your aesthetic, your eye. That's what supports your gallery. But then that was just eliminated overnight."    

Fetterman was one of many local art gallery owners in Los Angeles forced to brace for the financially crippling impact of the pandemic. In April 2020, nearly 89% of the 35 galleries surveyed by the Los Angeles Times reported a decline in sales since the pandemic began.

In March 2020, Fetterman closed his gallery for two months. During that time, he began writing a daily blog called Power of Photography, in which he included images and photographers that had influenced his taste. To date, Fetterman has written more than 480 posts.

The posts started to circulate online, drawing a new global customer base to his website. Clients would browse Fetterman's exhibitions online and purchase the photos he was writing about on his blog, which increased overall sales by 20% in 2020 compared to 2019.
 
"It literally saved my business, saved me from despair and has turned into something amazing," he said. "It became like the photo gods were watching over me, and it gave me a new lease of life and a new way to meet new people, even though I've never met them in person, that become new clients."

He also connected with potential customers by hosting virtual walkthroughs of the gallery's Ansel Adams exhibit, which ran from February to August 2020.  
   
After reopening his gallery in May 2020, Fetterman began to offer appointment-only showings. He said that even though overall foot traffic at his gallery has dwindled since the onset of the pandemic, customers who make the effort to schedule an appointment have been more serious about purchasing a photograph from him.
 
"They were maybe more keen then if they could just casually walk in," Fetterman said. "I think they appreciated the experience because we give our clients really VIP concierge attention."     Peter Mays, executive director of the Los Angeles Art Association, a nonprofit that represents more than 500 emerging artists, said many galleries turned to appointment-only showings and online exhibitions during the pandemic.
 
"There is a willingness to come and see exhibitions, but I think also our audience likes the idea of a more controlled viewing," Mays said. Requiring people to make an appointment often resulted in more sales, he added.
 
Fetterman said he will continue to hold appointment-only gallery showings as the delta variant persists. Eventually, he plans to reopen his gallery fully to the public again. And even after the pandemic comes to an end, he plans to keep writing blogs on his website.
 
 "I realized that if you write something that's authentic... people somehow connect to that," Fetterman said. 
For reprint and licensing requests for this article, CLICK HERE.